The structure of your marketing department has the potential to drive exponential growth or turn your marketing efforts into a money pit. Operating with the right people in the right places is imperative to stay on track with your company's growth goals. While there is no one-size-fits-all solution for the structure of your marketing team, there are strategies and skill sets that will set you on the right track. In this guide, we'll answer three of the most common questions B2B companies ask before structuring - or restructuring - their marketing department:
How do I optimize the organizational structure of my marketing team for maximum lead generation and conversion?
What are the must-have skill sets my marketing team needs in order to hit our target metrics?
Which roles warrant a full-time, in-house marketer, and which roles can I outsource to agencies or freelancers?
What You Need Before You Begin Structuring Your Marketing Team
Before you can realize your ideal marketing team structure, you need to check a few boxes. This list is particularly relevant for startups, but even small to mid-sized companies can benefit from revisiting these elements as their market evolves. Here's what you need to know before you can optimize your marketing team:
Know who you are: You need a branding guide that effectively communicates your mission and the value you deliver to clients.
Know who needs your products or services: You need a buyer persona that accurately represents your target audience.
Know what you want: You need clear marketing goals that are broken into metrics.
Know how to get what you want: You need a realistic marketing strategy for generating leads and converting prospective clients into actual clients.
At this point, you're probably asking yourself, "How am
I supposed to know our buyer persona or marketing strategy without an actual marketing leader on our team?" Good point. That brings us to the last element on our list, which is also your first hire:
a Chief Marketing Officer (CMO)
.
This role is also called the Marketing Manager, VP of Marketing, Director of Marketing, etc. Basically, he/she owns your marketing strategy, goals, and sales funnel, and oversees the broader marketing team. This person needs to be intimately familiar with your products/services, your target audience, and the best ways to reach and convert prospective clients.
Once you have these elements, you'll have a much better idea of which new roles your marketing team needs to effectively implement your marketing strategy. You'll also have a better idea of how to organize those new roles into a dynamic marketing department structure.
Looking to improve your marketing team structure? Download the guide to get started.
Optimizing the Organizational Structure of Your Marketing Team
If you type "B2B marketing department structure" into a search engine, you'll find multiple nuanced strategies that are bound to change with the market and available technologies. Just as B2B marketers need to stay on top of digital marketing trends, marketing departments need the agility to evolve with the needs of their target audience.
With that said, you have to start somewhere. An easy way to organize your marketing team is by marketing functions. These vary based on who you ask but generally include content creation, web design, SEO/SEM, acquisition, product marketing, and marketing operations.
Based on the size of your team, you may have only a few team members with a basic knowledge of multiple functions, or you may have a fully staffed marketing team with one (or more) members for each function. Regardless of size, you'll need roughly seven marketing functions represented in your marketing department:
Content Manager
Also known as: Director of Content, Senior Copywriter, Content Marketing Manager
In a nutshell: This person owns your content, whether through outbound or inbound marketing. They map out your content schedule and work independently or with writers, designers, and videographers to create valuable content (think white pages, e-books, webinars, podcasts, etc.). This role may include writing web copy unless you have the budget for a landing page or copywriting specialist.
Skill set: personnel management, writing, graphic design, familiarity with your sales funnel, an understanding of your buyer persona, a knack for engaging content
Product Marketing Manager
Also known as: Brand Manager, Product Manager, PR Manager
In a nutshell: This person takes the essence of your company and translates it into brand messaging guidelines that communicate the value you offer. They understand your target market, as well as the most effective ways to attract leads. This person may also be involved in event planning.
Skill set: brand strategy, customer service, writing, messaging, marketing campaign management, email marketing
Web Manager
Also known as: Senior Web Developer, Senior Front-End Web Developer
In a nutshell: This person is a pro at website optimization. They know how to design and update a website template that's easy to navigate, as well as landing pages that convert. They should also know how to read and analyze web data related to visitor engagement. Unless your Web Manager is a one-man show, he/she typically works with UX/UI designers, graphic designers, web developers, and data analysts.
Skill set: Front-end development, CRM (such as Hubspot), UX/UI, data analytics, digital accessibility standards, personnel management
Paid Acquisition Manager
Also known as: Acquisition Manager, Senior SEM Specialist, Customer Acquisition Manager
In a nutshell: This person owns your paid acquisition metrics. They're aware of all the marketing channels where your company should have a presence, and they're able to test cost per lead to find the most leads for the least money. This role can also include the sales team, depending on how your company best acquires client/customer leads.
Skill set: SEM, A/B testing, ROI analysis, customer service, product marketing
SEO Manager
Also known as: Senior SEO Strategist, Optimization Manager
In a nutshell: This person works closely with the content team to ensure that blog posts, web copy, and digital assets are optimized for Google and other search engines. They also manage the keywords for your company's online presence.
Skill set: SEO (of course), content optimization, link building, research, analytics
Marketing Operations Manager
Also known as: Data Manager, Senior Data Analytics, Marketing Automation Manager
In a nutshell: The marketing ops manager ensures that all the cogs of your marketing machine are working smoothly and effectively. They are typically less customer or content-oriented and more optimization-focused. This person works behind the scenes to analyze data related to your budget, workflow, and lead generation metrics and makes adjustments to keep your marketing efforts as efficient and lucrative as possible.
Skill set: marketing automation, data analytics, CRM, scaling
Marketing departments may include some or all of these positions, but regardless of the number of team members, all of these marketing functions need to be represented on your marketing team.
For example, smaller B2B companies may have only three marketers who are competent in multiple marketing functions: 1) a content manager who also handles SEO, 2) a paid acquisitions manager who also specializes in social media, and 3) a web developer who doubles as a data analyst.
Larger companies with multiple products or services may structure their marketing department into verticals, with each product or audience having its own mini marketing team. Ultimately, the layout of your marketing team should be one that's effective. If your marketing efforts are producing stagnant returns, it's probably time to revisit your team structure.
Sourcing the Right People for Your Marketing Team
We've covered only seven roles necessary for an effective marketing team structure, but a fully staffed digital marketing team needs 18 team members. That's just about impossible for small to mid-size businesses. Marketing leaders differ on whether these companies should hire for highly specialized marketing roles or multi-disciplinary hybrid roles. Highly specialized roles ensure greater mastery, while hybrid roles are often necessary to get by on a smaller marketing budget.
You'll need to determine the right course for the scope of your company, but whoever you hire, look for a few important characteristics:
Cultural fit: Is your company laid-back and friendly or driven and competitive? Look for candidates who, for lack of a better phrase, fit in with your team.
Communication: Soft skills like communication and emotional intelligence are increasingly considered the biggest predictors of success in the workplace. Find people who know how to listen, communicate ideas or metrics, and give or receive constructive feedback.
Adaptability: The market is constantly changing, along with marketing strategies, tools, and channels. You need people who can pivot so your marketing efforts aren't dragging behind the times.
Problem-Solvers: You don't want to get stuck babysitting a team member who wants solutions handed to them. Hire marketers who are inclined to find effective solutions to problems with as little hand-holding as possible.
Fractional Marketing
Fortunately, not all roles need to be full-time or even represented in-house. In addition to marketing agencies, there are numerous resources for hiring freelancers (Upwork is a good example). Contract-based work saves you the cost of onboarding, office supplies, and benefits.
Fractional marketing is another effective solution. It equips you with team members on an as-needed basis and operates as an extension of your marketing team. If you need additional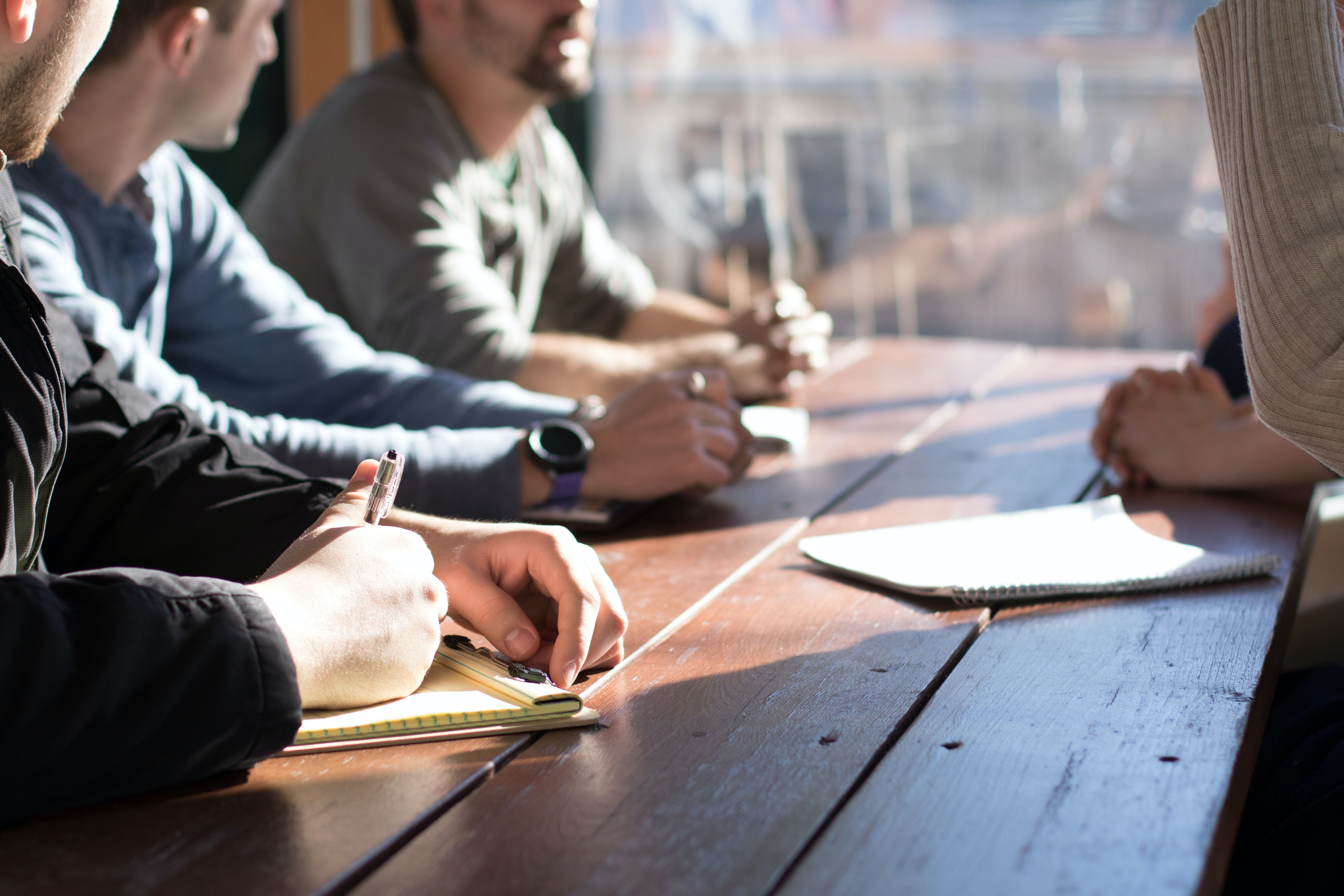 support for one of your marketing functions, verticals, or goals, you can increase your capacity with an hourly or monthly fractional contract.
The best fractional marketing teams provide you with a single point of contact. That way, you can avoid the merry-go-round of managing different specialists and freelancers. At O8, we assign our partners a Customer Success Manager (CSM), who acts as a point of contact. CSMs are experienced in marketing and tech and familiar with your market.
Fractional marketing is much more cost-effective than hiring more full-time marketers, and immediately bumps your marketing team up to full capacity, so you can realize the B2B marketing team structure of your dreams.
Want to know how you can start implementing fractional marketing within your business? Let us help!
---