Best CRM Software in 2021: Top 10 Platforms
Pricing vs Functionality
There is a price-to-functionality tradeoff with CRM tools. In general, a lower price entails fewer customization options, fewer features, and sometimes less customer support. All CRM systems can generally handle simple contact management, email integration, templates, and basic sales pipeline management, but additional features like email marketing, segmentation, project management features, sales management, APIs, third-party integrations, an accompanying mobile app, and overall ease of use can vary based on price.
Best CRM Software in 2021
Here we examine not only the best SaaS CRM solutions in different categories, but the most important considerations to consider when choosing a CRM platform.
1. Salesforce: The Brain of Your Organization
Salesforce is a popular choice for organizations wishing to unify multiple real-time data sources and orchestrate complex business logic, serving as the "brain" of an organization. If you are looking for a simple CRM that just works out of the box, this is not your best choice – the learning curve is high, and definitely not designed for small teams who just want a place to store customer information and manage a simple sales process.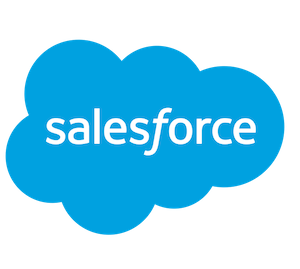 The functionality of Salesforce is expansive, well beyond its CRM capabilities, and ever-growing. It can serve as a platform for customer service, digital marketing, eCommerce, an integration point for 3rd party apps (and MDM, ERP, analytics, and identity systems), blockchain apps and networks, AI, business intelligence (BI) and analytics, a website CMS and front-end, as well as industry-specific solutions for health care, manufacturing, government, and other industries.
Salesforce is huge, extremely powerful, and complex, making it a great candidate for larger businesses (~$100M+ in annual revenues) or those with specific complex needs and ERP systems. 
This same power and flexibility also make Salesforce a nightmare for companies who just don't need what it has to offer. We've seen instances where Salesforce implementations go multiple times over their initial implementation estimates, sucking money and cash flow from the company, in situations where the company didn't truly need Salesforce in the first place, only to have low adoption by the sales team post-implementation, which is truly an awful scenario. 
Not to scare anyone, because we've also seen great, successful, highly-adopted Salesforce implementations, but you truly have to consult with an experienced industry professional like our company before making such a deep investment in CRM infrastructure. Otherwise, you are relying on the sales team at Salesforce, and their incentive is to sell you Salesforce – not to ensure your success no matter what the platform.
Salesforce Integrations: Hubspot, Marketo, Others
If Salesforce is operating as the "brain" of your organization, it doesn't actually have to be your defacto CRM, nor does its sister product Pardot have to be your marketing automation platform. There are actually excellent integrations between Hubspot, Marketo, and others. 
This is an important point to consider – we don't generally recommend Pardot, but rather often have to "deal with it" because clients have chosen Pardot because they are were not aware of other options that integrate with Salesforce.
2. Hubspot CRM: A Popular Choice That Just Works
Hubspot CRM offers a free version with decent CRM functionality to get you started. Be forewarned that the free plan entails a lot of add-on features that need upgrading once you become a more advanced user. Limits are in place for things like the number of contacts and other critical feature sets for scaling your sales and marketing efforts. 
This is to be expected from a tool that is extremely powerful, however. You just have to be of the mindset that yes, you can test out much of Hubspot for free at a lower price point, but this tool is a sales and marketing machine that will eventually justify its cost, provided you do things the right way and have proper business processes.  
When it comes to user experience, Hubspot wins, hands-down. As an extremely powerful and intuitive tool, it manages its own complexity with flying colors, and backs that up with a super-responsive, fantastic support team to boot. Don't need the "pro" or "enterprise" features? Great – you won't see them until you pay for them, but there are user interface "hints" to show you the way forward as you grow.
Another fantastic resource is the Hubspot Academy. If you are a digital marketing or CRM veteran, some of the material is tedious and verbose, but some of it is actually quite helpful.
3. Adobe: Marketo, err, Microsoft
Adobe is listed as a leader in the magic quadrant, but who knew they offered a CRM? Marketo isn't a CRM but rather a marketing automation platform that integrates with CRMs. Just try googling "Adobe CRM" or "Marketo CRM" and see the confusion and lack of information for yourself. 
So why did Gartner choose Adobe as a leader in CRM? Likely because of this partnership between Adobe and Microsoft Dynamics. Essentially this is only a CRM contender if you are running Adobe Experience Manager sites. Another thought is because Marketo integrates well with other CRMs, but that's a really silly reason to list Marketo itself as a CRM contender. We are definitely not the only one to rant about the inclusion of Adobe as a leader in CRM.
4. Mautic: An Interesting Choice – Open Source CRM
Do you live and breathe open source, or want to protect against vendor lock-in effects like rising prices? Mautic may be an interesting choice for you, especially if your website is running on Drupal, or you wish to do a Drupal CRM integration, as it was acquired by Acquia. 
It may not be the best choice right out of the box unless you have a bit of that DIY and technical culture built into your organization. The user experience won't be quite as slick as Hubspot, and we're not 100% sure just yet what the acquisition by Acquia means for Mautic, but it may be worth a look for certain organizations nonetheless who desire an open-source CRM.
5. Sensitive To Price But Want Hubspot or Pardot Features?
Try SharpSpring. While the user experience (UX) and speed of innovation may be slightly behind Hubspot, this is a very full-featured platform that will get you the infrastructure needed to do some great sales and marketing. 
As a company, we never underestimate the importance of UX, and tend to favor it above all else, because it matters with things like tool adoption, job satisfaction, end-user productivity, and overall success of an implementation, but we also understand there are situations when cost has to be more of a factor. 
If you had the choice between Pardot and another tool like this, we would definitely recommend SharpSpring. Pardot's UX is more complex and worse than SharpSpring's, in our not-so-humble opinion. However, Pardot's feature set can be more extensive in some contexts.
6. CRMs For Small Business (SMBs) With Less-Complex Needs
You may have noticed many of these "CRM" solutions go well beyond simply managing customer relationships – they are actually CRMs with marketing and automation features layered on top. Some businesses just don't need all that, or they have a separate solution already-in-place that handles the marketing and marketing automation.

Want something simple, powerful, and lower-cost, that just handles the sales, email, reporting, lead management, and deal pipeline aspects of a CRM? Try Nutshell or Pipedrive. In fact, Nutshell has put together a nice resource comparing itself to other solutions, some in the same category, like Pipedrive, but also some in more complex and full-featured categories like Hubspot and Salesforce. 
We like Nutshell because it knows what it is and who it's for, doesn't try to be more than that, and does it well, and, honestly, because it was our very first CRM many moons ago. Pipedrive, from personal experience, is also a highly-recommended tool for businesses in this category, actually recommended more often than Nutshell.
7. CRM Designed For Small Business Relationships: Nimble CRM
Are you a small business focused on relationships? Do you also run Office 365 or G Suite for your email and communications? Try Nimble CRM. Nimble is uniquely positioned for small business relationship-building with customers and prospects. 
As far as features go, look forward to bright, colorful dashboards, smart integration with social media, and deep integrations with over 3rd-party 160 apps in order to combine your contact data.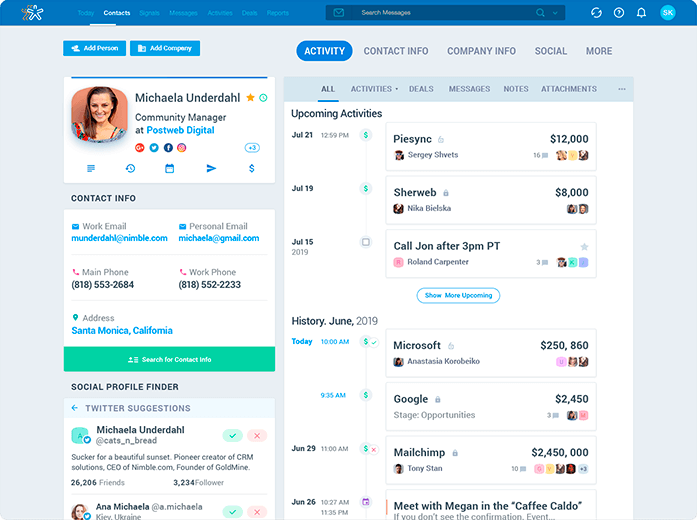 It is also a highly contextual CRM, providing pop-up enriched data, whether you are browsing a LinkedIn profile, email, or calendar invite in G Suite.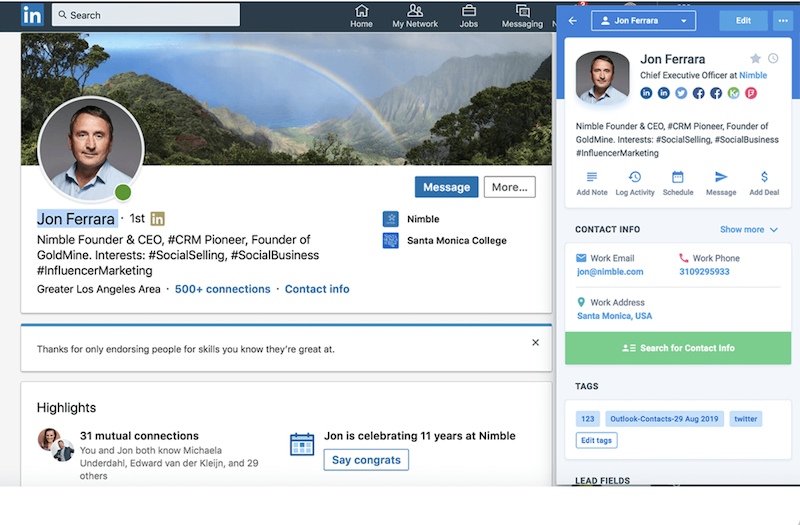 While we only have limited experience with this CRM as an organization, we have demoed it, liked what we saw, and think it deserves a special category all of its own.
8. A Unique Sales CRM: Close.io
Sometimes you don't want to "pollute" your defacto CRM with sales prospects, i.e. contacts that are cold leads who you have never contacted before and who have never contacted you, or who you are in the process of "warming up" through outbound sales efforts. They don't have any business being in your defacto CRM if your job as a sales team is to nurture them, qualify them, etc. They may never talk to you and come in through a marketing funnel instead, but in your organization that may not count as a commission-qualifying path for the prospect to take. 
If this scenario sounds like yours, you may want to consider Close.io. Close.io is a good CRM for managing and automating standard sales activities like outbound email cadences, but also things like text message (SMS) outreach, phone calls, predictive dialers, pipelines, and sales reporting. It is a full-featured tool for sales reps, proving sales automation, opportunity management, follow-up reminders, and other tools that salespeople love.
If you are looking for a CRM to unify sales and marketing, this is not what you're looking for. But if you are a part of a sales team (or you are the sole salesperson at the company) this could be an interesting tool for you to use that can boost your productivity while being built especially for sales, unlike many CRM solutions which are built for both sales and marketing.
9. A Full-Featured, Cheap CRM Solution: Zoho CRM
Zoho CRM has a wide set of features for the price. It is less intuitive than other CRM solutions, with an ease of use that is lacking. However, you can build complex sales and marketing workflows, do email marketing, forecasting, lead generation, lead scoring, and run complete marketing campaigns with it. It is indeed a full suite of marketing tools. If you're seeking a completely free CRM, their unpaid plan for up to three users can be a good starting point.
10. Freshworks CRM (formerly FreshSales)
Freshworks CRM is an interesting solution in that it leads with its customer support software, Freshdesk, putting quality customer interactions and support at the forefront, then tacking on the CRM component with Freshworks, as well as chat, IT management services, a cloud-based phone system, and a recruiting and onboarding management solution. Rather than focusing on the CRM, Freshworks appears to be a set of management tools for the entire organization, which is an interesting prospect indeed for certain companies.
Other CRM Tools That Did Not Make This List
There are of course other great CRM solutions out there, and the options can be dizzying. For example, Insightly is a great, increasingly popular option, but we just have not had much exposure or experience with this particular platform. It seems to be great for startups or anyone looking for a powerful CRM and marketing automation platform to align sales, marketing, and project team members. Another such option is Sugar CRM – it's a great tool and maybe a great choice if your main focus is customer experience, but it did not make this year's list.
There are also simple CRM solutions like Mailchimp which, while technically a CRM, are mainly focused on storing customer data and little more. This might be a good choice for a solo small business owner, for example. 
For those who love working out of their email client, there is an interesting CRM called Streak which allows you to manage leads directly in Gmail, as well as several CRMs that integrate with Outlook. 
Another great option, now offering a free version for up to 10 users, is Agile CRM -- it's truly an all-in-one platform for sales, marketing, and service.
SaaS vs On-Premise CRMs
While most CRMs these days are software-as-a-service (SaaS) platforms, Microsoft Dynamics is an example of an on-premise solution. As a general rule, on-premise CRMs are more expensive and tend to integrate with an ERP environment.
CRM Integration With Your CMS Website
Integrating your CMS website with your CRM can range from a fairly simple to a complex effort. For example, both Drupal and WordPress have plugins for Hubspot, Salesforce, and other popular CRM platforms. There is also the option of using Zapier to pass data back and forth. Also, the platforms themselves may have snippets that you can easily embed into the website.
However, it is important to note that if ADA compliance is a concern, ensuring your website is accessible for people with disabilities and thus compliant with industry legal requirements, many of these plugins and embeddable forms are almost always not ADA compliant.
We discuss the topic of CRM integration with your CRM website more in-depth here.
In Conclusion
CRMs can help your organization execute many components of your sales and marketing workflow, including contact information management, email campaigns, workflow automation, task management, and landing pages. They can even encompass help desk features to streamline support and ensure customer satisfaction.
Do not take your CRM choice lightly. Unless you are a tech company with plenty of experience researching and implementing various CRM solutions, this choice can wreak real havoc in your organization if you choose unwisely or execute poorly. We see many clients that hold their CRM decision very tightly to their chest, yet we are the ones who have seen all the successes and horror stories across multiple industries. 
Whatever you do, please, seek out a trusted technical partner to at least help you decide, and ideally to help you implement or at least to help oversee the implementation by a 3rd party.
Comments