Choosing the Best Web CMS Platform in 2020: 4 Key Factors
Choosing a Content Management System (CMS) for your website is one of the most important decisions your company will make. A CMS provides the framework not only for web design and development, but how your organization will grow and thrive online.
The coronavirus pandemic made business operations even more digital while straining budgets worldwide, signaling the need for CMS solutions to do more with less, to reduce overhead and total project costs by implementing open source CMS platforms free from vendor lock-in, and an even greater need to remain competitive in terms of user experience (UX) for both site admins and end-users.
4 Key Factors in Choosing the Best Web CMS Platform in 2020:
Category of Content Management System
Needs of Your Team
Which Content Management System?
Available Support
Factor #1: CMS Categories
Content management systems are usually divided into two distinct categories:
On-premise CMS
This means the CMS is installed on web servers you own or control, whether it is on a private server, VPS, or a cloud hosting company. This gives you the most control, from performance and security to the customizability of the website and related digital marketing ecosystem. 
If you choose a CMS that's open-source and free to use, you will avoid vendor lock-in and maintain complete control over the website and codebase. Many hosting platforms such as Pantheon will allow you to automate or take control of common maintenance tasks such as security updates, backups, and performance monitoring. 
As hosting platforms evolve and improve, the line between On-premise and SaaS
Larger, more complex businesses should consider on-site content management systems in order to ensure the best results and return for their efforts as well as lower overall cost. 
Software-as-a-Service (SaaS) or Cloud-based CMS
By choosing a CMS that runs on a SaaS or cloud platform, your team can lose a lot of decision power and control over many aspects of the entire content management process and infrastructure. You will likely have much more limited control over the code itself that runs the CMS, and will instead be given access to certain pieces of the website via APIs and external / hosted code.
This also means that things like security, performance, and hosting itself will be delegated to the SaaS or cloud platform, outside of your control. This can be a positive or a negative factor, depending on the CMS and factors inside of your organization.
This option can sometimes mean reduced costs, faster time to implementation, and softer requirements in terms of experience, such as with CMS platforms like Squarespace, but given the lack of flexibility should only be considered for smaller businesses or getting your organization started on a path to growth. As you grow and your organization increases in complexity and content production, you may want to consider switching to a more advanced solution.
There is also a very smart option for certain sizes and types of businesses, which is Hubspot CMS. This is a great choice for those who wish to have marketing and advertising attribution and ROI/ROA calculation baked into the CMS. This is a CMS solution that we implement for clients who want to allocate a larger portion of their budget towards digital marketing rather than the website itself. This doesn't always make sense for larger or more complex businesses, but it can be a very effective solution given the right fit. 
In Summary
This is the first decision your company should make in terms of how to proceed. Given the complexity of the issue, it is crucial that management and the decision-makers involve the entire team in the process, such as the sales team, marketing, and the tech team. You should have representatives from each team establish a list of priorities and needs in order to guide the decision process.
For medium and large businesses and enterprises with large enough tech and marketing teams to support it, an on-premise CMS is a logical choice. However, that still leaves the company with several options to consider.
Factor #2: Needs of the Team
The CMS will have a significant impact on the cross-functional work carried out by the developers, but also the tasks and goals of all customer-facing departments, such as marketing, customer support, and sales.
Now, more than ever, with the increasing number of options available in 2020, choosing the right CMS should come down to in-depth consideration for the needs of all involved teams.
It's imperative for management to compile a list of things every department considers important for the CMS, then develop a matrix that will establish priority. By organizing the process like this, the decision-makers can actually assess and compare all the alternatives and choose the most effective option.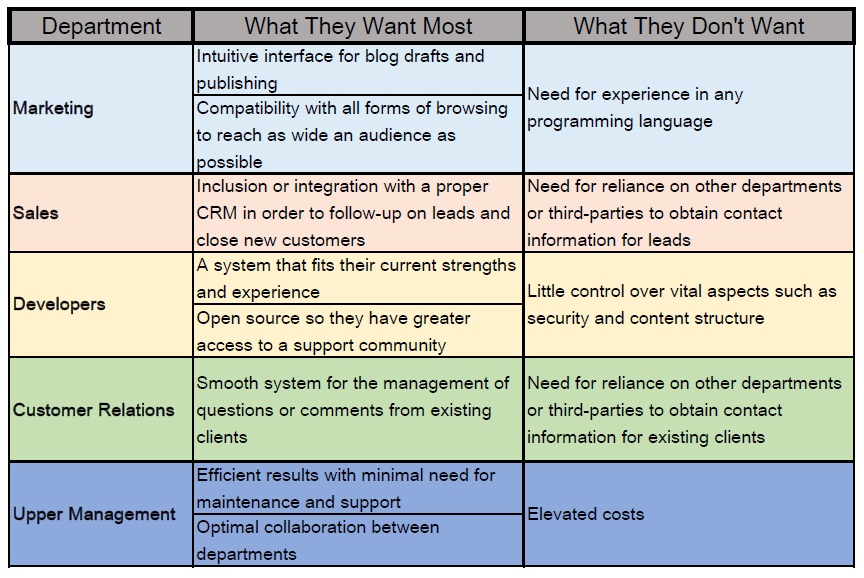 A simple matrix can help organize ideas, see which points overlap at least partially, and help reach a compromised but efficient decision.
These are a few of the things the different stakeholders may want to weigh in on:
Is the visitor-facing layout easy to navigate? Are there plenty of themes and visual alternatives available? How much control will the company have over the "look and feel" of the website?
Are the back-end management and upkeep intuitive? Do current company developers have the experience to optimally use the CMS, or will training or new hires be required?
What are the costs? What kind of investment is planned in terms of choosing a CMS? Which alternative is the most cost-effective?
How flexible and scalable is the chosen product?
Is the CMS open source and backed by a large and healthy community of supports consistently creating features for the product? What kind of plugins and add-ons are available and how much do those align with current company goals and tactics?
How compatible is the CMS with modern browsing?
What kind of integration options does the CMS have? Does it work seamlessly with apps and software the company will need to use on the website?
Are there outside factors to consider, such as potential relationships with a specific company that develops a CMS or even clients that may have a preference? Should these corporate politics be taken into consideration?
Creating the matrix will allow stakeholders to rank their needs and establish quantitative priorities that can be used to choose the best CMS based on a balanced compromise.
Factor #3: Which Content Management System?
Once the company has established a list of priorities in terms of what it actually needs, the decision-makers can proceed to compare them against available options in order to choose the most appropriate one.
As mentioned before, any serious business should lean in favor of on-site management in order to ensure the best possible results.
One of the most important factors mentioned among the typical considerations is whether or not the CMS is open source.
Open source means the code is openly available to the public at no cost, which in turn leads to a large number of third-party developers creating interesting features that can be integrated into the original product. Even if the company who originally created the CMS goes out of business, the product will continue to be viable due to the network of outside support that can sustain it, which means the product will most likely remain in a state of continuous improvement.
So, which one to choose?
If your company intends to have a strong web presence and present a smooth UX to visitors, there are two main open-source alternatives that need to be considered: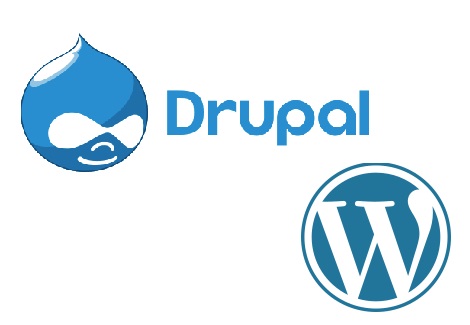 Drupal
This is considered the best choice for highly advanced and secure websites. This CMS can easily tag, organize and categorize content, but it requires a greater degree of expertise to properly operate and take full advantage of its ability to create rich and complex pages.
It also comes backed by several features, both inherent and third-party, that can help improve your website in a number of areas, such as:
WordPress
This is the most popular choice by far, powering over 30% of all websites worldwide. This open-source CMS is widely considered the most intuitive, efficient, and an easier to install alternative, with a large community of supporters constantly creating third-party integrations that increase the number of features.
While there are several other alternatives out there, these two are the open-source leaders in the field, and for good reason. The available features, ranging from usability to security, combine to create the best results in terms of user experience.
No doubt the matrix of needs will come into play when making the final choice, but the decision must be taken carefully and with no rush given its magnitude and impact on the overall operations of the business.
[For a more in-depth comparison, see our article on Drupal vs Wordpress]
Factor #4: Available Support
Finally, remember that regardless of which CMS you choose to power your website in 2020, you'll need to be constantly vigilant and ready to face any potential issues that may arise.
Be sure to grant your developers the necessary freedom to do their work and continue learning, as they will be your first line of defense should anything go wrong.
Likewise, you can consider employing the services of third-party experts that can provide 24/7 support at a fraction of the cost involved in hiring a full team of developers.
All these options are equally viable, as long as your company has plans in place to address obstacles, issues or even critical mishaps.
Get Your Free Drupal 7 EOL Upgrade Audit
Want to Learn More About Your CMS or Alternatives? Contact Us Today!
Join the conversation