Conversion Rate Optimization Case Study: Iron Plane
This client came to us for a one-month trial of our DIO services.
Within one month, we increased visits to the "book a consultation" page -- the main way they capture leads -- by 619%, and decreased the homepage bounce rate by 20%!  
Now, the analysis. This is what their homepage used to look like: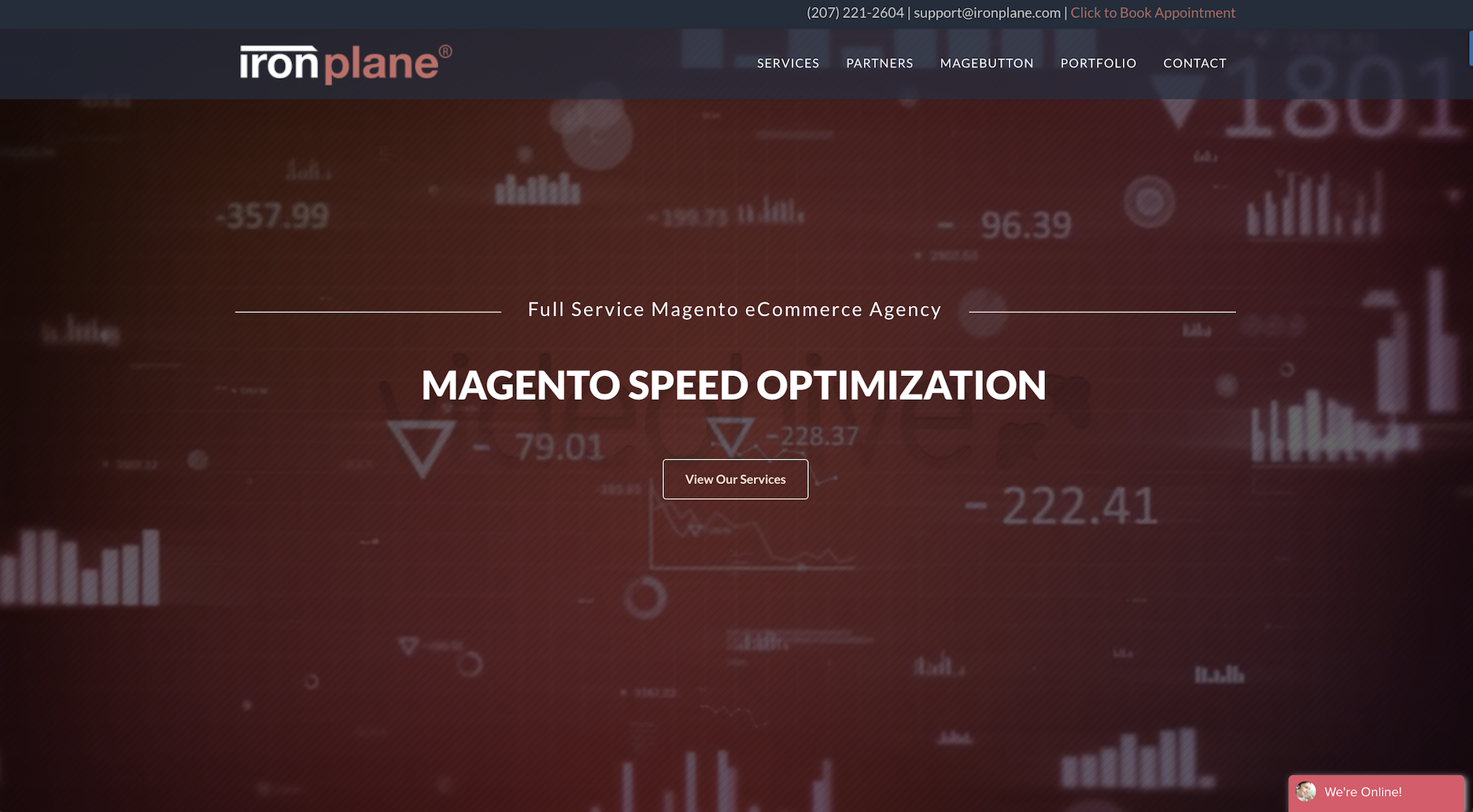 Our notes, scanning down the page:
Phone and email links were not clickable. 
Click to book an appointment...with who? Once we arrived at that page, there was no indication who you were booking with and what would happen when you booked. 
No About page in the main menu, yet heatmaps showed very high clicking level on the About page link in the footer.

Don't hide the information that users want, and don't hide who you are.

What is "MAGEBUTTON" in the main nav? 
Why are their partners more important than their portfolio? 
Full Service Magento eCommerce Agency + "MAGENTO SPEED OPTIMIZATION" is not a very distinguished and clear value proposition. 

The value proposition should answer, "Who are you, what do you do, and why should I contact you versus another Magento agency?" 

The "MAGENTO SPEED OPTIMIZATION" text is part of a rotating banner-like design. Research shows that this is ineffective and harms conversions – see http://shouldiuseacarousel.com/. 
"View our Services" is not a unique or principle call to action here. I need more "proof" about who you are as a company and what you've done before I view your services, especially since it's already pretty clear that you do Magento. 
No visual cue indicating to the user that they can scroll down for more information. Heatmaps showed a lack of scrolling activity.
No "social proof" i.e. logos or certification badges about who they are and why they would be someone good to reach out to.
Our revision:
This is what our revision to the homepage looked like, wherein we sent 50% of the website traffic to our version and 50% to the old version.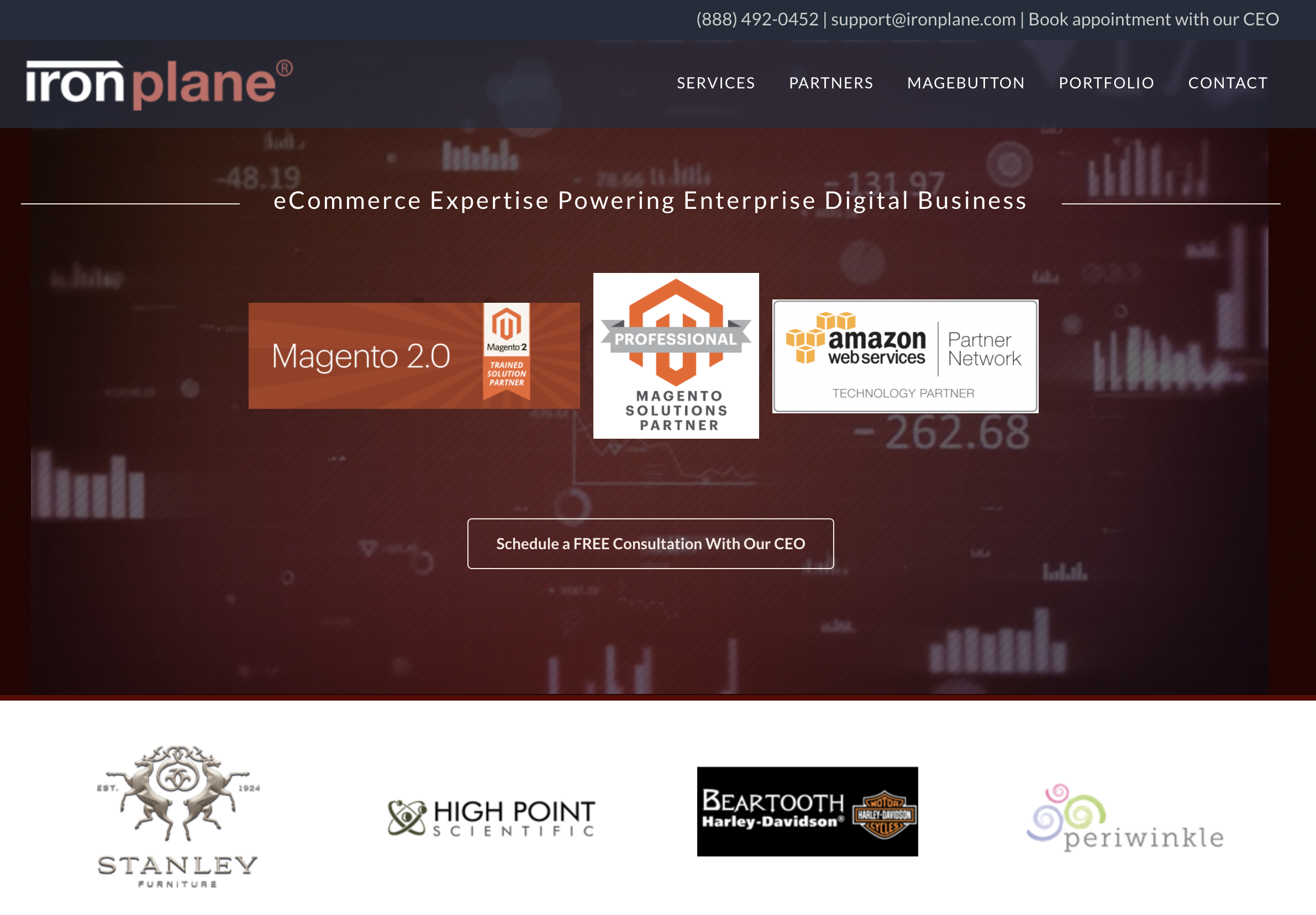 Note that this could definitely be reworked to be a bit more visually-appealing, but that's not the point. The point is to learn, put hard numbers behind the changes we made, and then worry about visual appeal. We have best practices we follow, but sometimes they are wrong – that's one reason why we do these A/B tests. 
Here's what we did: 
Adjusted what we saw in our analysis above.
Made the hero area shorter so users would get a visual cue to scroll down the page. 
Added important "social proof" in the form of logos and certification badges to the hero area.

Normally we wouldn't clutter the hero area, but they were throwing $5,000 per month of ad traffic at the homepage, and this was an emergency that we had to turn around ASAP, and had to help the client understand how they were needlessly throwing away money down the drain.

Add the About page to the main nav.
Added more human content ("who are you?") to the About page; a form of social proof.
Reworked the value proposition to be more compelling and differentiating, focusing on their high level of certification (another form of social proof).
Changed the main CTA in the hero area to lend a greater impact the business, with more compelling copy than "view our services."
(Not pictured) got rid of unnecessary and unprofessional-looking content on homepage.
(Not pictured) Beefed up portfolio page to show images of projects rather than icons.
Results:
619% increase in visits to the "Book an appointment with our CEO" page.
20% increase in visits to their portfolio and case studies.
20% reduction in bounce rate to the homepage.


Share your ideas, thoughts and suggestions