To succeed in an ever-changing marketing landscape, you can't just wing it.
You should assemble the right mix of marketing tools to achieve the best return on investment (ROI) while staying on budget.
In addition, you must:
Turn data into business-boosting insights;

Maintain scaling opportunities; and

Outpace competitors. 
It's impossible to hit all the marks manually.
That's why your MarTech stack — or combination of marketing technology tools — is crucial to your success.
What Is a MarTech Stack?
A MarTech stack is a group of tech solutions your marketing team uses to optimize and execute your digital marketing campaigns. 
Here are the essential functions:
Automate tasks

Streamline workflows
Enable data-driven decision-making

Measure performance to maximize effectiveness and minimize cost
There are nearly 10,000 MarTech solutions. Deciding which tools to use can be difficult, but your choices matter. The solutions you select and how they work together will become vital pillars in your marketing effort structure.
Having your team manually handle every marketing task is inefficient, impractical, and ineffective. And it's nearly impossible when you divide efforts among multiple products and services. The automation features of MarTech tools free up your team to develop more strategic initiatives.
Why Is It Important to Have a Marketing Tech Stack?
A well-curated MarTech stack allows for better decision-making. These tools transform masses of data into actionable insights. This automation lets your team focus on developing, refining, and maximizing marketing strategies.
MarTech enables your team to make smarter, data-driven choices. These solutions crunch the numbers, coordinate teams, and automate processes. With the right tools working in the background, your team will:
Drive more traffic;

Increase engagement;

Improve lead generation; and

Boost conversions.
What Are the Key Components of a Marketing Technology Stack?
The average company has over 250 SaaS tools. That's a lot to pay for, keep track of, and use. So when you're selecting SaaS solutions, such as marketing tools, you must ensure the platforms benefit your business.
Here's a MarTech stack example containing 16 tools:
Customer relationship management (CRM)

Content management system (CMS)
Search engine optimization (SEO) 

Social media management (SMM)

Customer data platform (CDP)

Marketing automation

Project management

Video conferencing

Instant messaging

Email marketing
Transcription

Advertising
How many tools should your MarTech Stack have?
A survey of B2B marketing professionals in the U.S., Canada, and the UK found nearly 45% had between five and 10 MarTech tools. Around 30% had 11-20 solutions in their stacks. Those numbers mean almost 75% of B2B marketing managers use somewhere between five and 20 MarTech solutions.
How to Build a MarTech Stack
You don't want to pick random MarTech tools and see what happens. Instead, you need a strategy to combine the best solutions to meet your business goals.
Here's how to build a MarTech stack:
Identify needs: outline your goals and how tools will help achieve them

Take inventory: remove, keep, or upgrade current tools based on your goals

Determine budget: investigate how much you can spend to add/upgrade tools

Research solutions: compare platforms and vendors and read user reviews

Choose your products: pick tools that fit your goals, budget, and team

Implement and evaluate: integrate tools into workflows and adjust to support goals
Why should you go through this process?
Marketers use just 42% of their Martech stack capabilities. This statistic means they could make better use of what they have and get rid of what they don't need. When you take the time to analyze your MarTech objectives, you'll get the most functionality from your tools.
Explore how to build the ultimate MarTech stack for your business
What Are the Top MarTech Tools?
Here are some MarTech tool recommendations. We based our choices on g2 reviews, O8 experience, and Superpath suggestions. For each tool, we explain the benefits, use cases, and alternatives.
CRM: Salesforce Sales Cloud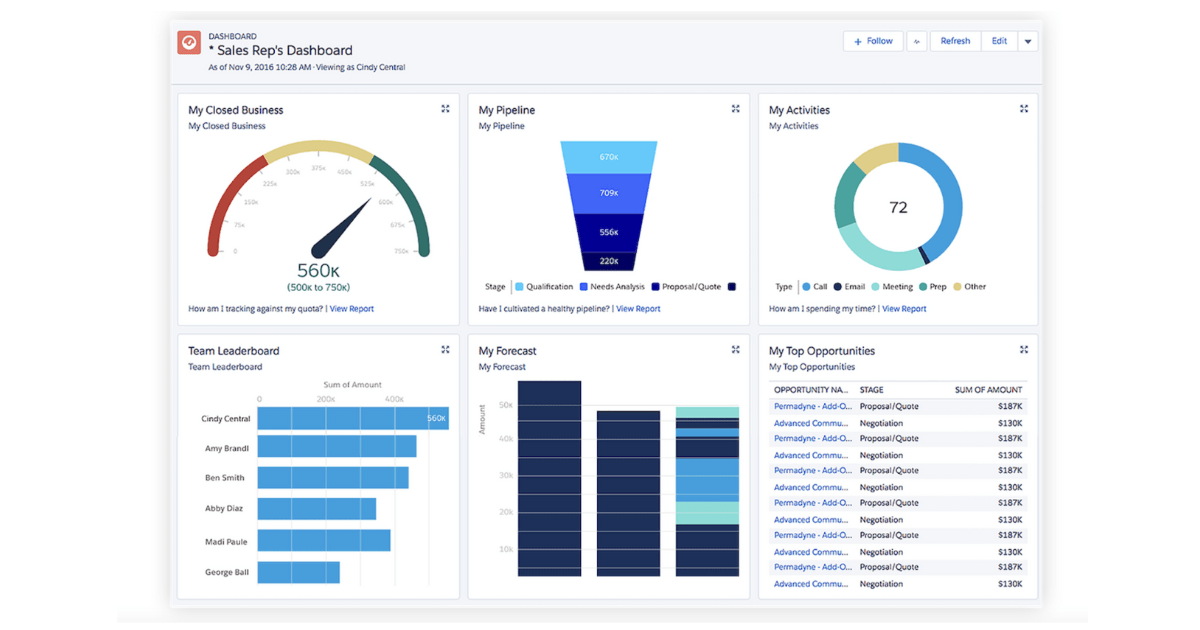 Salesforce Sales Cloud manages your company's interactions and relationships with prospects and customers. It helps you streamline processes, stay connected to your market, and improve profitability.
 
Salesforce Sales Cloud Benefits
Lead management

Sales opportunity management

Account and contact management

Pipeline and forecast management
 
Why Use Salesforce Sales Cloud?
You want to store prospect and customer contact information, identify sales opportunities, and record service issues.
 
Salesforce Sales Cloud Alternatives
CMS: HubSpot CMS Hub
 


HubSpot CMS Hub lets you build and manage a website without coding experience. It helps you create, edit, and publish content. 
 
HubSpot CMS Hub Benefits
Develop web pages optimized for devices and conversions

Unified views of the customer journey (with HubSpot's CRM)

Personalized and secure customer experiences

Flexible themes and content structures
 
Why Use HubSpot CMS Hub?
You need to build a website with pre-designed templates, blogging functionality, and content scheduling capabilities.
 
HubSpot CMS Hub Alternatives
SEO: SEMrush

SEMrush improves online visibility and reveals marketing insights. It performs keyword research, tracks competitor strategy, and identifies backlinking opportunities.
 
SEMrush Benefits
Seamless integration with Google and task management platforms

Tools for search, content, social media, and market research
Data from over 142 countries

Site performance analysis
 
Why Use SEMrush?
You want to fix SEO errors, generate content ideas, and increase traffic to your website.
 
SEMrush Alternatives
SMM: SproutSocial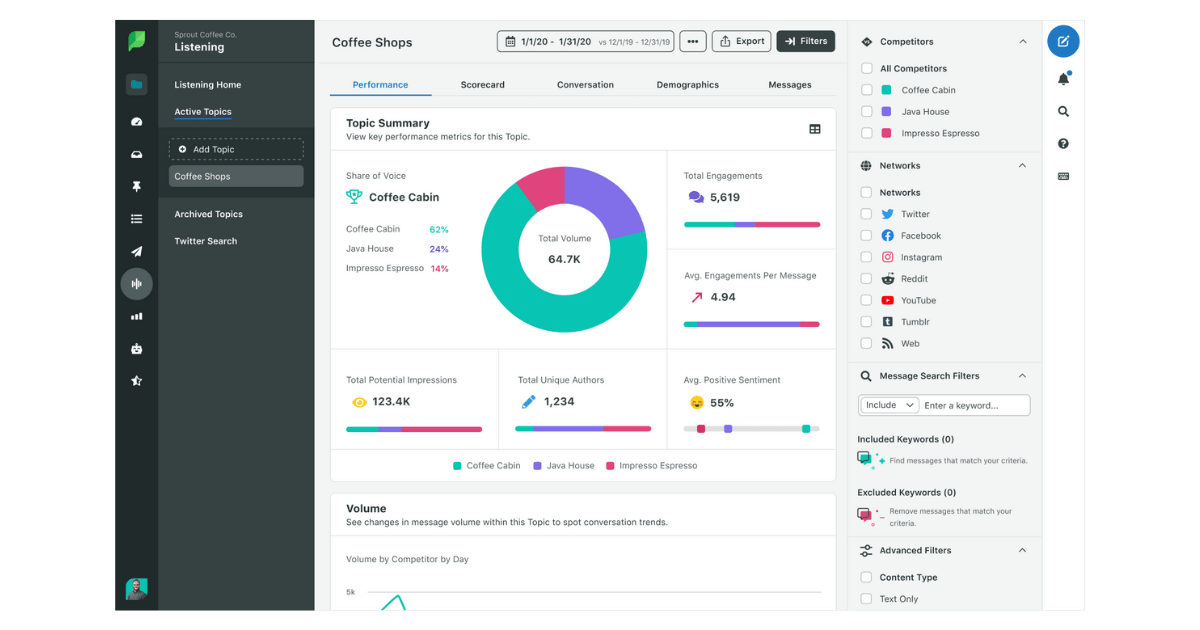 SproutSocial manages all your social media marketing profiles. It allows you to interact with audiences on LinkedIn, Facebook, and so forth from one platform.
 
SproutSocial Benefits
Streamline and scale social monitoring and engagement efforts

Plan, produce, manage, and deliver social content and campaigns

Drive strategic decision-making with social data and analytics

Uncover trends and insights from social conversations
 
Why Use SproutSocial?
You need to schedule all your social content in one place and get in-depth analytics on your business's performance.
 
SproutSocial Alternatives
CDP: Klaviyo One

Klaviyo One collects data from multiple sources and merges the information into one customer view. Other platforms may access this data for analysis and to manage customer interactions. 
 
Klaviyo One Benefits
Track every customer interaction across all channels in one place

Target customers with personalized messages based on interactions

Integrations with eCommerce platforms, CRMs, and marketing automation tools

Centralized dashboard with a view of customer data, campaign performance, and more
 
Why Use Klaviyo One?
You want to use customer data to drive more purchases from your most profitable buyers. 
 
Klaviyo One Alternatives
Automation Tools: HubSpot Marketing Hub
 


HubSpot Marketing Hub's software automates tasks like email marketing and ad campaigns. It provides personalized digital experiences for customers by tracking behaviors. 
 
HubSpot Marketing Hub Benefits
Automate lead nurturing with email drip campaigns

Visualize and customize workflows

Automate tasks beyond email

Connect tools and systems
 
Why Use HubSpot Marketing Hub?
You need to nurture prospects with content marketing to convert them into customers and advocates.
 
HubSpot Marketing Hub Alternatives
CoSchedule

Adobe Marketo Engage
Project Management: Asana
Asana manages team projects and tasks. It allows you to prioritize and organize work for better collaboration between marketing and sales teams.
 
Asana Benefits
Project segmentation and prioritization

Project history and permissions

Customizable dashboards

Communication portal 
 
Why Use Asana?
You want to increase accountability, get more work done, and meet deadlines.
 
Asana Alternatives
Video Conferencing: Zoom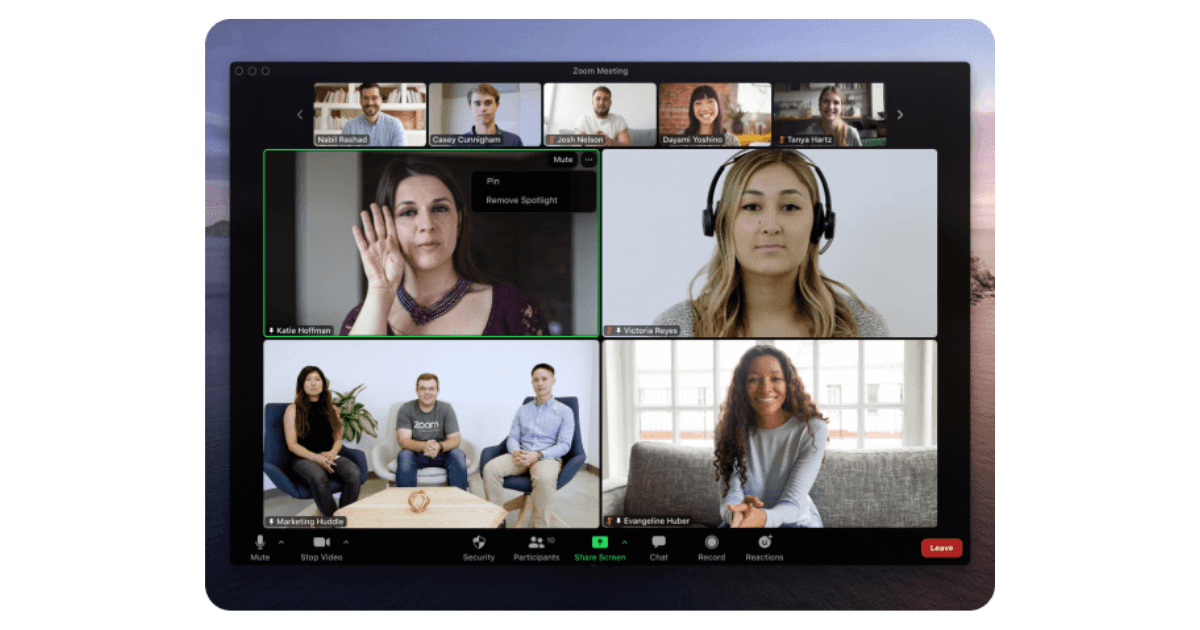 Zoom connects people through video, audio, phone, and chat. It provides a way for co-workers and clients to meet "face-to-face" when in-person gatherings aren't possible.
 
Zoom Benefits
HD video and audio

Built-in collaboration features

End-to-end encryption for all meetings

Recording and transcripts
 
Why Use Zoom?
You need to host webinars, collaborate with remote teams, and meet with clients and prospects beyond your zip code.
 
Zoom Alternatives
Enhance your customer experiences with digital strategy to covert more leads
Instant Messaging: Slack
 


Slack lets you communicate with people inside and outside your organization. It supports asynchronous work by allowing people to connect regardless of time zone, location, or function. 
 
Slack Benefits
Open communities and private channels

Real-time messaging through calls and chat

Searchable record of all files and conversations

Integrations with a growing number of apps and bots
 
Why Use Slack?
You want to cut down on email, organize conversations, and stay in sync with your team and clients.
 
Slack Alternatives
Email Marketing: Intuit Mailchimp
 


Intuit Mailchimp optimizes email engagement with your target market. You can manage mailing lists, create custom templates, plus nurture and automate marketing campaigns. 
 
Intuit Mailchimp Benefits
Automation and custom forms

Email blasts and targeted emails

Marketing tools beyond email

Reporting and analytics
 
Why Use Intuit Mailchimp?
You need a simple, effective, and user-friendly email marketing solution to grow your business.
 
Intuit Mailchimp Alternatives
Mailmodo

Constant Contact
Graphic Design: Canva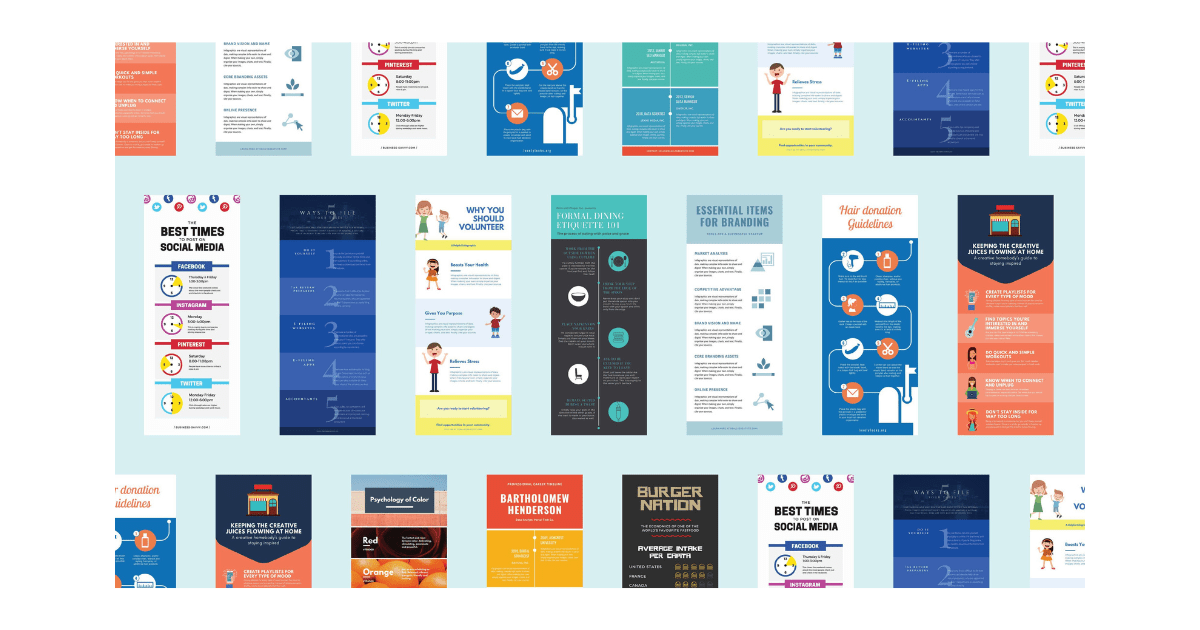 Canva is a graphic design tool that combines an image library with editing and publishing tools. It lets you create social media graphics, logos, and other visual content for your brand. 
 
Canva Benefits
Vast library of graphics, images, and icons

Pre-made size templates 

Frames and vignettes

Transparency tool
 
Why Use Canva?
You want to make visually appealing graphics that resonate with your audience and grow your brand.
 
Canva Alternatives
Adobe InDesign

Microsoft Publisher
Transcription: Rev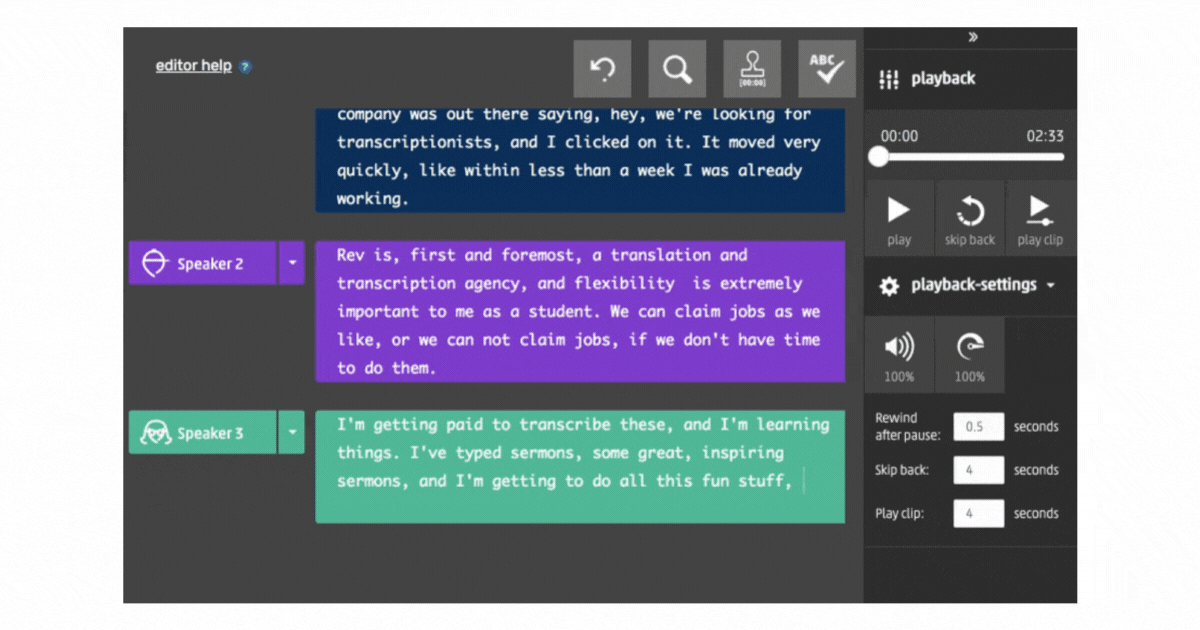 Rev provides audio transcription, video captioning, and subtitling. It helps you transform recorded content into accessible, searchable, and actionable information.
 
Rev Benefits
Speech-to-text services provide captions, transcripts, and subtitles

Diverse dataset ensures accuracy for all dialects and accents

Speech-to-text APIs support automatic transcription in over 30 languages

Mobile applications allow you to order transcripts with a button click
 
Why Use Rev?
You need to share transcripts and captions with your team to improve workflows and collaboration.
 
Rev Alternatives
Search Advertising: Google Ads
 


Google Ads lets you create online ads that target prospects when they make queries related to your product or service. These ads help promote your business and increase website traffic.
 
Google Ads Benefits
Massive reach

Range of targeting

Campaign control

Based on search intent
 
Why Use Google Ads?
You want to push traffic to your website when customers are looking for similar products or services.
 
Google Ads Alternatives
Facebook Ads

Microsoft Ads
A/B Testing: ClickFunnels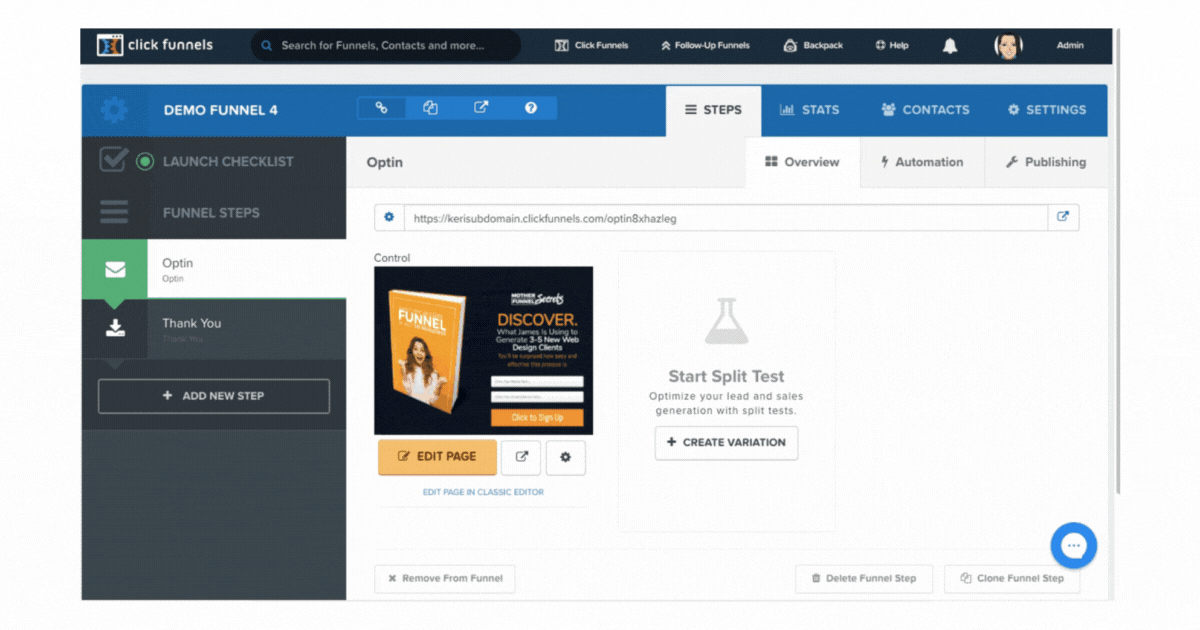 ClickFunnels helps you get the most revenue from your existing web traffic. It allows you to test variations of your messaging to ensure your marketing campaigns are performing well.
 
ClickFunnels Benefits
Test multiple variations in real time

Increase email performance and deliverability

Improve landing page performance

Create the best offer
 
Why Use ClickFunnels?
You need to reduce bounce rates, boost engagement, and increase conversion rates.
 
ClickFunnels Alternatives
AI Writing: Jasper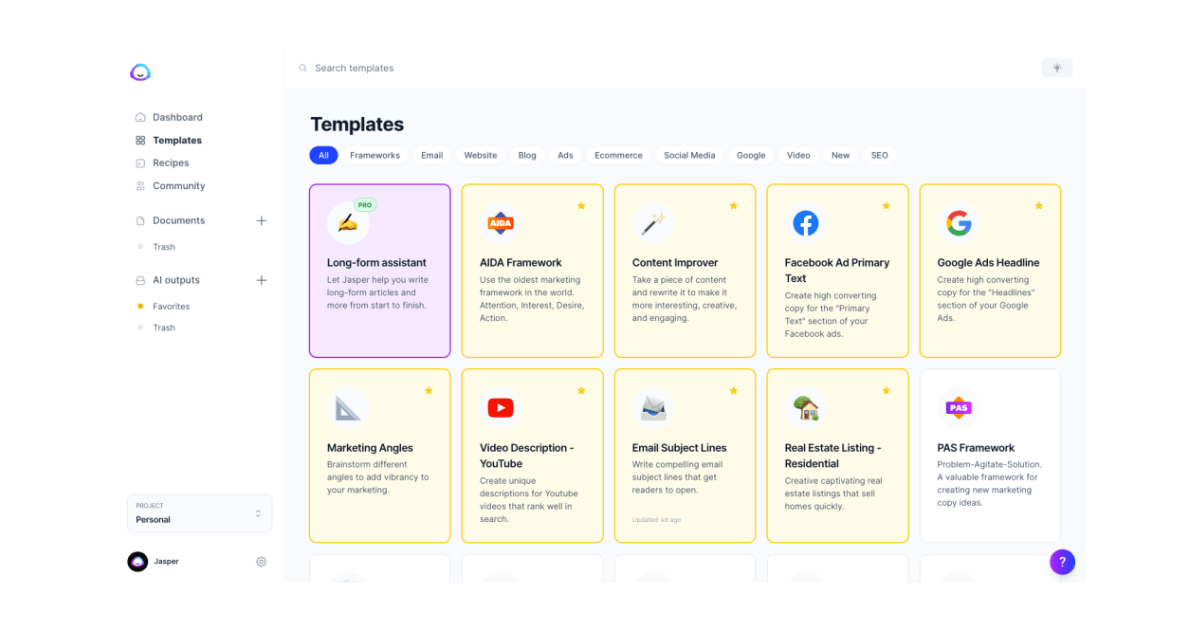 Jasper uses artificial intelligence and machine learning to speed up content creation. It enables you to break through writer's block by generating ideas and recommending copy.
 
Jasper Benefits
SEO-friendly content

High-converting marketing copy

Easy-to-use tools and templates

Supports 25+ universal languages
 
Why Use Jasper?
You want to brainstorm topics, finish drafts faster, and empower all your team members to create content.
 
Jasper Alternatives
Copy.ai

Grammarly Business
Analytics: Google Analytics
 


Google Analytics collects first-party data from your websites and apps to produce insightful reports. It helps you analyze behavior metrics to improve your marketing efforts.
 
Google Analytics Benefits
Improve bounce rate

Learn about prospects

Optimize website ranking
Provide data visualization
 
Why Use Google Analytics?
You need to access and use valuable data about your website to scale your business.
 
Google Analytics Alternatives
Tableau

Microsoft Power BI Desktop

Consolidating MarTech Tools
You probably noticed some MarTech tools came up more than once. That's because many of these marketing platforms serve several functions. For example, HubSpot has Marketing, Sales, Service, CMS, and Operations Hubs.
If your brand is like most businesses, you deal with disconnected systems and data as your biggest pain point. Consider merging solutions based on needs and existing inventory.
Get Help Building a MarTech Stack in 2023
Your ideal MarTech stack should streamline, automate, and optimize your marketing efforts to help you work smarter not harder.
With help from these tools, your team can focus on measuring results, refining strategies, and achieving goals.
O8 is a B2B technology marketing agency that can help you build an efficient MarTech stack. Reach out today to discuss which solutions are right for your business.