Digital Marketing Dashboards: Top 5 Ways Data Visualization Tools Help Marketers
Reading time: 6 minutes
Data organization is critical when trying to stay ahead of the competition in an ever-changing marketing world.
Many one-man-bands use Google Analytics for their data needs. But growing businesses require a more comprehensive marketing data visualization tool.
Digital marketing dashboards help you check your marketing efforts across projects and platforms. These tools offer a streamlined, hassle-free alternative to analyzing pure data.
With custom reports, automation opportunities, and customizable templates, your marketing team can concentrate on what matters most. Here's how all-in-one marketing performance dashboards improve lead generation, client acquisition, and results.
What Are Digital Marketing Dashboards?
Digital marketing dashboards have grown in popularity in the last decade. They emerged in response to a growing need for comprehensive data visualization tools.
Marketing dashboards are customizable. You set up e-commerce, social media, and search engine optimization (SEO) campaigns with your preferred marketing metrics. Once you create a project, your marketing team sees key performance indicators (KPIs) and metrics side-by-side.
Most dashboards come with a tiered system. Basic packages may include three projects per user. Premium accounts have more data streams and projects, plus a more comprehensive set of metrics to choose from.
Dashboards take data from various sources and repackage the information into visually appealing graphics like bar charts and pie charts.
What Is a Marketing Dashboard Used For?
Small teams and digital marketing agencies use marketing dashboards to track KPIs, metrics, and marketing campaigns. Your team members monitor social media, email marketing, and bounce rate improvements for many clients in one place.
Dashboards seamlessly combine all the information you need to make informed decisions. They offer an immediate, real-time representation of relevant facts, figures, and percentages. With just a click, your digital marketing team can review its marketing efforts and work collaboratively.
For example, a marketing team experimenting with social media content wants to know which platform provides the best return on investment (ROI). But looking at the individual stats at various times isn't telling the whole story. So they use a digital marketing dashboard to compare the data in real time. Now they see TikTok and Instagram get better engagement than Facebook and Twitter. As a result, the team can redirect its efforts to the best-performing channels.
The Top 5 Ways Digital Marketing Dashboards Help Marketers

1. Track marketing efforts in real time
No two days are the same in marketing. Trends come and go. Your marketing team must keep up to stay relevant.
By using marketing dashboards, your team looks at real-time data for KPIs they care about, such as content marketing KPIs. This capability is essential for agencies and teams producing marketing reports for stakeholders and clients.
With marketing performance at a glance, it's never been easier to make actionable changes based on data. For example, you can see when an aspect of your PPC campaign isn't performing well and tweak your approach to create a favorable outcome.

2. Repackage complex data
Every marketer absorbs information differently.
Comprehensive marketing analytics dashboards transform dull data into eye-catching visuals. These tools pull data from many sources so you may analyze performance on various marketing channels.
With a comprehensive reporting tool, your team members manipulate how they view key metrics. To understand their marketing activities faster, they switch to their preferred data visualization style.

3. Make marketing reporting easier
Before dashboards took the digital sphere by storm, marketers had to go through thousands of lines of data. Creating marketing reports was a difficult and sometimes impossible job.
By repackaging complex data into easy-to-digest graphics, dashboards appeal to small teams and agencies that create marketing reports. As any good marketer knows, part of your role is translating complex jargon into simple terms.
Dashboards enable you to create SEO, email marketing, Google Ads, and other reports that fit your client's preferences.

4. Collaborate with team members
Developers build dashboards for collaboration. Most dashboards cater to agencies and teams that want multiple accounts for the same project. Each marketer works on a personal dashboard while contributing to the marketing team's primary goals.
Your team members segment their work and create different dashboards for SEO, Facebook ads, and email campaigns. Managers assign tasks to the team and prioritize work with lists, color-coded systems, and automatic email notifications.
Many agencies use dashboards because they create an organized working environment. The collaborative element makes everything easy to access in one spot.

5. Display different data side by side
Your digital marketing team must be agile and keep up with the latest social media trends, Google Adwords surges, and organic search changes. To create an effective marketing strategy, you must track many data types simultaneously.
Analytics dashboards come with customizable user interfaces. For example, your team can place bounce rate metrics next to real-time SEO results or LinkedIn stats next to Twitter data. These features allow your digital marketers to notice patterns and adjust their approach.
Help your website be found with fresh dashboard insights
Examples of Digital Marketing Dashboards
You can find a digital marketing dashboard to suit any SEO, social media, and email campaign. Some dashboards have a specific focus, while others adopt a more general yet comprehensive approach.
Here are three of the best digital marketing dashboards.

Small teams and digital marketing agencies love this data visualization tool.
Cyfe puts its user interface above all else, so you may customize it to suit your preference. With the ability to pull data from more than 500 third-party sources, Cyfe appeals to marketers who are wary of depending on one data stream.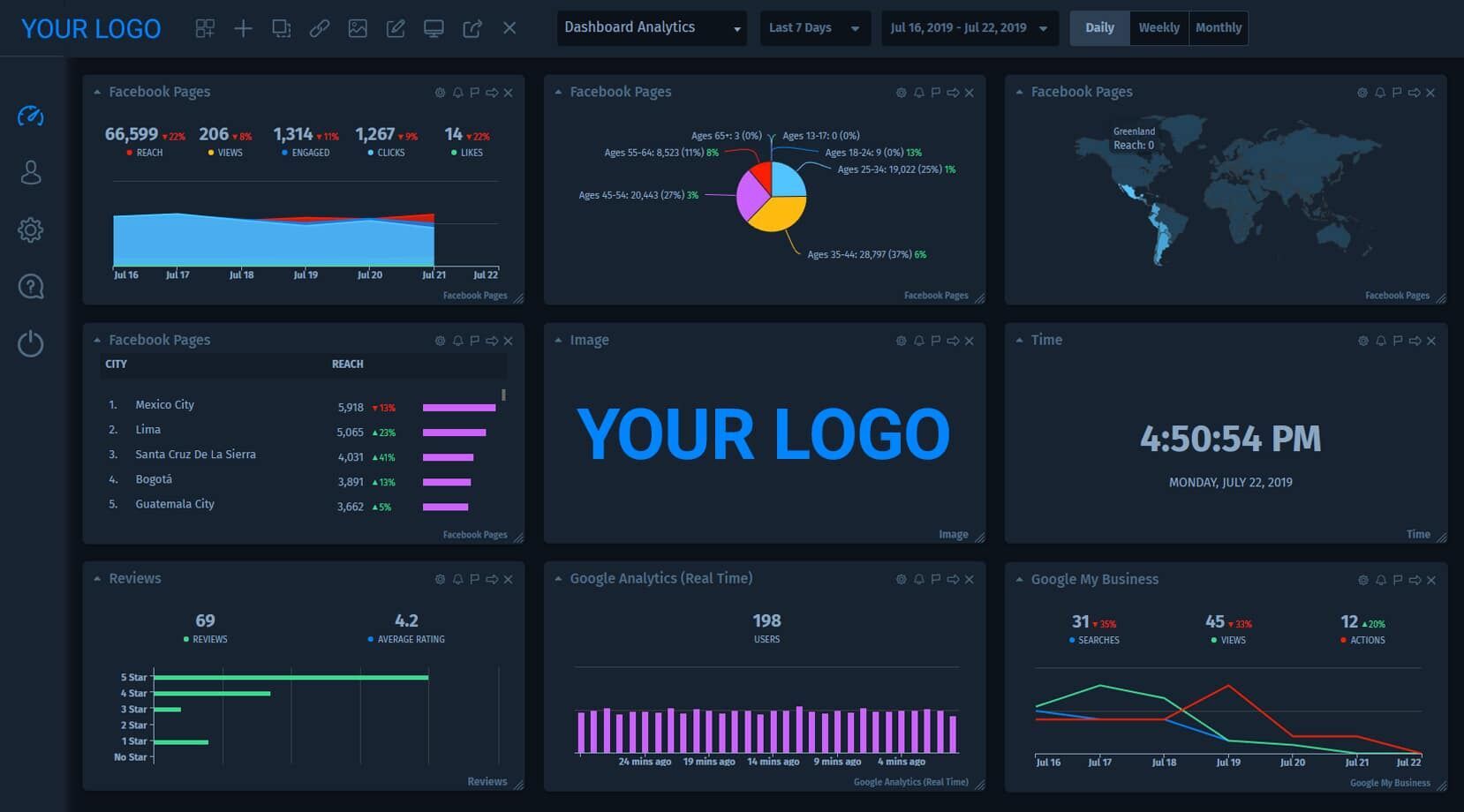 Whether you want to review your social media efforts, analyze e-commerce conversion rates, or check the progress of an SEO campaign in real time, Cyfe has you covered.
This data visualization tool becomes even more comprehensive when you opt for a premium account. Then you get unlimited exports and extra user accounts. These features are must-haves for digital marketing agencies with several team members.

As the name suggests, this digital marketing dashboard has many facets. It favors bold colors—perfect for marketers who want eye-catching visuals.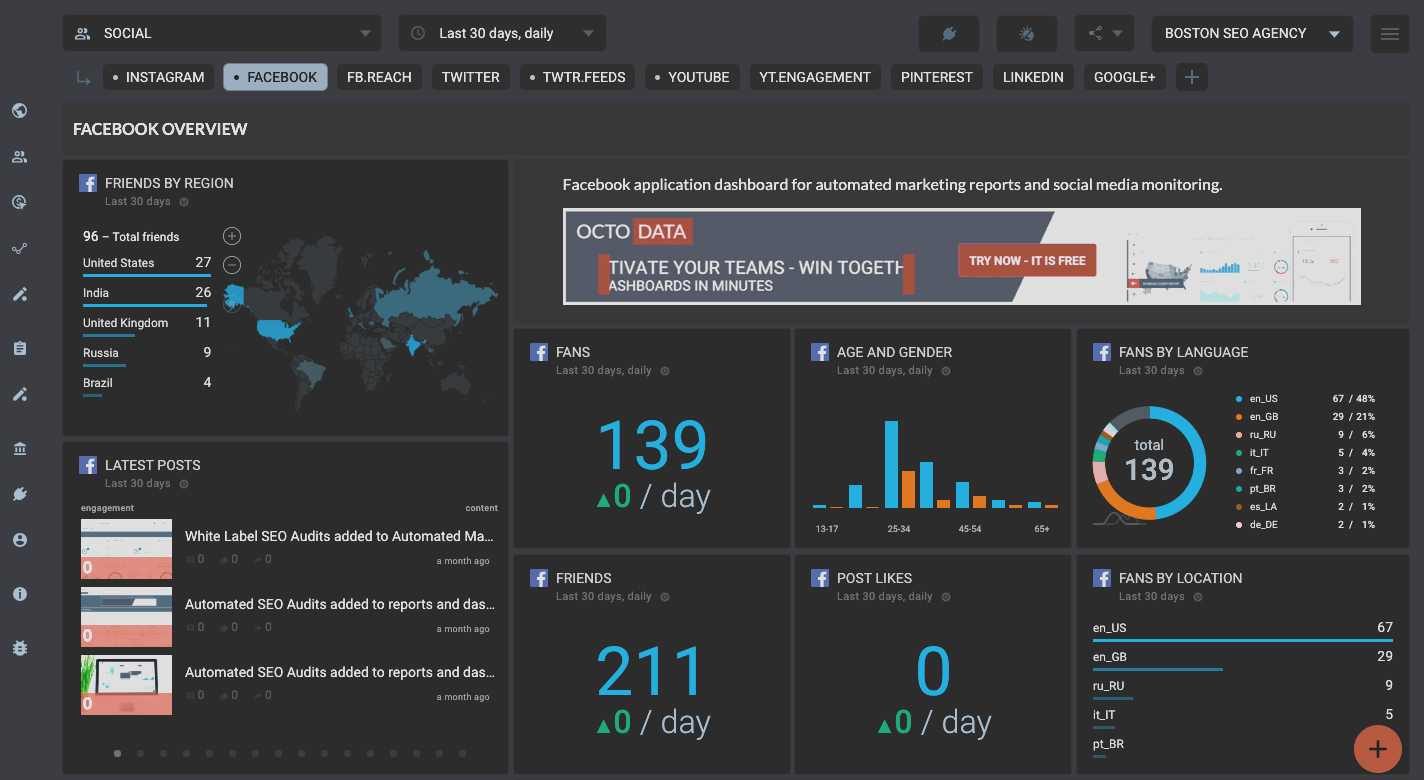 Octoboard is for teams and businesses that want to streamline client reporting. Whether you're working with sales, marketing, finance, web analytics, or paid advertising data, creating and automating comprehensive reports has never been easier.
Your team members will find Octoboard easy to use. It's a self-service software with a hassle-free approach to collaborative working.

Developers built GoodData to help your marketing team understand your customers' behavior.
Headings—such as "How Customer Engagement Influences Sales" and "How Digital Channels Contribute to Web traffic"—prompt your team to see data in a new light. It encourages you to adopt a tactical approach to sudden data changes.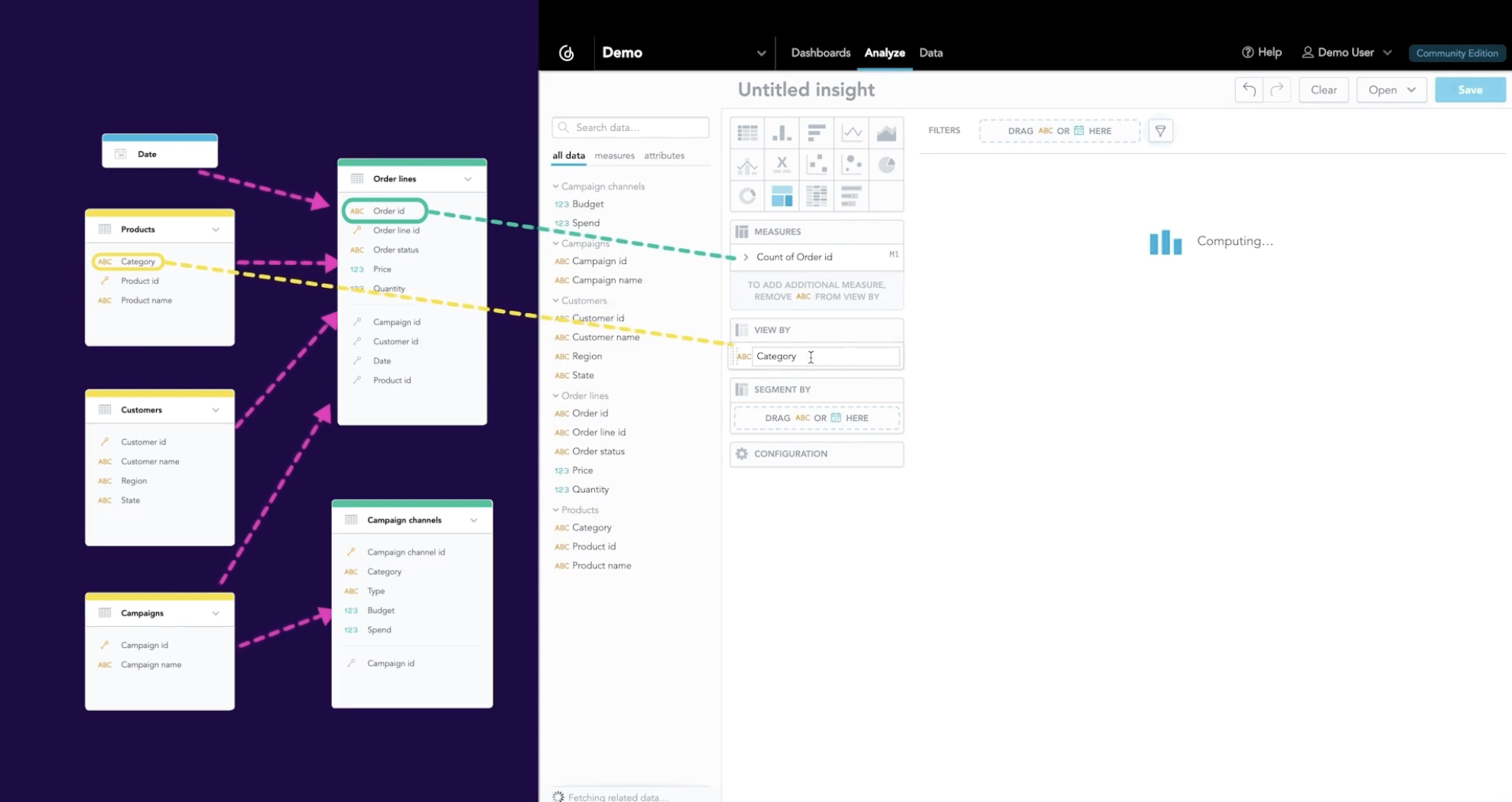 GoodData allows you to switch between different data visualization methods. It combines a hassle-free user interface with in-built industry comparisons. Team members can measure their marketing efforts against industry benchmarks and adjust their strategy accordingly.

Pro tip: HubSpot also offers a free marketing dashboard template for Excel and Google Sheets.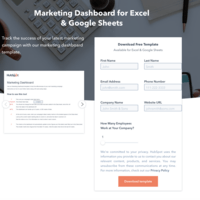 Drive Your Performance With Digital Marketing Dashboards
You can only depend on programs like Google Analytics and Google Data Studio for so long. As your marketing team grows, members need easily digestible real-time data.
You may learn you need help to set up your analytics dashboard. O8 creates dashboards for e-commerce, social media, and SEO agencies all over the country. Our team sets up data sources and creates dashboards containing all the key metrics your marketing team needs to see.
Contact us today to get started and turn your marketing data into actionable insights.
Get a guide to help turn insights into an actionable marketing strategy