Higher Education Analytics: How to Implement Top-to-Bottom Funnel Tracking for Your Institution
The Higher Education Marketing Funnel
The higher education marketing funnel aligns with the traditional marketing funnel. 
At the top of the funnel, you try to build brand awareness and interest through organic search, advertising across PPC display and social media, and content marketing. Your recruitment team focuses on ad conversions.
As you move down the funnel, you enter the evaluation and decision stages by leveraging targeted advertising, targeted web content, email, print mailings, campus visits, and RFIs. Now, your admissions team goes after site/CRM conversions.
At the bottom of the funnel, you want to prompt final action via recruiter interactions and presentations. Your admissions team zeroes in on apply conversions.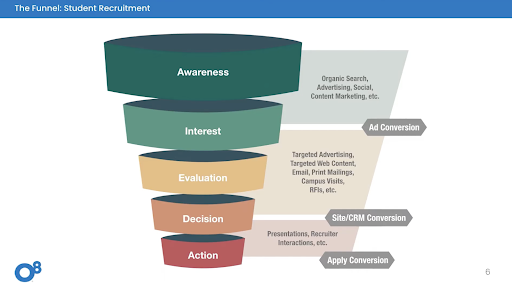 Now let's discuss the tools higher education marketing professionals can use to track a prospective student's journey throughout this funnel.
Higher Education Digital Marketing Analytics Tools
Recruiters work to gather marketing data on prospective students from smaller touchpoints of engagement to bigger touchpoints of ad and site/CRM conversions—and ultimately applications.
There are a variety of tools higher education marketers can use to follow prospects through the funnel.
Site analytics, monitoring, and reporting:
Paid media platforms:
Social media platforms:
CRM, enrollment, and donor platforms:
Content management systems (CMS):
Other tools include SharePoint and Knowledgeowl (collaboration), Mailchimp (email), Unbounce (landing pages), BRIGHTEDGE, SEMrush, and Moz (SEO).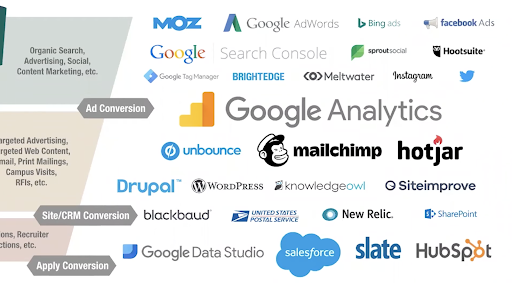 Once you've selected market research tools that suit your needs, you can begin the process of capturing all of the data, making sense of it, and piecing together a real-world view of your prospective students' journeys.
Want to see more of our work in higher education?
How to Track Higher Education Web Analytics from Top to Bottom
Using Google Analytics and Google Data Studio, marketing managers can track micro and macro conversions, aggregate and tie that data to CRM conversions, then see the entire picture in dashboards. It's best to make sure your analytics house is in order from the start. 
Accounts, Properties, Views, and Filters
Before you start gathering data for decision-making, you want to ensure the information is sound. Begin by verifying your Google Analytics accounts, properties, views, and filters are all configured correctly. 
Accounts
Ensure your Google Analytics accounts are owned by a generic or shared stakeholder instead of one person. Then, give permissions to individual users at the appropriate levels as needed. Otherwise, when someone leaves your institution, you may lose access to your data. 
Have someone from your legal team review the data processing agreement Google requires as part of the GDPR changes. If you want to use the platform, you must accept the terms. You can't modify this agreement.
Verify Google Analytics is present on all of your primary web properties using Google Tag Manager. These properties may include Unbounce for landing pages, Drupal for your website, and so on.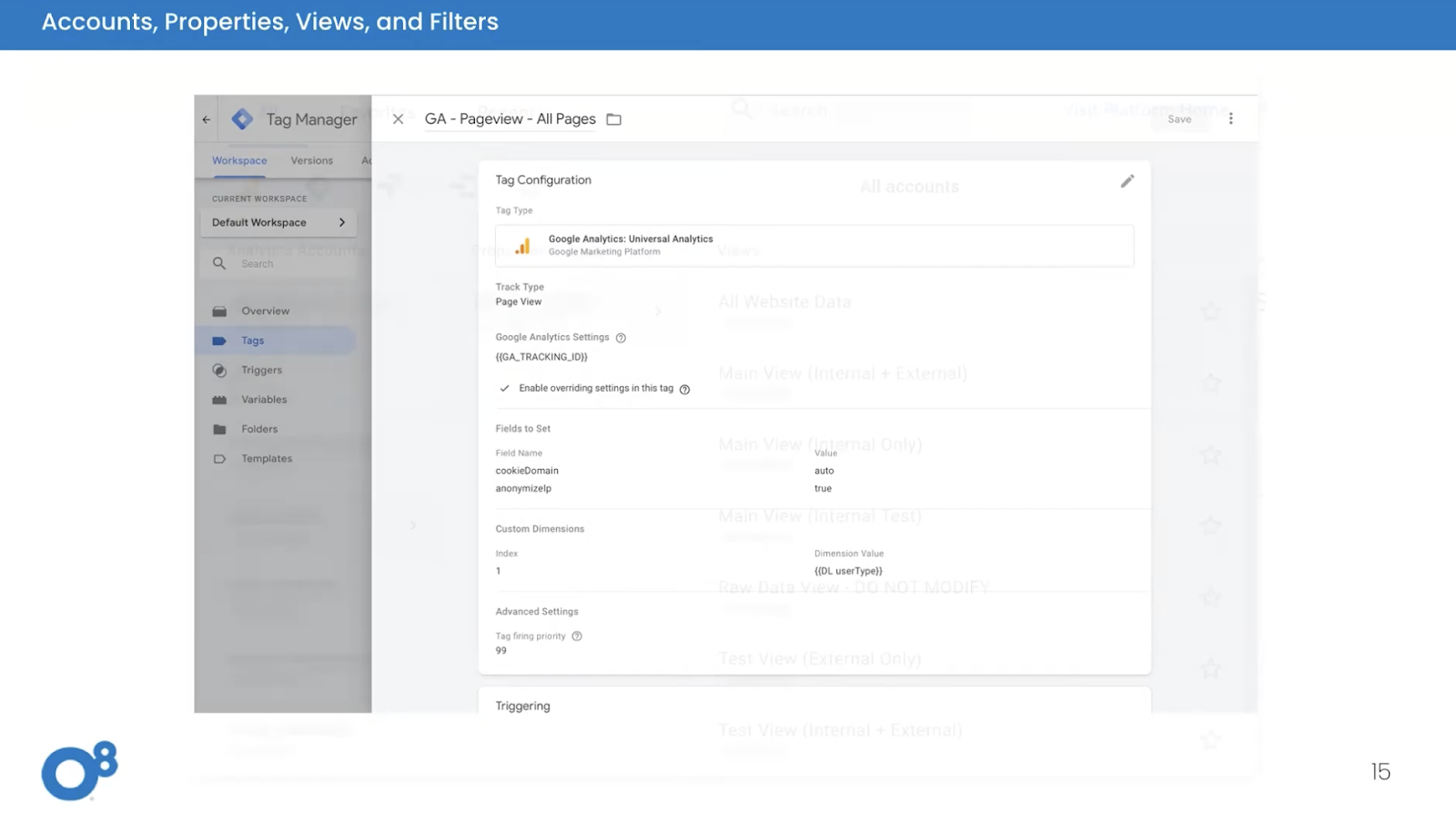 Enable benchmarking and select education as your industry, especially if you don't have access to competitor data or other industry benchmark data. You'll be able to see where you stand within Google's vast pool of data analytics.
Properties
Confirm you've correctly set your HTTPS and integrated Google Analytics with Google Search Console and Google Ads. Make sure your property settings reflect the scope of traffic you're looking to track.
Consider other property setting options such as demographics and interest to enable remarketing and advertising data. These reports will give you more information about who's coming to visit your site as well as enhanced link attribution and in-page analytics reporting. If you have JavaScript links, you can track all of that information and get much deeper insights into how prospective students are using your internal linking structures.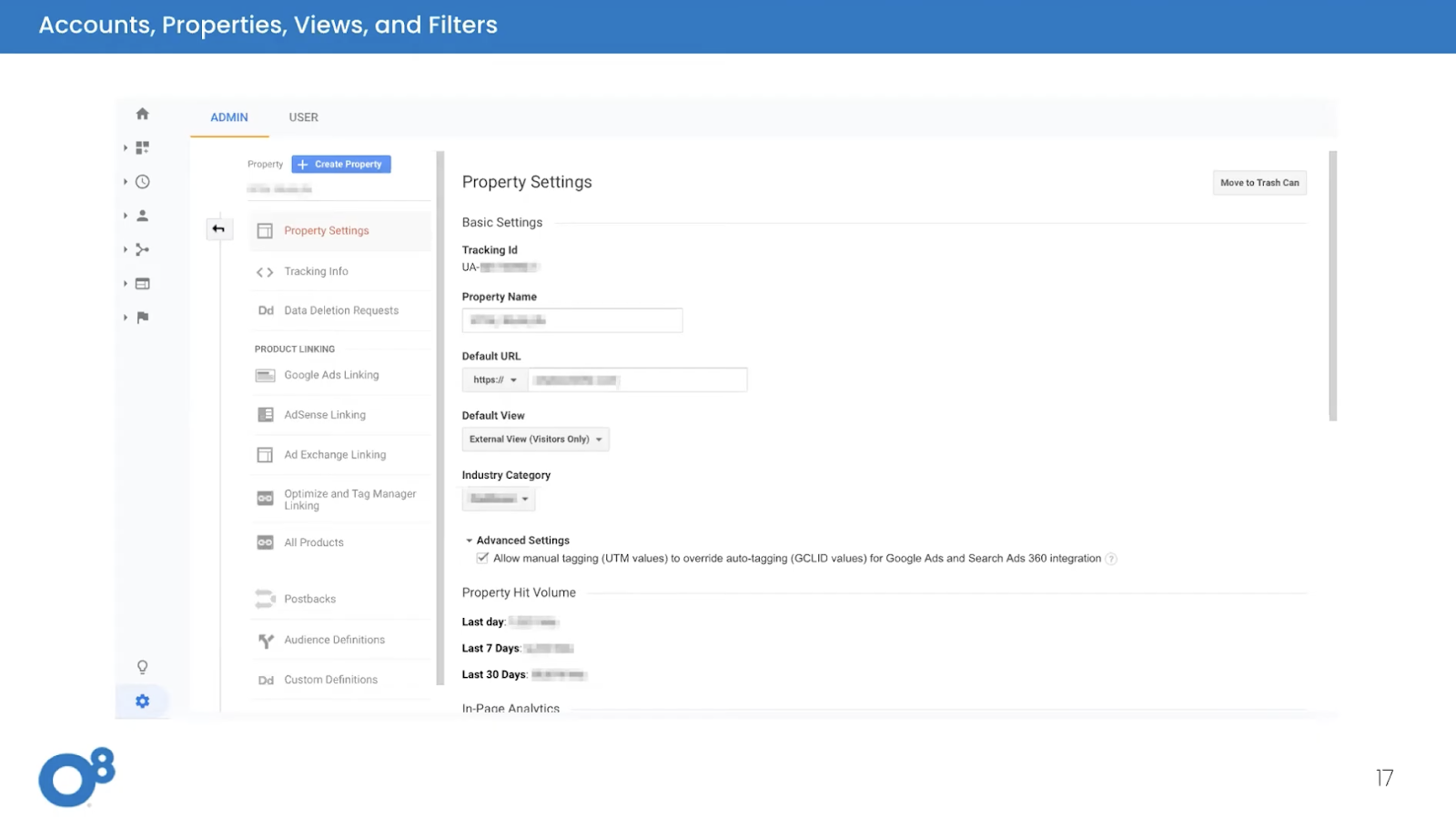 Views
Create several views including raw data view, internal and external main views, and test views. Raw data view serves as your baseline. Segregating the main view by audience helps filter the traffic that's going to be targeted and impacted by marketing and recruitment. Test views are variants of audience-based views used to try out new filters before going live.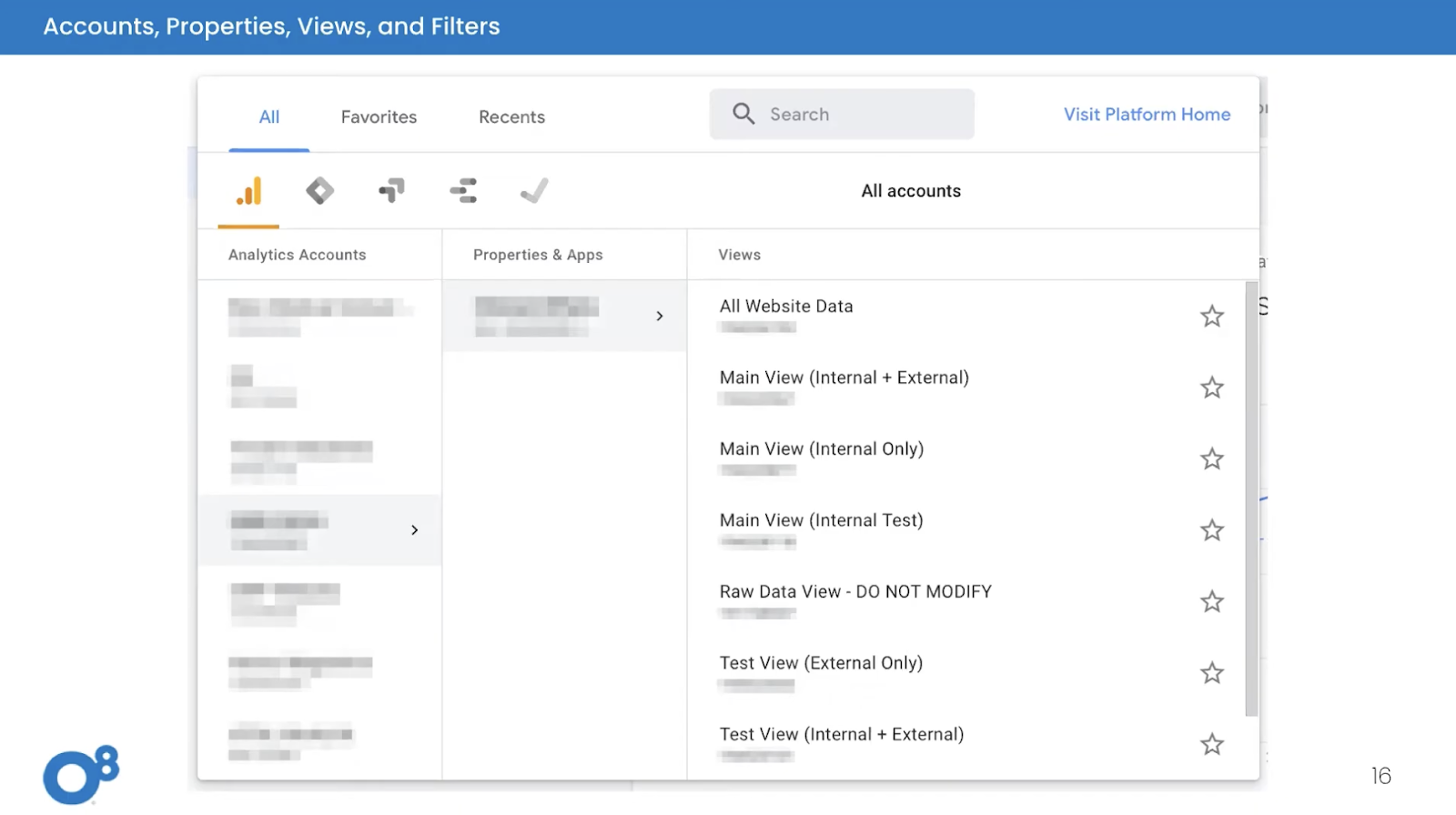 Verify you're excluding URL queries for data privacy, including tools that pass information via URL variables such as landing page forms. Regularly review this distinction to make sure you have an exception list for form fields and variables that contain personal information.
Check the box for bot filtering to exclude all hits from known bots and spiders. This action is especially important for your external view where you'll focus on the effectiveness of your marketing spend.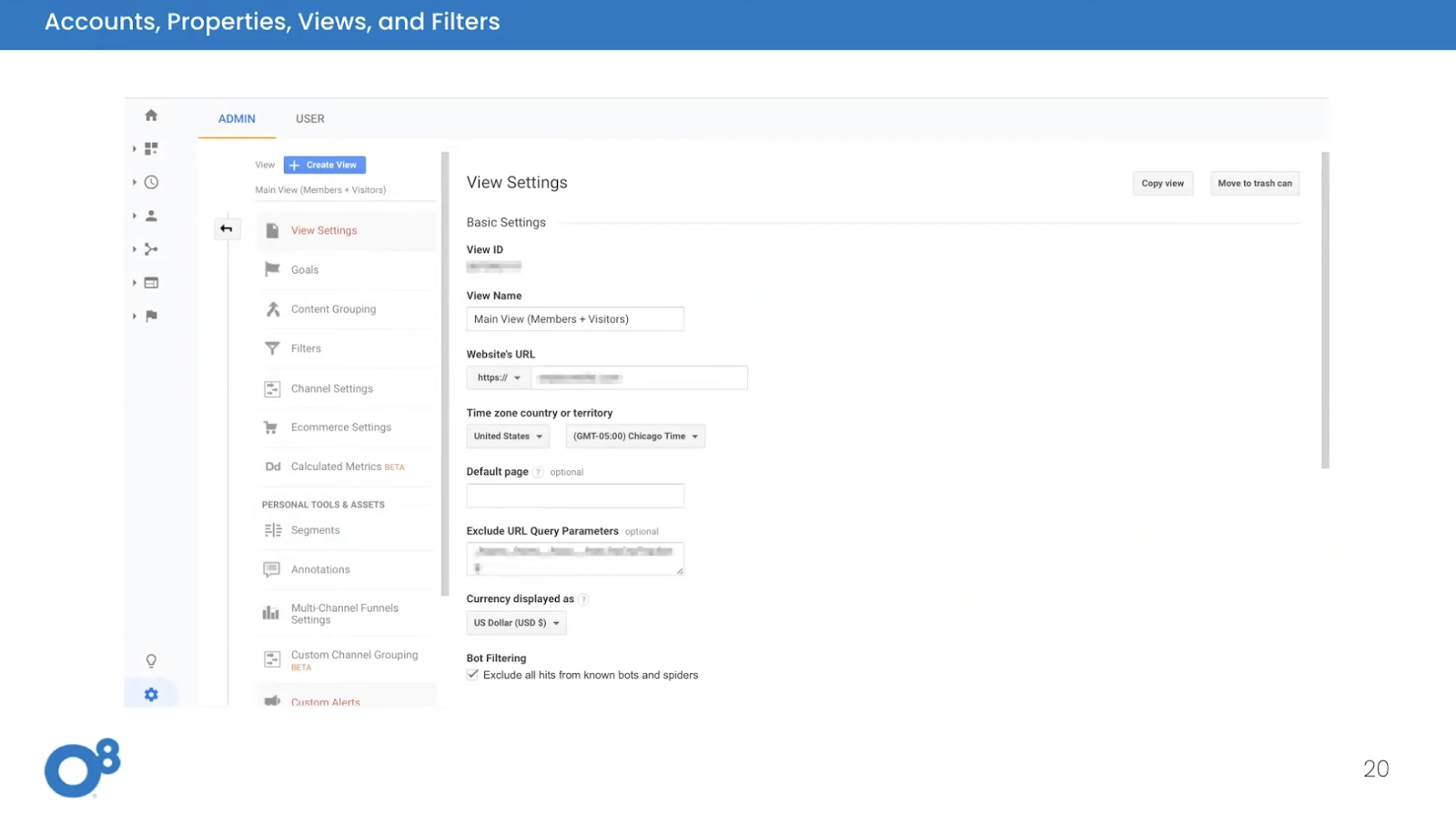 Filters
Enable filters to normalize letter cases and remove special characters. Google treats upper case and lower case as variants on the same word. If you don't take action in the beginning, you'll have to manually reconcile those variants later in your reporting.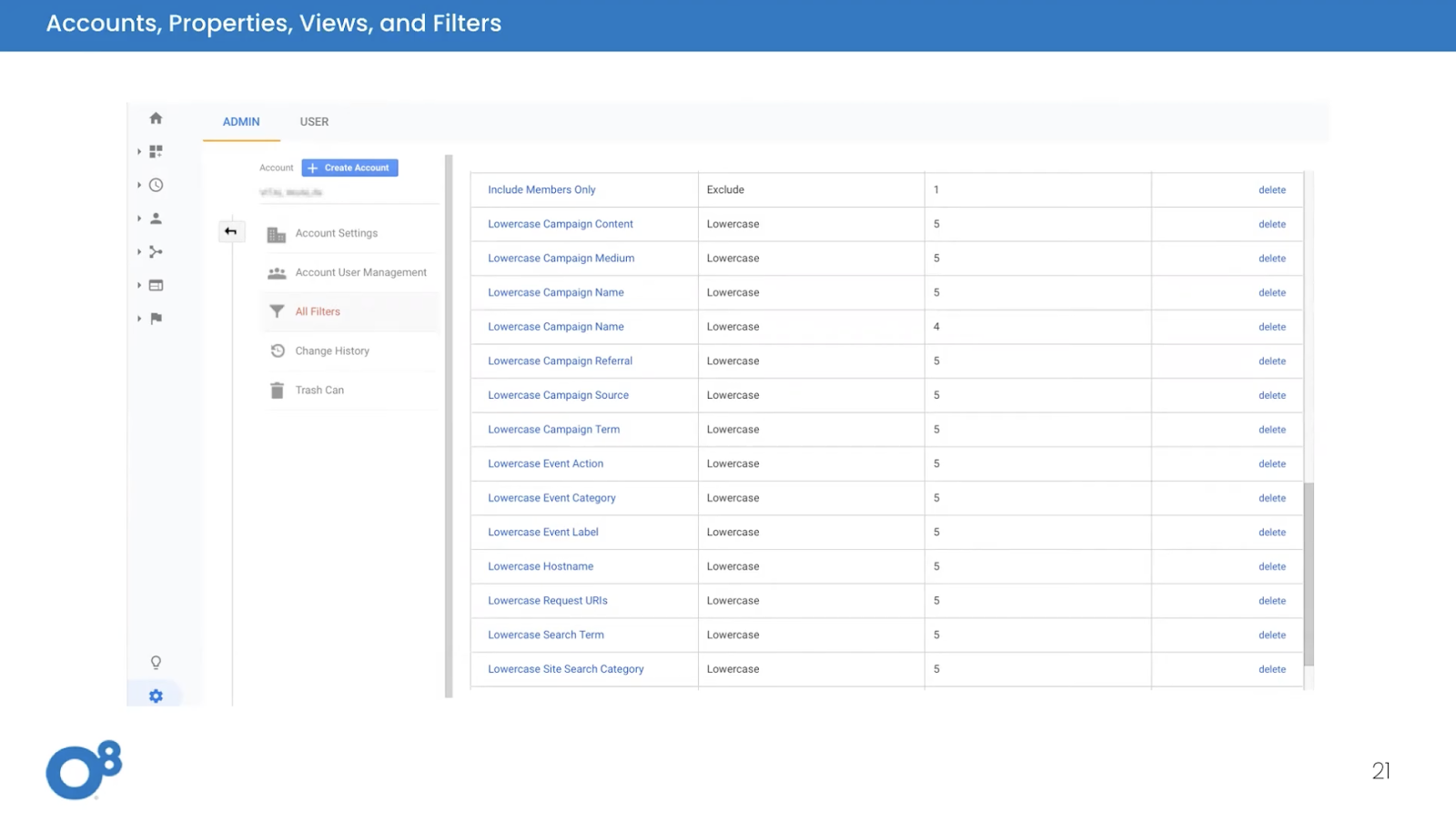 Implement a destructive filter to rewrite the request URI to include the hostname. Without the hostname appended, you may see five different sites' data funneled into one entry, for example. This step is vital for cross-domain tracking, which we'll discuss more later.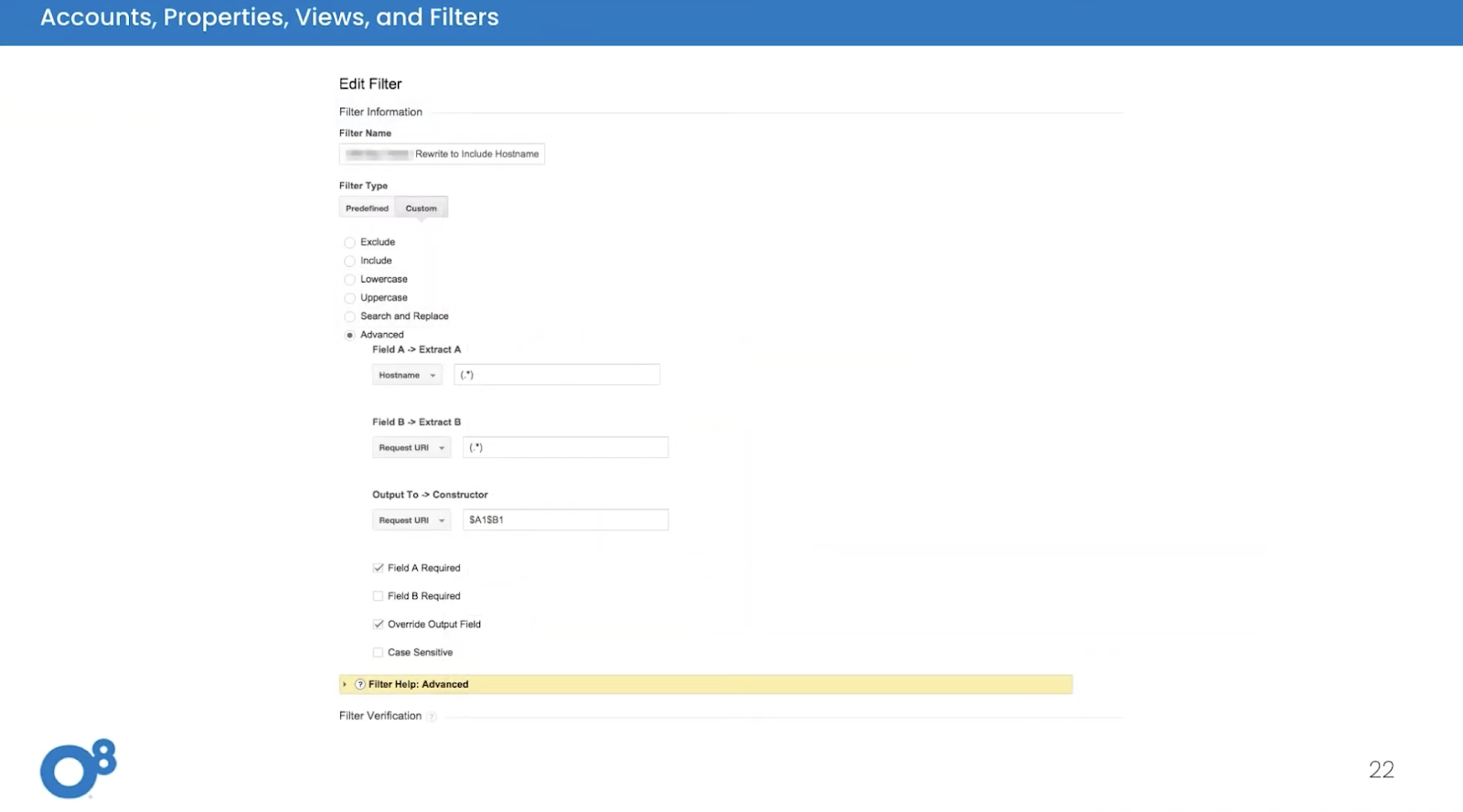 Filter out nonproduction traffic to your site. Google Analytics accepts data with your Google Analytics ID attached regardless of the source. Without this filter, you may get traffic from people editing and testing your website which throws off analytics for your views.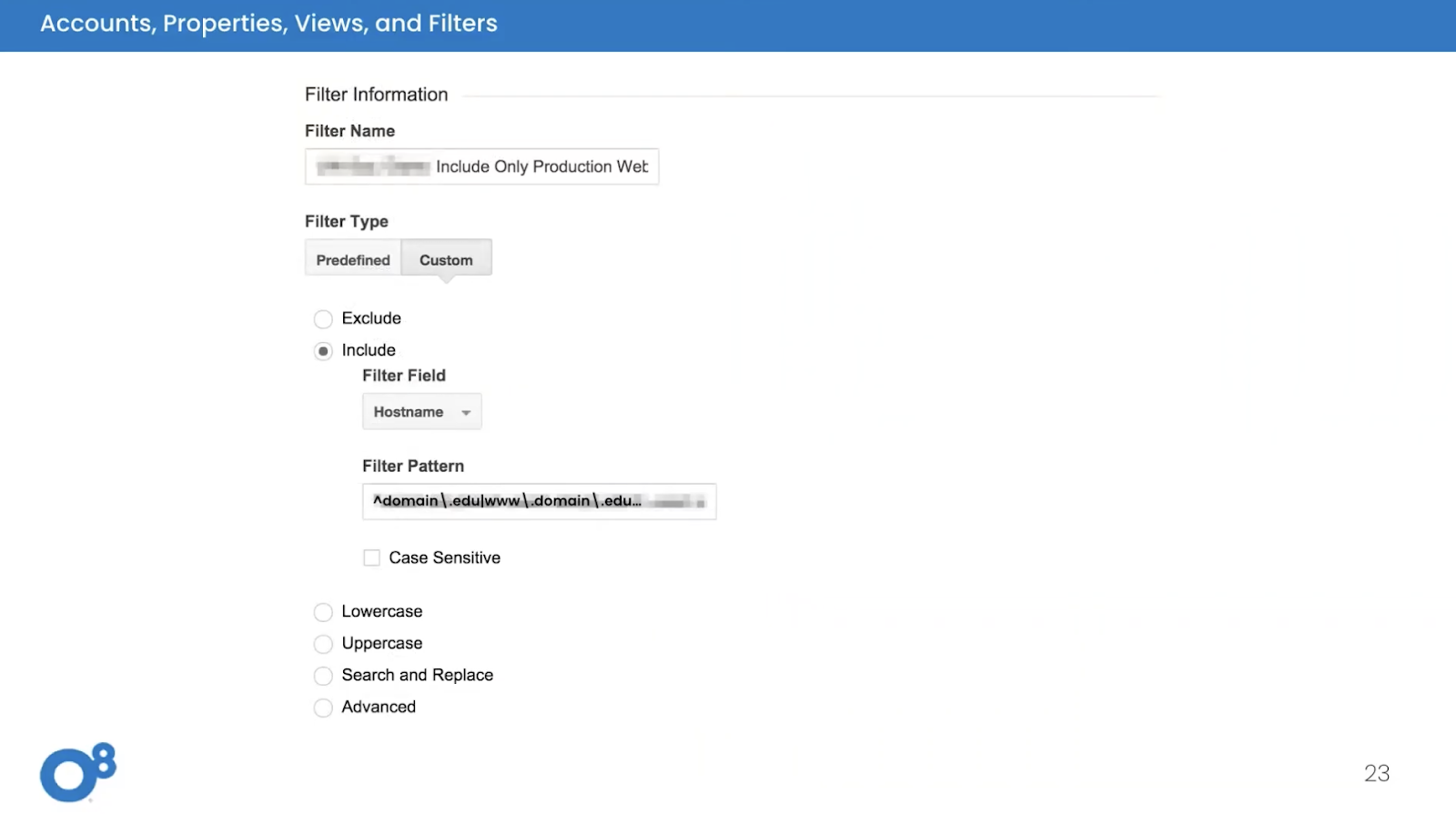 Watch our Analytics from Start to Finish Webinar for the full discussion:
Campaign URLs
Campaign URLs allow you to primarily track efforts at the top of the funnel in the acquisition stage. From this data, you'll learn which content, media, and sources are bringing prospective students to your site. Campaign URLs connect your inbound and outbound efforts to your macro and micro conversions. These tools can also be used to track CTAs from print pieces by using a URL shortening service with a campaign URL behind it.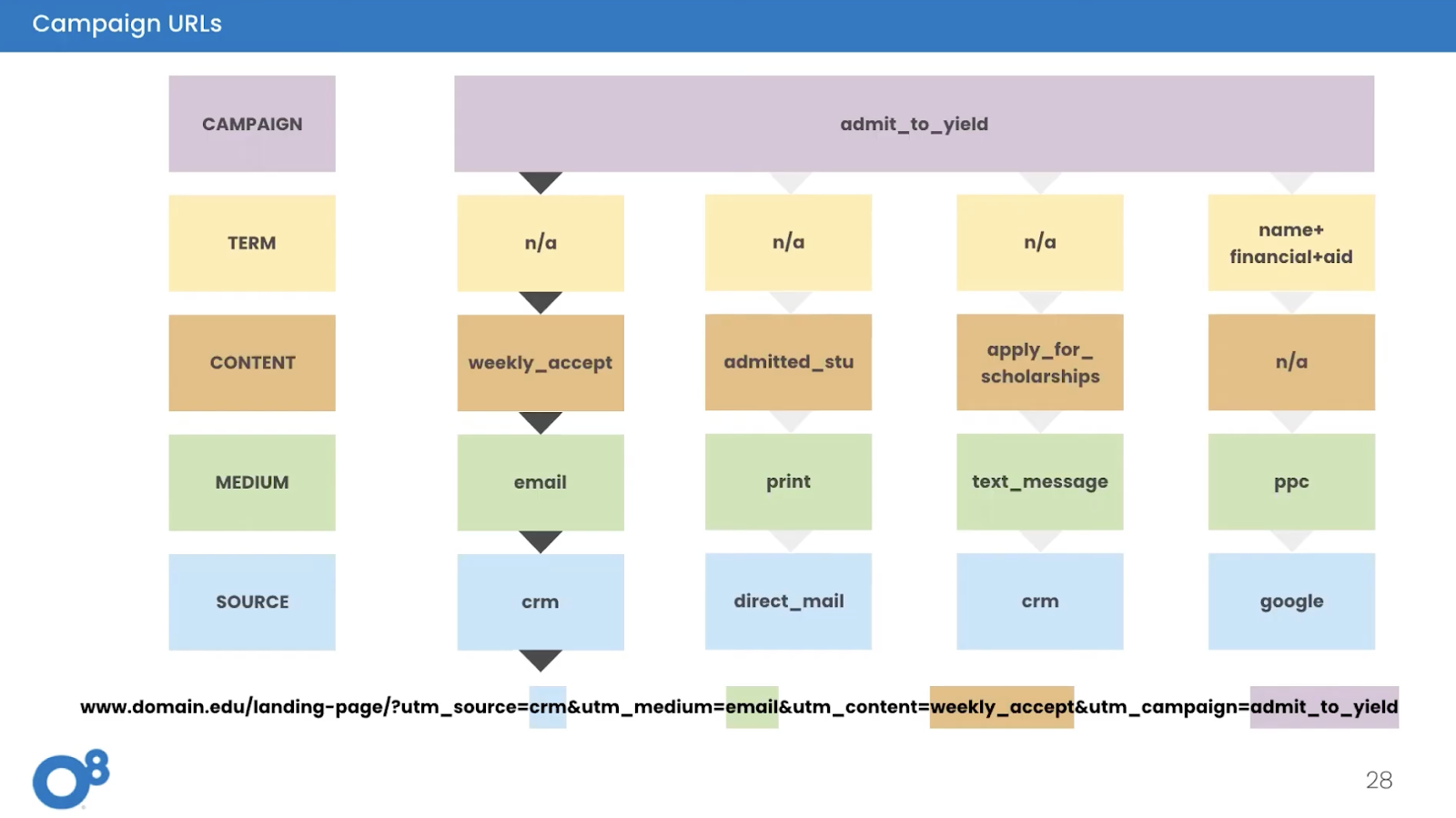 When planning your campaign URLs, be sure to document work consistently across your team just like the letter case example. For instance, if you use "email," a team member uses "emails," and another team member uses "email from CRM," each variable will show up as a different entry. Using "em
Cross-Domain Tracking
Cross-domain tracking allows you to view the entire prospective student's journey across your web platforms and tools used throughout the funnel. Use Google Tag Manager to set up this function by creating a comma-separated list of domains you'd like to be included under auto-link domains—and make sure you've turned on the feature.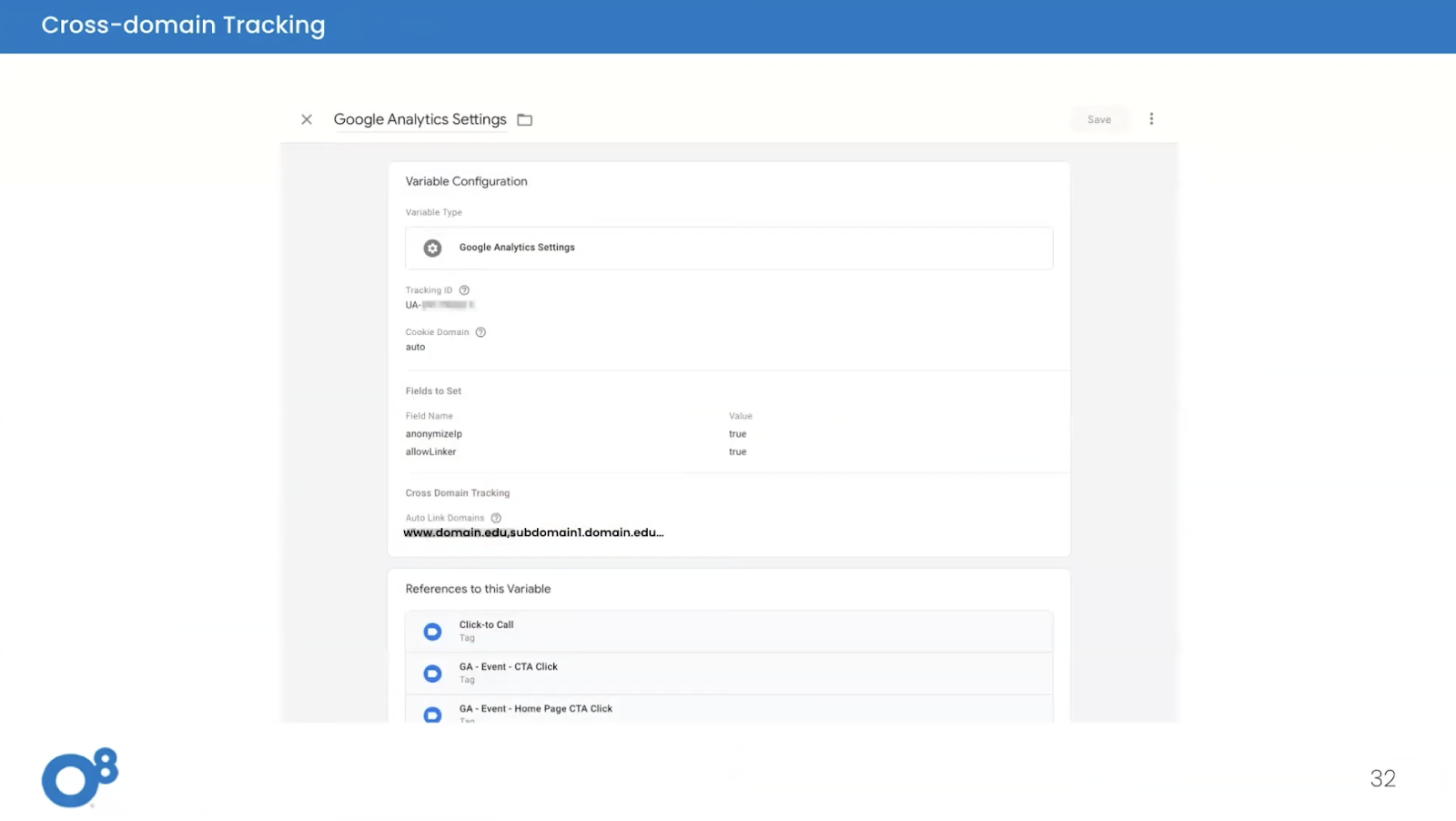 This list of domains should be the same as the list of production-only URLs you created with a filter at the beginning of this process. Keep in mind that your raw data view doesn't have any filters, so it will gather all of the information your Google Analytics ID is sending back whether or not those domains are on this list.
Need help getting your analytics in order?
Event Tracking
Event tracking lets you track macro and micro conversions across your different web properties. This tool gives you insights into conversion rates as prospective students progress down the funnel. 
First, establish your KPIs. Differentiate between your macro and micro conversions and identify metrics that will be useful for diagnosing any issues that may surface.
Then, create an event tracking matrix with consistent variables and use Google Tag Manager to implement them.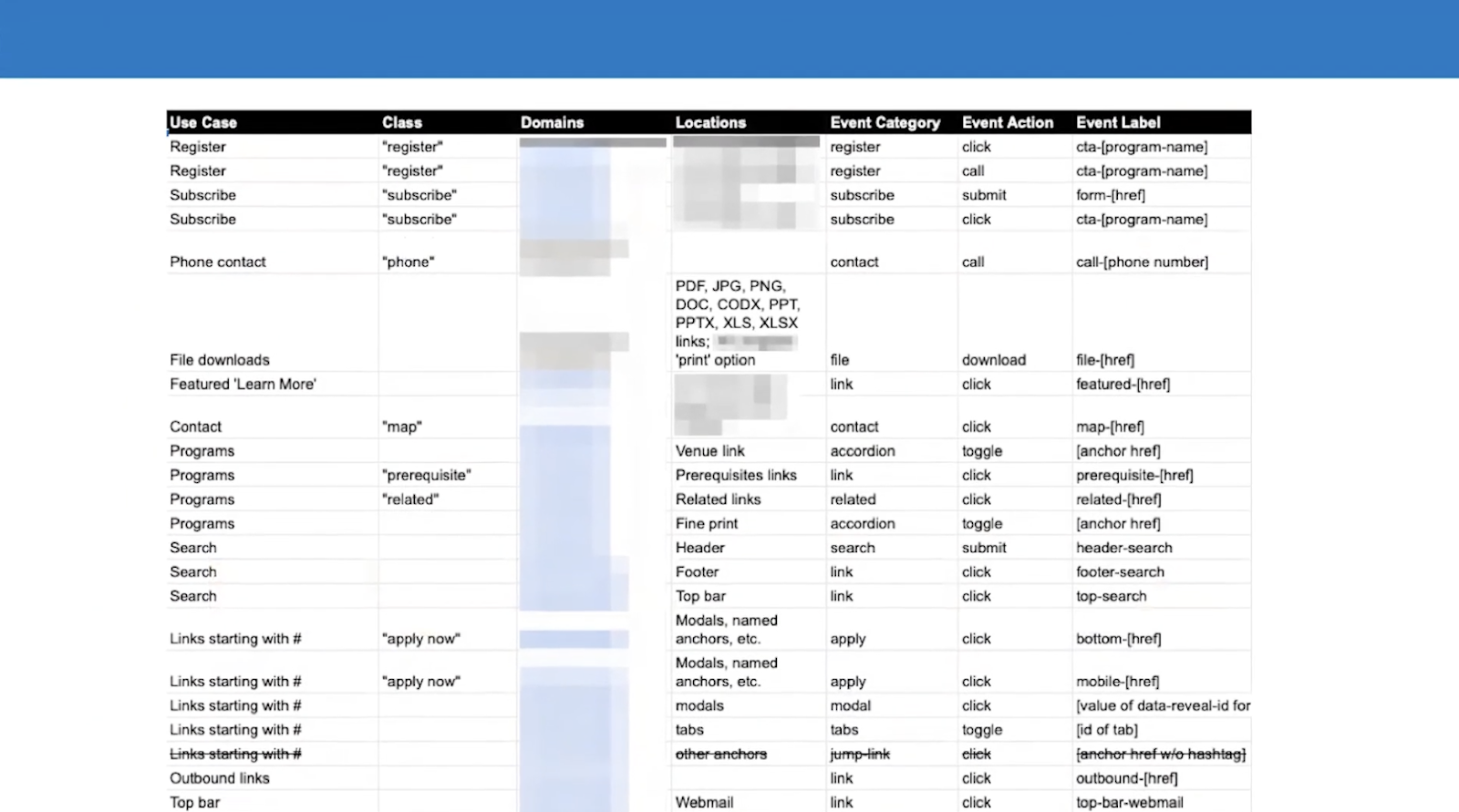 You can then tie conversions such as "submit" and "link click" back to campaigns and verify which marketing efforts are working best.
Custom Dimensions
Custom dimensions allow you to create special properties that can be tracked throughout the funnel. You can use this tool to identify user types based on logins or other actions as well as sources. 
Set up custom dimensions in a property under custom definitions in Google Analytics. Then, create a corresponding entry variable within Google Tag Manager that injects that data into the data layer with a variable. Just like campaign URLs and event tracking, be consistent with naming conventions and let your team know the documenting process.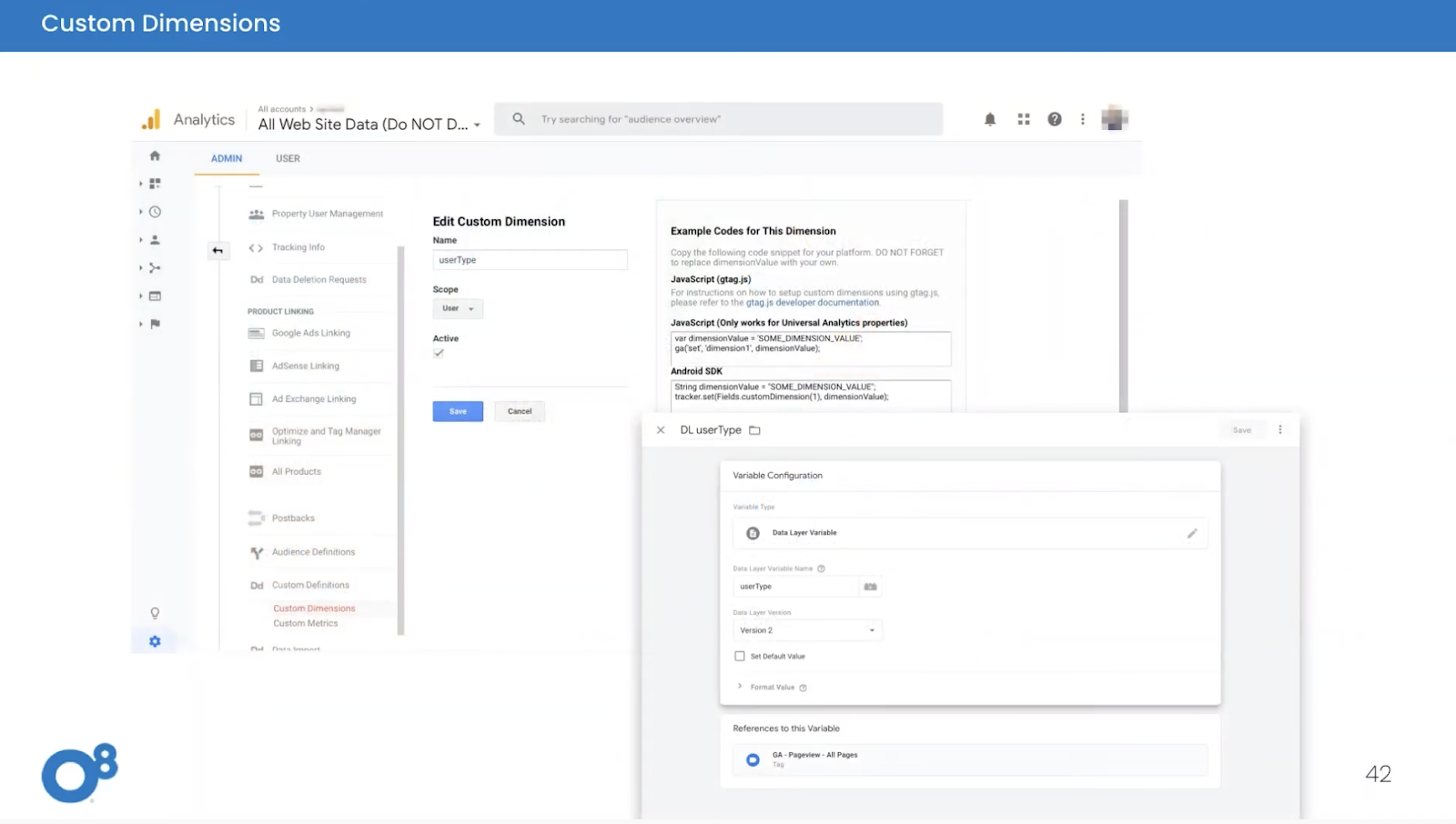 Goals and Conversions
After you've set up Google Analytics to gather all of the information you want to see, you can focus on what's most important: goals. Your goals will largely correspond with major steps in consumer behavior such as ad, site/CRM, and apply conversions. Setting specific goals allows you to track conversion rates as users progress down each step of the funnel. 
Common goals set up in Google Analytics include RFIs, visits, and applications to tell which marketing channels are working best. You can also set up engagement goals—like a prospective student viewing 50% or more of a video—to help gather details around audience building.
Integrations
Lastly, APIs and built-in integrations allow you to pass big data across all your platforms and tools and make reporting easier.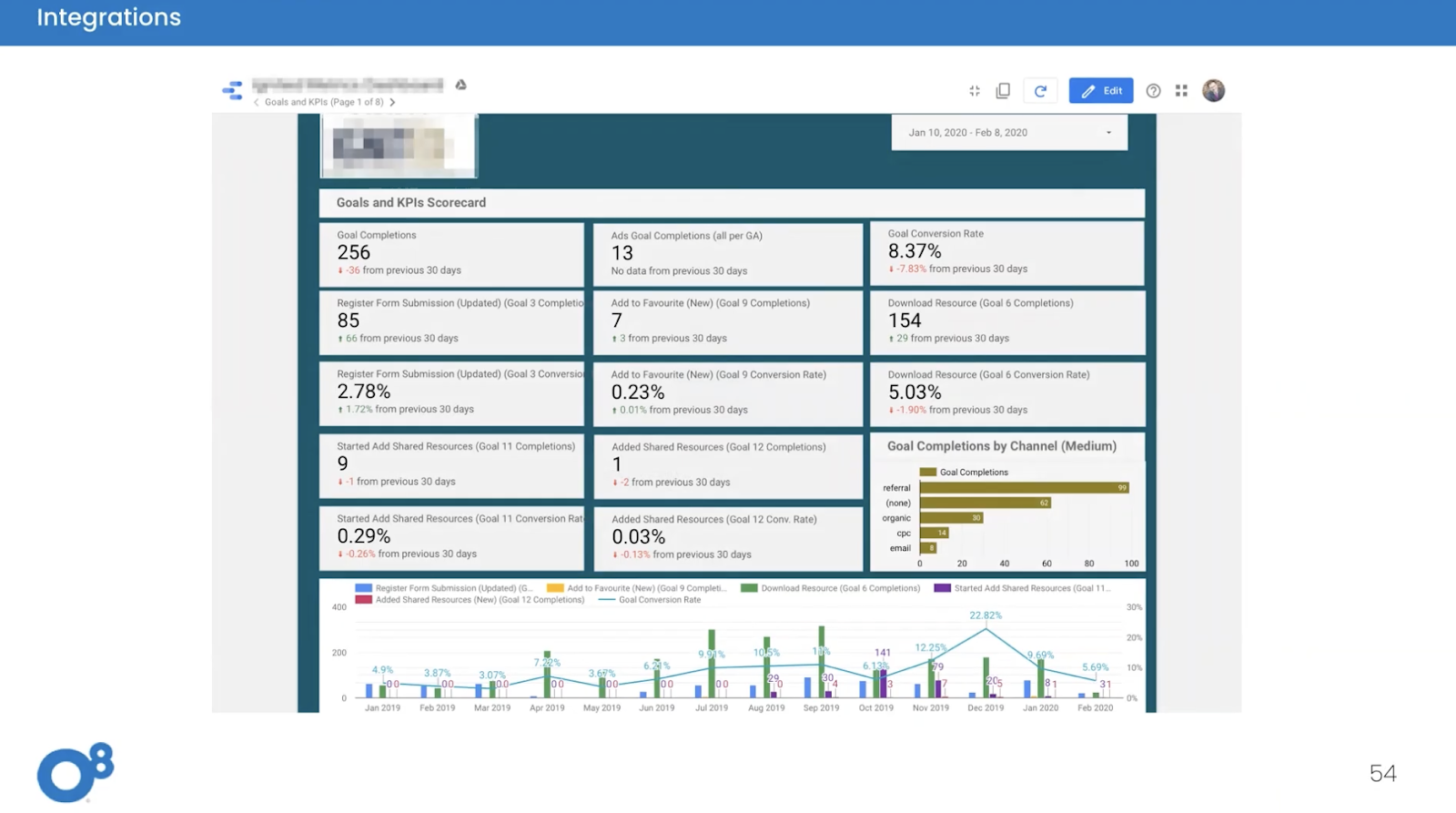 Google Data Studio aggregates data from all of your different sources using data connectors. Many of the most popular tools have free data connectors. Data Studio makes interactive reporting web pages that can be made into PDFs. 
You can also set up integrations with other tools such as Mailchimp, Hotjar, and HubSpot to optimize reporting and close the loop on your marketing efforts.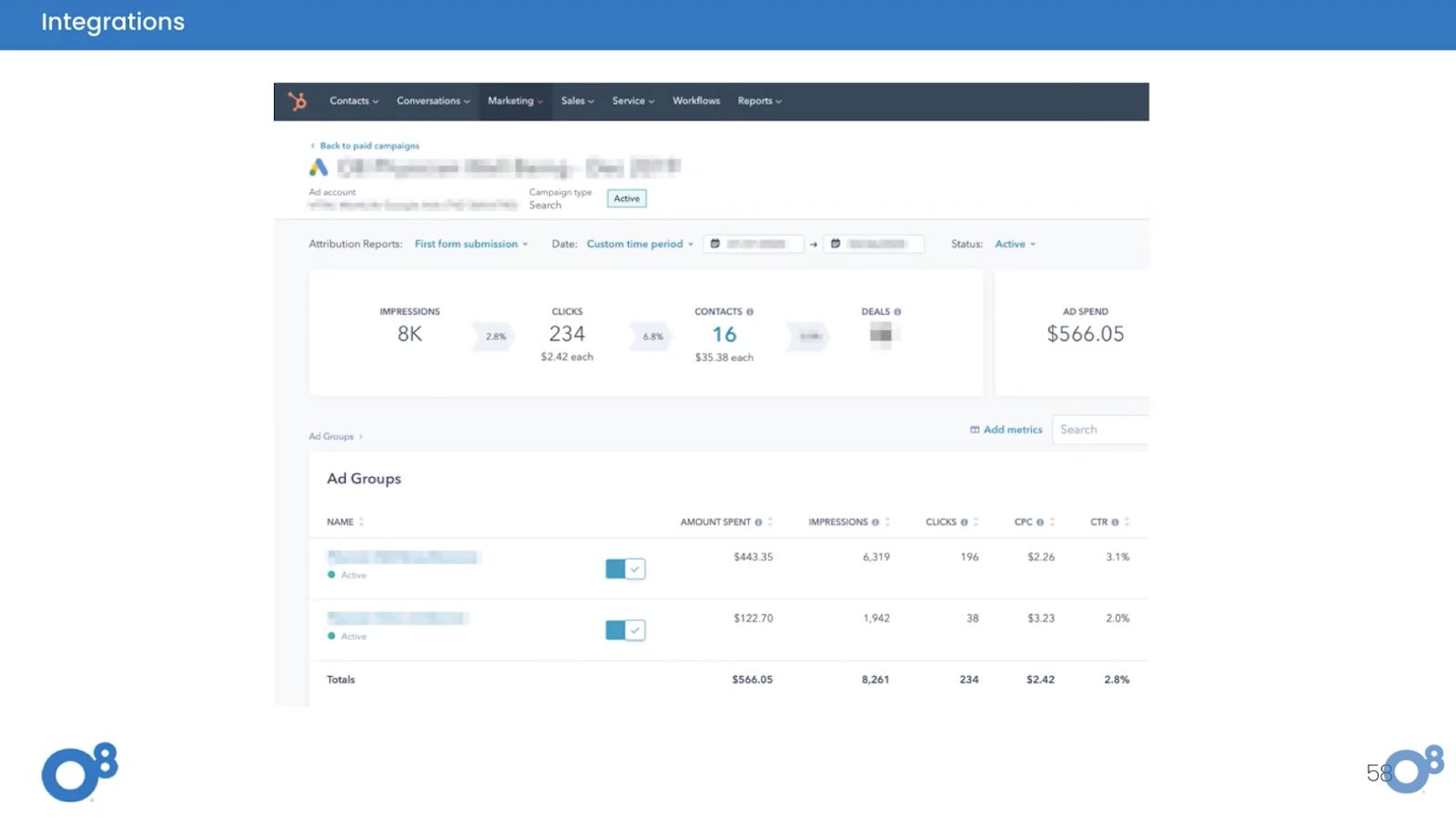 Higher Education Digital Marketing Firms Can Help!
Tracking higher education analytics from start to finish enables you to calculate ROI for your campaigns and make better marketing decisions.
A higher education digital marketing agency can help your institution measure these business analytics and evaluate their impact on enrollment. 
O8 has extensive higher education experience with various educational institutions across the country, specifically in digital marketing initiatives and complex higher education web design and development with Drupal and WordPress. 
Get started with us today to elevate your digital marketing strategy for higher education.
Watch the full webinar:
Comments