How to Create Actionable Insights From Your Marketing Data
Reading time: 4 minutes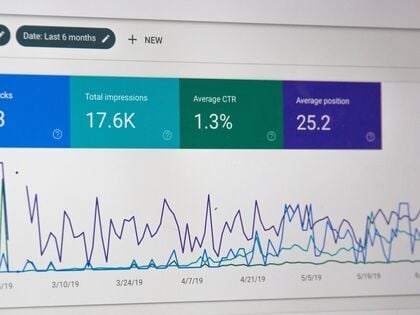 Where Should You Begin to Make Sense of Your Marketing Data, or Lack Thereof?
The place that we like to start is establishing KPIs. We have a KPI document that maps out a broad strategy and then dives into three to four separate focus areas. These focus areas allow us to identify macro and micro conversions across the site that drive value for the business or organization.
If you're on the side of lacking quality marketing data, identifying KPIs right at the start allows you to start setting up the tooling and the infrastructure required to capture the data behind them.
If you're drowning in data, the chances are that you're trying to track and pay attention to every single thing, which is not sustainable. Again, establishing KPIs helps to shine a light on the most important things within your organization so that you're not getting distracted by all of the extra noise or going into what we call data paralysis.
How Do You Decide Which Data Is Essential to Avoid "Data Paralysis?" 
After creating your KPI document for what you're tracking and how, the next step is to figure out who needs what information. Not everyone needs all the information. Structuring your KPI document to align the information so that it can be easily divvied up for each role is extremely important.

For example, a C-suite or executive may need very top-level information— and that's all they want. The next level down might be a marketing manager who is looking for information at the campaign level. Or, if you're working with an agency or you have a digital marketing specialist, they're going to want very detailed information about how very specific parts of the campaign are performing.
Are you experiencing data overload?
After You Get KPIs Identified and Prioritized, What Is the Next Step? 
There will be different KPI segments that we want to look at within each of these key metrics. We set to identify all potential segments for our clients, whether that's customer type, profiles, region, device type, or something else.
You can then sort through the segments and determine what's essential and prioritize again. From there, you will have a better understanding of what information should be shared with who to avoid the data paralysis we previously mentioned.
What Are Some Ways to Best Visualize or Display All of Your Marketing Data?
At O8, we are big fans of a tool called Google Data Studio. Because so many people use this tool, there's a lot of crowdsourcing of information and templates available for you to use. And the fact that it's a Google product means that it integrates well with many of the prominent advertising and marketing tools companies might be using.
With all of your information in one place with Google Data Studio, everyone has access to it and can find the level of information they need. It allows you to have various pages within a dashboard report, where you can go from an executive-level scorecard with just a few metrics to another page with more campaign-related information. You could even then triple-click down into another page for even more specific optimization level data points.
This tool, along with similar platforms, is great because it allows you to see live dashboards instead of a once-daily report. But you also have the ability to send those daily reports to specific people within your organization and filter in and out the data that is pertinent to them.
Is There Any Danger in Sharing These Dashboards/Reports Without Any Context?
A good example showing the danger in sharing reports or dashboards without context would be sitewide bounce rate. Simply sharing this data without explanation to different people in your organization would almost certainly cause concern. This bounce rate is often impacted by irrelevant or even internal traffic rather than an actual problem with the website itself.
Every data story or report should have some sort of narrative behind it. It is important to include the context of a dashboard or report before sharing. You could include some simple text to go along with the report or have a short meeting to review. And again, make sure that you are only sharing with those who need to see it to avoid data overload for others.
How Do You Operationalize Data Analysis and Create a Reliable Feedback Loop into the Business Process and Decision-Making?
At O8, we have weekly marketing and strategy meetings, including a "growth meeting," which is focused purely on learning from more recent or short-term data. It's not usually efficient or effective to take a whole meeting to review the dashboard together. It's important that people review and analyze the data beforehand so that the meeting can be used for key takeaways, changes in the data story, and what improvement can be made.
We also have a weekly traction meeting, which is an organizational operating system. We have a scorecard that we track metrics for, and we'll also raise issues surrounding the data and learnings. Coming out of those meetings, we walk away with a list of action items translated into our project management tool that are taking those learnings to execute on.
Watch the full Digital Lunch Box session:
---