How to Create a Digital Marketing Budget
If you've ever considered ramping up your business's digital marketing strategy, you may be faced with the dreaded budget problem. How can you allocate enough to produce an effective campaign without being wasteful? It's not easy. However, you can still pat yourself on the back. You've already jumped a huge hurdle: realizing the need for digital marketing!
Growth in digital marketing spend greatly outpaces traditional advertising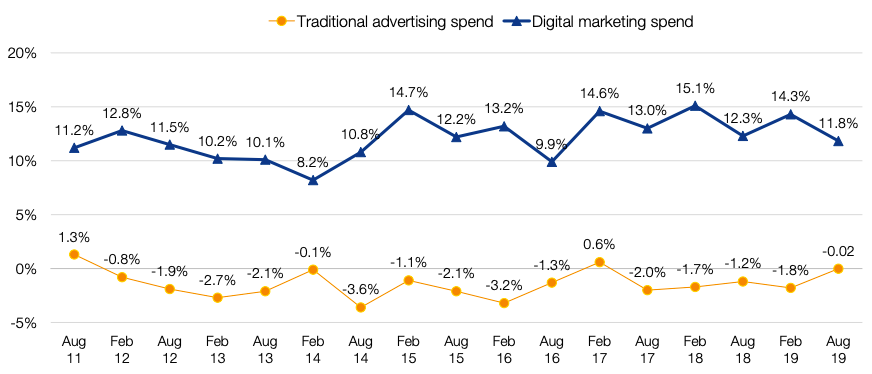 ​
The report above from cmosurvey.org shows that growth rates for traditional advertising and digital marketing spend have remained stable over time with consistent and strong growth in digital marketing and consistent losses to traditional advertising spending. If you're wondering what this means for your business's budget, O8 can help. We've thoughtfully developed a 6 step plan to help your company set aside a budget for digital marketing.
To begin, let's first define digital marketing. We view digital marketing as media advertising, not using the Internet. This can include web design, email marketing, social media marketing, SEO optimization, and content marketing. These platforms are great tools to reach customers where they show up most. 
​
For example, let's just look at social media. If you've hung around with any group of twenty-somethings, you know social media is on the rise. The data supports these observations. We understand that you as a business need to be where your customers are. Social media isn't going away any time soon, so it's a good place to invest your business's time and resources.
Step 1: Set a target
We get it. Goal setting can be a chore, so let us help you.
First, decide what type of goal you want to set: awareness or sales. An awareness goal pertains to customers interacting and engaging with your business. Think: web traffic, number of social followers, social engagement. On the other hand, a sales goal can be set for the number of repeat sales, upsells, first time buyers, or conversions. Once you decide what it is that you're aiming for, the plan will start to fall into place.
Step 2: Look at your history
Have you run prior campaigns? If yes, then what worked? Make a list of all the places where your business spent money, then rank them by how effectively they used that money. If something was sucking a considerable amount of resources with little return, you can save on it this time around. Learning from your successes and failures is one of the best ways to create a smart digital marketing budget.
Step 3: Research
To create the best digital marketing budget possible, you're going to want to do some research. Find out what your competitors are spending money on. If they think email marketing is the most important thing they can do, why do they think that? Are they focusing on any specific keywords? Researching the best keywords for your business to use online is a great way to help your audience find you. Meet that audience halfway by researching your social community. Find where they show up online and go there. If Pinterest seems to attract your target market, start pinning!
Step 4: Allocate money
Digital marketing budgets are not one-size-fits-all. Budgets depend on many variables like revenue and customer costs. It can also be affected by your business objectives. For example, businesses will spend more money on digital marketing around the time of a new product launch. For that reason, you can't totally rely on comparing your business to its competitors.
Marketing trends even vary by industry.  Deloitte helps us compare industry marketing budgets in the following chart:
As shown above, marketing budgets vary greatly by industry. Doing the proper research can help your business stay in a price range appropriate for your category.
Step 5: Track successes and failures
When you begin your digital marketing campaign, your budgeting efforts have not ended. You can track your successes and failures by utilizing analytics software. Google Analytics is a great example. Here, you can track how site visitors arrived at your site and when they came. This data is great for future decision making. Along with analytics, track your social engagement. Have you gained new followers? If not, maybe it's time to go back to the drawing board.
You know that digital marketing is important, and that's half the battle. Now, it's time to put these steps to use and create your digital marketing campaign! If you need help, O8 is always here to give your business a free analysis of your marketing ROI. Give us a call!
Join the conversation