How to Tackle Your Annual Marketing Plan: SMART Goals, Objectives, and KPIs
Reading time: 4 minutes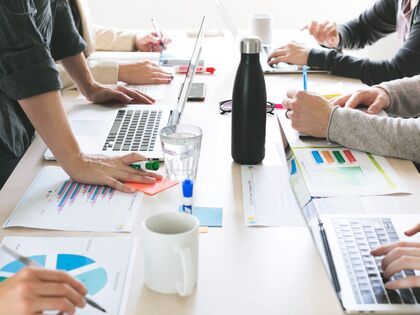 The idea of planning for 2022 is daunting. The reality is that we're still in the middle of a pandemic, and the factors that can influence businesses are going to continue to evolve for the foreseeable future. With this in mind, digital marketing strategy should be carefully strategized to align with business goals.
How Do You Differentiate Between Business Goals and Marketing Goals?
Most of the time, they're going to be interrelated. If a business leader wants to enter into a new category or improve in a particular area, they will have to team up with the marketing department, and vice versa. Alignment between the business as a whole and marketing strategy is essential.
If a business' goal is to break into a new area and boost revenue by a certain percentage, the marketing department will need to set strategic marketing objectives. This marketing objective could be something like optimizing the funnel by increasing digital advertising to reach a certain conversion rate.
Who Should Be Involved in Setting Strategic Marketing Objectives? 
We are of the mindset that everyone should be involved in setting marketing objectives in some capacity. Different people and roles bring different perspectives. Some of the best ideas can come from employees who are closest to your end-user, the ones creating the content or using or selling your services.
Ultimately, while not everyone's ideas will end up in the organization's final marketing strategy, the brainstorming process is invaluable. Leadership should then filter through ideas and make the final decisions. A mixture of qualitative and quantitative data will most likely impact these decisions, but it will vary by organization.
Need help with your marketing strategy planning?
What Should Be Completed Before a Strategic Planning Session?
Every company runs differently, but we have our preferred methods. We start with researching market and industry trends. Data is essential, but it's also good to keep an open mind and gain additional inspiration elsewhere. Reading or listening to audiobooks and podcasts can help you gather current industry news and ideas to put together a productive agenda for your planning session.
O8's agenda content starts with the best and worst news of the year and an inspirational quote to get people thinking. Then, we get into the nitty-gritty, such as the market's state, our capabilities, what we should stop, start, and keep doing, and our identity and differentiation. We follow all of this with accountability, processes, and OKRs.
It's not a short agenda, but it's necessary. In today's world, it is important to be agile enough to know that this strategic planning is not just a one and done thing. Continuing to work on components from the session and make improvements throughout the year is the goal.
What Are OKRs, and Why Are They Important?
OKR is short for "objectives and key results." OKRs are specific, measurable goals for which a team or a person is held accountable.
For example, increasing readership on a specific set of blog articles is one small goal. But it's a very concrete, bite-sized task that is trackable and accountable to a person, rather than having a broad overarching goal. OKRs help people on the team know exactly how they are expected to get to a larger goal.
What Types of Marketing Goals Should an Organization Set?
SMART goals are a great starting point. SMART is an acronym for "specific, measurable, achievable, relevant, and time-bound." Many goals that organizations set are more like lofty ideas than things that can be tangibly achieved and have measurable results. It's also important to set SMART goals specific to your company. Don't get too caught up in the most popular trends of the moment if they don't make sense for your organization.
Track these SMART goals in a spreadsheet or dashboard, and have regular check-ins to foster your team's accountability. Checking in on the progress, or lack thereof can help you know if the goals need to be adjusted. Realistic timelines should be set and can also be altered if need be. While these goals may need to be "owned" by one person, make sure everyone is accountable.
Is There Anything Else an Organization Should Consider Before Going Into the New Year?
Assuming you have the infrastructure in place to measure your marketing goals, it would be great to step back and look at what's worked for you this past year. How do you see these successes playing out in a post-pandemic world once we get there?
Things that you are seeing a high ROI on now will most likely continue to be successful for you moving forward. Many new habits have formed during the pandemic over the past year, so the time frame for measuring these is not insignificant.
Testing and experimentation will always be necessary. Be agile, adapt, test, and experiment. AB testing and user experience testing will always be a good move strategically. Gathering as much data as you can will help you to be agile in the coming year.
Finally, always have a plan B (and maybe a plan C) in your back pocket. We could have never predicted what this year has been, so having a solid plan B going forward could save you and your team a lot of time and stress.
Watch our full discussion on tackling your marketing plan here:
---