Create Your Perfect Content Marketing Team Structure
Reading time: 9 minutes
More than 20% of businesses don't have a content marketing team.
If your organization is one of these businesses, what's holding you back? You can do content marketing on any level—whether you're a startup or a Fortune 500 company.
This article explains what a content marketing team does, the types of roles included, and how to create the right team for your business, whether your needs are essential, elevated, or elite.
What Are the Responsibilities of a Content Marketing Team?
Your content marketing team plans, creates, and distributes content for your business. They consistently provide information that solves problems for your target audience. Some examples of content include:
Blogs

Videos

eBooks

Podcasts

Webinars

Infographics

White papers

Case studies

Email marketing

Social media posts
Building a content marketing team is the foundation of an inbound marketing strategy. This methodology attracts, engages, and delights customers. Compared to outbound methods such as paid advertising, content marketing costs 62% less. It also generates more than three times as many leads.
The job of your content marketing team is to answer the questions your prospects are asking online. As customers learn about your business through pieces of content, they recognize your organization as an authority. When your content builds trust and credibility, you generate leads and increase conversions.
What Are the Content Marketing Team Roles?
Content marketing roles span from strategists to the C-suite. But a few people could cover several positions depending on your business. Your content marketing team may be one person or a group.

Here are nine roles to include on your content marketing team:
Strategist

Creator

Manager

Social media manager

Graphic designer

Editor

Search engine optimization (SEO) specialist

Analytics expert

Director or chief content officer (CCO)
In an ideal world, one person fills each of the content marketing team roles. Large companies may have the luxury of assembling a full lineup. But this type of commitment is not always workable for other organizations. Small- to medium-sized businesses (SMBs) may not have the budget or resources to staff every position on a content marketing team.
But whether you're a startup or an enterprise, you can create the perfect content marketing team structure for your business! Start by setting content goals and evaluating your resources. Then tailor your roster based on your needs and skill sets. Let's start with the three essential roles of a content marketing team.
Get compelling human-to-human content that also ranks with the search engine robots.
Building The Essential Content Marketing Team
The fundamentals of content marketing involve planning, creating, and distributing content. So, to begin, you need a strategist, a creator, and a manager.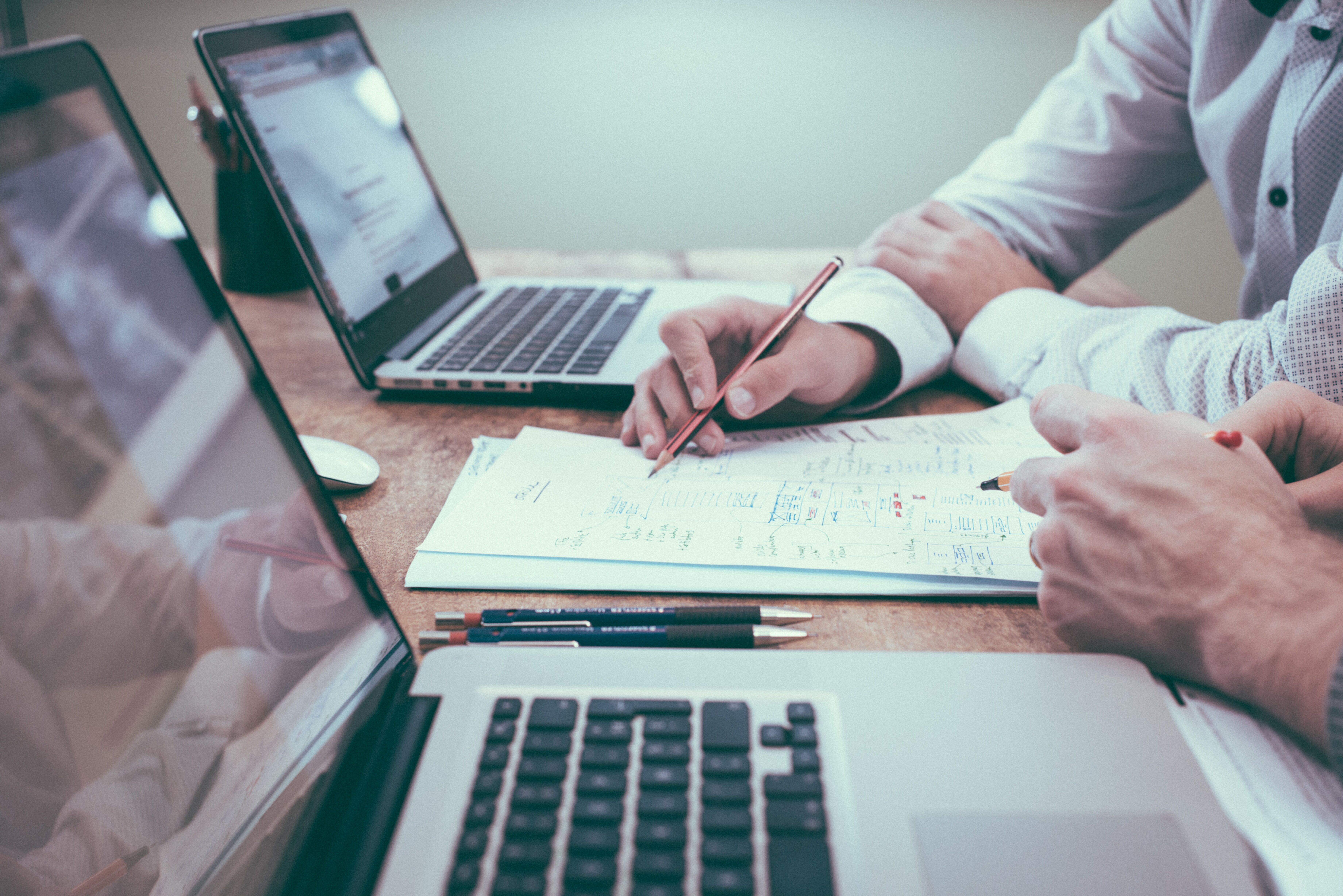 Content Marketing Strategist
A content marketing strategist—you guessed it—comes up with your content marketing strategy. They define why your business creates content, who it's for, and how it helps people. In this important role, a strategist aligns your content with your business goals. Otherwise, your content has no purpose or direction.
"Don't simply churn out content for content's sake." — Neil Patel
A strategist focuses on people-first content to build their content calendar. They research potential customers, choose topics based on interests, and find keywords to target. Once your content is online, a strategist measures results and makes adjustments. They ensure the quality of content that will engage your audience and drive customer action.

Content Marketing Creator
What's a content marketing strategy without content? A content marketing creator produces written audio, and visual information for your business. For example, content marketing writers craft blogs and eBooks. Videographers create tutorials and vlogs. Speakers make podcasts and audiobooks. Without creators, there would be no content for customers to act upon.
"People often create content to target a selected audience and evoke a response—like a new follow, site visit, or sale." — SEMrush
A creator turns the strategist's playbook of content ideas and keyword research into great content. They relieve your audience's pain points by answering their questions. Content creators follow industry trends and share relevant information with your prospects. They deliver quality content that generates traffic, leads, and customers.

Content Marketing Manager
A content marketing manager connects the strategist and the creator. They're in the middle, overseeing marketing campaigns and executing strategy. Managers assign, publish, and distribute content online. It's their responsibility to organize and promote deliverables to reach your business's target market.
"Content managers are brand advocates and know that the way stories are delivered reflect their company's brand and audience preferences." — HubSpot
Content managers use digital marketing software, tools, and methods to manage projects. They optimize content for search and social promotion. Managers confirm your content is consistent with your brand's style, quality, and tone of voice. They use their people and project management skills to implement your content marketing strategy.
These roles make up the essential structure of a content marketing department. One person could take on all three positions when resources are scarce. Or you could expand the team when you have the capacity. Let's explore three more roles that take content marketing to the next level.
Developing The Elevated Content Marketing Team
A social media manager, a designer, and an editor are specific roles to add to your team to elevate your content marketing efforts.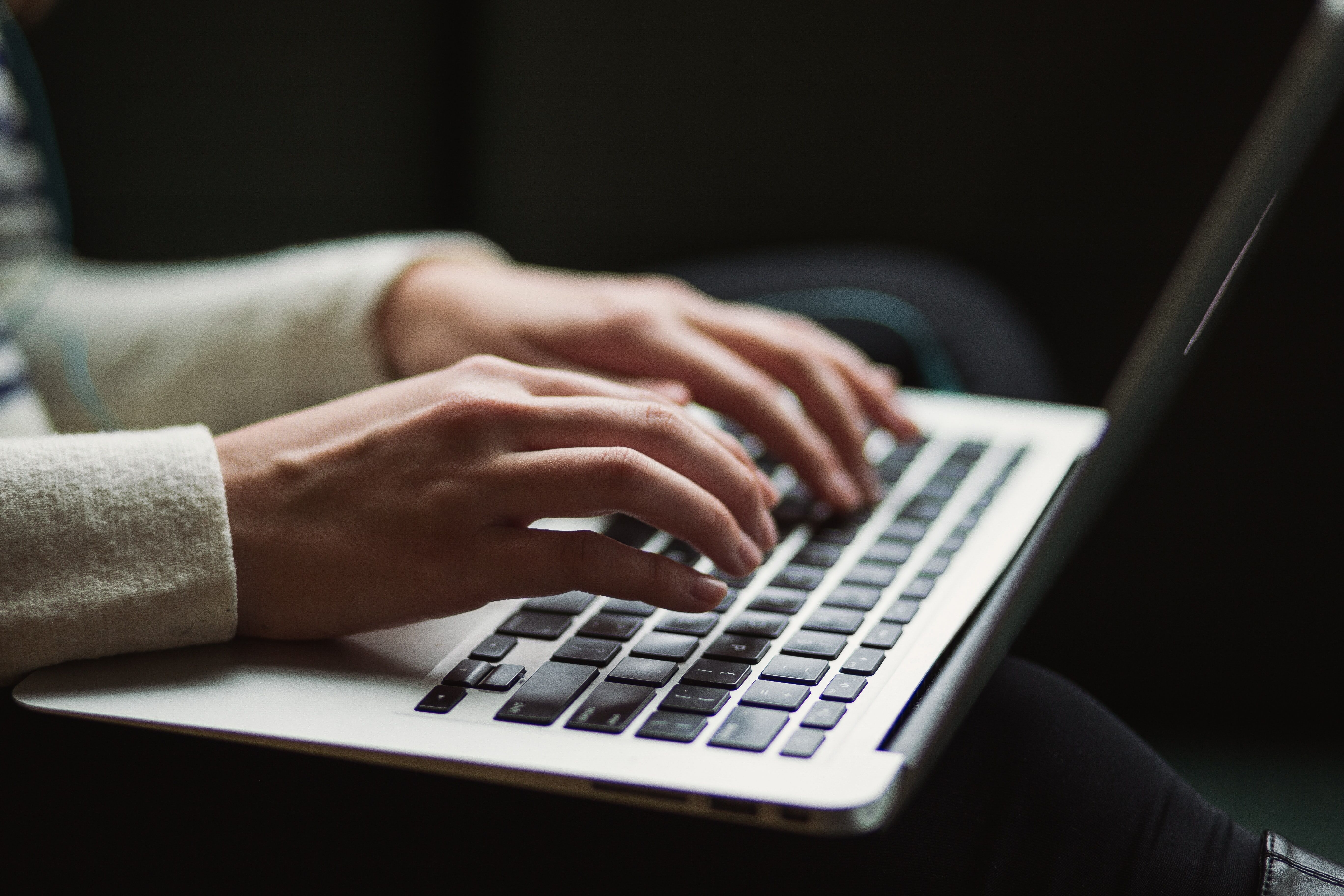 Social Media Manager
Social media managers focus on your organization's social media channels to grow your business. They use platforms like Facebook, LinkedIn, and Instagram to showcase your company's content. Social media managers build an online presence and interact with followers. These measures support the development of your brand identity.
"(A social media manager's) competence determines how effectively the business will be able to portray its brand value online." — Forbes
A social media manager schedules posts and engages with customers on social networks. They share content with captions that grab attention and call for action. Social media managers know what types of content work best on which channel and how to adapt to each changing landscape. They create social content to convert as many followers as possible into customers.

Graphic Designer
A graphic designer uses fonts, imagery, and other elements to make your content visually appealing. Poor design prevents prospects from understanding information and causes them to bounce off web pages. Designers understand the visual elements that attract, inform, and convert customers.
"Visual content creation should be as important as text or audio content creation." — Content Marketing Institute
Designers strategically use white space to make your content digestible. They incorporate your brand's color, typography, and logos to maintain consistency. A designer delicately balances text- and visual-based content. They make your content attractive and easy to consume, giving your customers a great user experience.

Editor
Just like managers connect content strategists and creators, editors connect creators and managers. An editor strengthens content into top-notch material before it reaches publication. This form of quality control is not just about grammatical mistakes, misspellings, and typos. The editor validates the intent, structure, and flow of the content.
"It's the in-between layer that's missing: the editor who acts as a proxy for the reader and ensures your content offers that reader real value in return for their time." — Harvard Business Review
An editor reviews written text, visual, and audio content. They verify whether the content aligns with the strategy and suggest changes to increase its value. A managing editor invests time working with writers, videographers, and podcasters to improve their crafts. They adhere to high content standards to serve your readers and your business.
These roles are great additions to the original content marketing lineup. But if you have the personnel to kick things up a notch, top off your team with three more positions.
Creating The Elite Content Marketing Team
You set up your content for ultimate success with an SEO specialist, an analytics expert, and a chief content officer (CCO).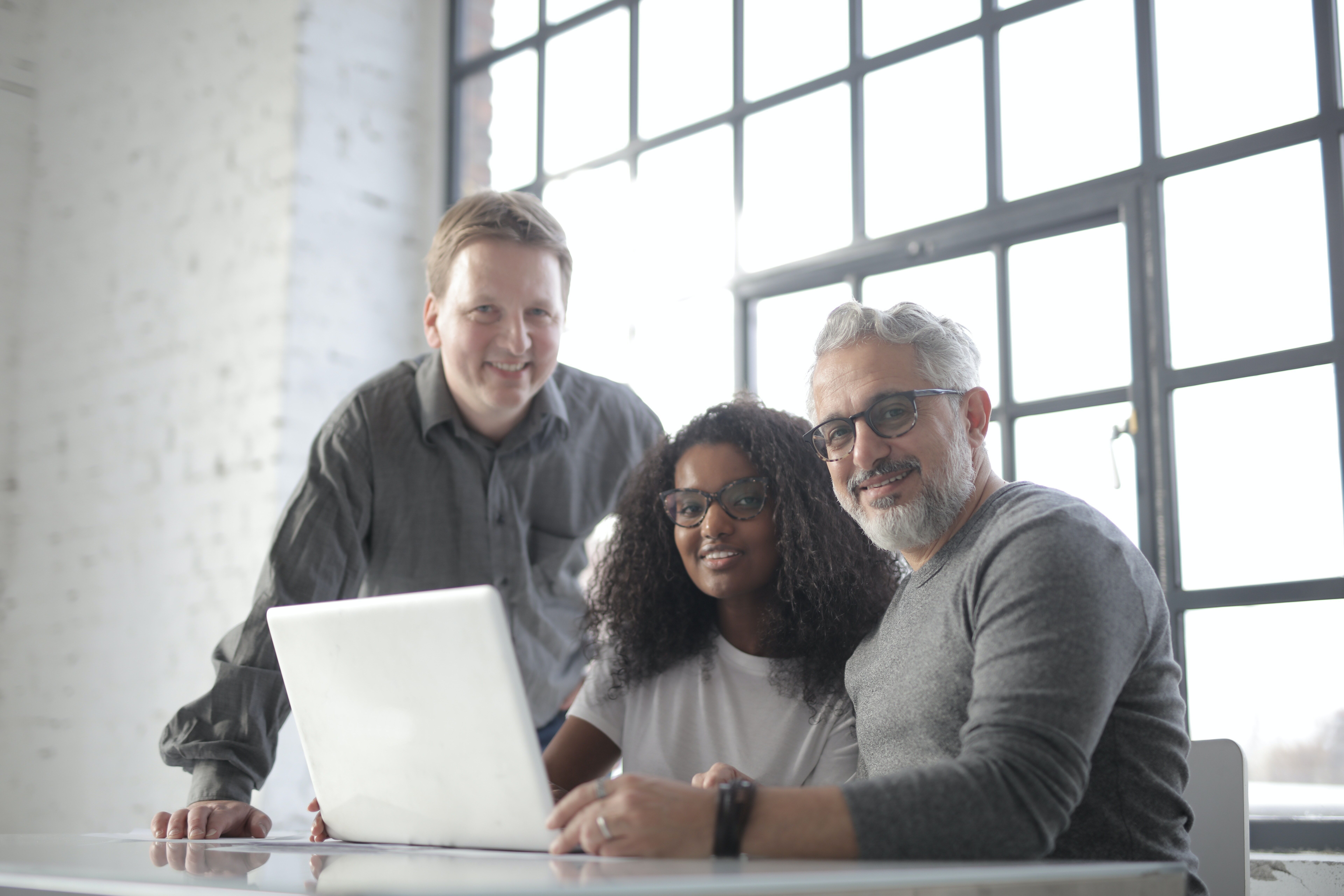 SEO Specialist
An SEO specialist identifies ways to rank your content in search engine results pages (SERPs) and increase web traffic. The more visibility your content receives, the more likely your target audience will get to know your brand. The SEO specialist ensures potential customers find your content.
"Although many experts can create content and even a content strategy, the efforts of the content team are all wasted without the right SEO." — Digital Marketing Institute
SEO specialists help content team members run effective campaigns and optimize owned media. They get into the technical side of SEO with metric monitoring, link building, and SEO strategy development. Specialists use SEO data and analysis to contribute to content creation and planning.

Analytics Expert
The analytics expert gets even more technical than the SEO specialist. They monitor, track, and interpret content results to figure out what is (and isn't) working. Without this analysis, you won't know whether you're reaching your marketing goals. Analytics experts deliver data that tells the team what they need to do to improve—or stay the course.
"(An analytics expert) is skilled in measuring what matters and reporting to each stakeholder only those insights that matter to them." — Search Engine Journal
Analytics experts assess your content marketing strategies by tracking data on various platforms. Their insights may reveal your copywriter should use a particular CTA with a good conversion rate. Or your strategist needs to plan more blogs because they're performing better than eBooks. An analytics expert evaluates whether your content is meeting expectations.

Director or Chief Content Officer (CCO)
The content marketing director—or chief content officer (CCO)—is in charge of everything related to content marketing. Your business must have people, processes, and technology to fulfill its content goals. It's the CCO's job to determine which elements to use and how to bring them together. They also work with other departments to support the content marketing team.
"The CCO has the potential to help transform the way a company talks both internally and externally." — LinkedIn
A CCO uses big-picture brainstorming and input from other C-suite members to drive content and increase revenue. They map the customer's journey to guarantee every touchpoint makes sense, guides readers, and develops trust. CCOs reinforce the importance of a consistent brand voice, an engaging story, and a customer-focused response.
Content Marketing Team Tools and Best Practices
There are several tools and processes a content marketing team can use to plan, create, and distribute content.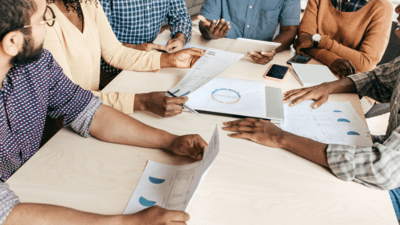 Planning
Project management software (e.g., Teamwork, Asana, and ClickUp)

Content management system (e.g., Drupal, WordPress, and CMS Hub by HubSpot)
SEO tools (e.g., Clearscope, SEMrush, and Answer the Public)

A content brief process that provides requirements/recommendations

Creation
Word processing software (e.g., Microsoft Word, Google Docs, and Apple Pages)

Video/audio production tools (e.g., Adobe Premiere Pro, Apple Final Cut Pro, and Audacity)

A quality assurance process that verifies content meets expectations

Distribution
Social media scheduling software (e.g. Buffer, Hootsuite, and Sprout Social)

Social media monitoring tools (e.g. BuzzSumo, Google Trends, and Feedly)

A performance analysis process that tracks and measures results
In-House vs. Outsourced Content Marketing Teams
If you have plenty of people and a handsome budget to build your content marketing team in-house, that's great!
If you don't have enough staff or money, some full-time employees may take on more than one initiative. For example, combine the content strategist with the SEO specialist. Have content writers be editors for each other's work. Add social media management to the content marketing manager's list of responsibilities.
You can also outsource part or all your content marketing team roles to freelancers or a content marketing agency. O8 has the resources to handle all your content marketing needs or fill the gaps in existing workflows.
Our content marketing services generate leads, increase conversion rates, and boost revenue. Get in touch to discuss the benefits of content marketing for your business.
Explore how to organize and align relevant content with specific audiences