How to Structure A Marketing Department
Types of Marketing Department Structures
Before forming a marketing department, you must decide which organizational structure works best for your business. There are various structures to choose from, and whichever is right for your organization depends on your goals. To give you an idea of what you might potentially be working with, here are some examples of marketing department structures:

Digital Marketing
Digital Marketing is an umbrella term that encompasses a massive array of channels, strategies, and varieties. To structure a digital marketing department, your team will require:
organic social media marketing

content strategist

technical architect

creative director
You can learn more about the perfect digital marketing team structure in our in-depth blog and ebook.
Most marketers agree that it is impossible to be an expert in every facet of digital marketing. For that reason, many are embracing a new trend: hiring fractional marketing help to fill gaps in your digital marketing team.

Product Marketing
Product marketing teams are responsible for entering a new product into the market. Once a product is approved and launched, it is marketed toward the targeted audience to increase demand generation and leads. Every product is carefully marketed and evaluated uniquely because the marketers want it to go to the right people and to follow through on the feedback they receive for that specific product. Your product marketing team will require:
marketing leadership

product marketing

demand generation

data and analytics

content strategy

SEO subject matter experts (SMEs)

Content Marketing
The content marketing specialty is quite broad and time intensive. The world of content creation is complex and diverse in its own right due to the many different marketing channels available. Creating new, quality content from scratch is intense work. It requires an overarching long-term and short-term strategy, led by a chief marketing officer (CMO) and supported by a strong team:
marketing leadership

SEO keyword specialist

content strategist

content writer

editor

creative director

brand strategist

web development support
As well as a variety of tools such as:
Marketers can deliver their content through websites, white papers, social media, emails, digital ads, magazines, and blogs. It often involves search engine optimized (SEO) keyword strategy, pillar pages, keyword-optimized blogs, organic social media posts, conversion optimization (CRO), and automated email nurture content.

Local Marketing Strategy
Geographically-based marketing, also known as local marketing, is the segmentation of a business's market based on geographical factors. When you are thinking about localized marketing strategy, consider: where does the target audience live? Are they rural, urban, or suburban? What is the population like in those areas? What are the environment, the social climate, and the cultural issues?
These are all factors that businesses consider when deciding how to market their products and services. If local marketing is your plan, you need to understand where they live, their challenges and opportunities, and then focus your marketing activities and strategies on meeting them where they are. A great place to start is with a local SEO strategy. Tools like Google Keyword Planner, SEM Rush, and Answer the Public can help you get the ball rolling. Local marketing strategy may also include a variety of hands-on events, which can benefit from specialized expertise.
Localized marketing teams generally include:
marketing leadership

events manager

analytics manager

creative director

paid search strategist

paid social media strategist


Growth Marketing
Growth marketing is a unique, in-depth, iterative approach to customer growth and retention. It involves a holistic approach that includes SEO strategy, user experience (UX), and earning conversions.
To be successful, growth marketers constantly run tests, evaluate, and intensely personalize and optimize the customer's experience so the business can grow rapidly. This quick and adaptable type of marketing also works across various channels to be as accessible as possible. The ultimate goal of growth marketing is to expand thanks to an exceptionally strong relationship with the target audience.
Growth marketing teams include:
marketing leadership

martech specialist

inbound marketing strategist

data and analytics manager

lead generation manager

SEO specialist

email specialist

paid ads specialist

social media manager

content strategist
Explore digital marketing strategies and how to create one today
Marketing Structures to Avoid (Or Be Careful With)

Outbound Marketing
Outbound marketing, sometimes called "interruption marketing," is still used today through outbound cold calls, mass print and television advertising, billboards, and other mediums. However, mass marketing has become more challenging in the era of outstanding behavior-based and search-intent targeting and optimization options.
The challenge is that the "spray and pray" method of releasing new content without a target audience identified, interrupting people's day, and hoping to attract as many leads as possible, can cause you to waste time, money, and resources.
Inbound marketing, on the other hand, is based on the concept of helping, instead of selling. To excel at inbound marketing, businesses produce content based on the search intent of their target audiences. Combining authoritative content with strong web authority means your prospects receive helpful communication and more personalized information via search.
Quality, SEO-rich content increases the opportunities for website visitors to become leads. With the higher likelihood of quality lead generation, more responsible spending, and better return on investment, we recommend that businesses embrace inbound marketing instead of outbound marketing.


Silo Marketing
Silo marketing is a type of digital marketing in which the business only uses one or very few select online marketing channels and/or does not communicate between silos. A highly-focused silo model may work well early on for a small business, for example, if the silo kept its attention on lead-generating ads, but it quickly falls flat when businesses increase in size and complexity.
Startups sometimes accidentally fall into this trap. As the saying goes, "what got you here won't get you there." In other words, a single marketing focus can get your business out of the gate, but a clearer, more long-term marketing plan is critical to success.


In-house Marketing
In-house is a well-established and common practice. In-house marketing is simply when the business's marketing activities are completed internally or with minimal agency assistance. On the bright side, the employees understand the brand on a deeper level and are extremely dedicated to it.
The downside is that the business lacks a fresh, third-party perspective and frequently doesn't have enough resources to manage the massive scope of modern digital marketing strategies, technologies, and practices. Most marketing teams today utilize the services of a marketing agency and/or fractional marketing support to fill gaps in the in-house marketing team.
The Best Marketing Team Structure
A marketing team comprises many positions with different elements of the company's marketing structure. In most modern marketing departments, usually for those that are inbound marketing/digital marketing departments, you have these key team members: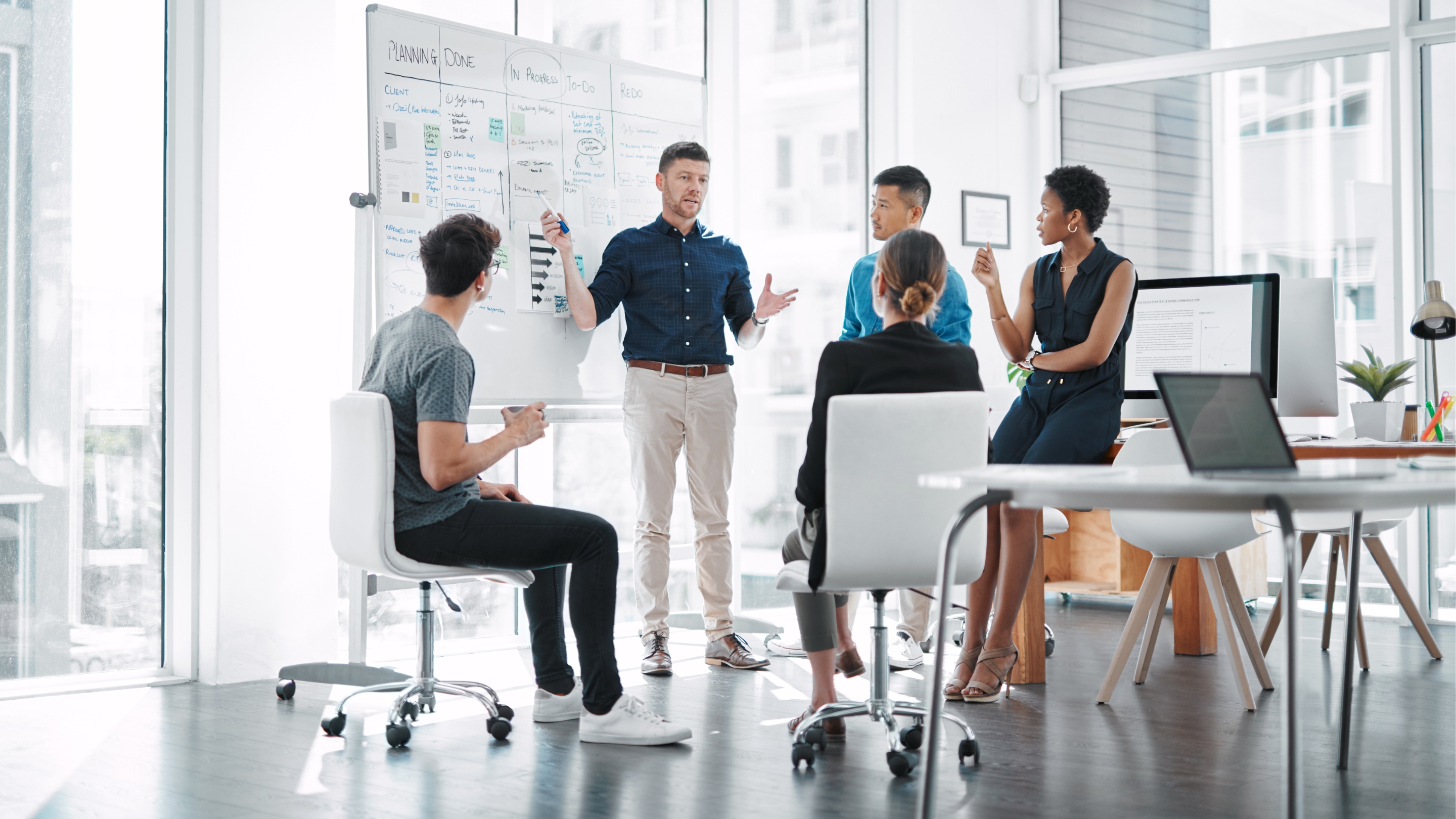 Chief Marketing Officer (CMO)
The CMO is responsible for the leadership, strategy, and direction of the entire marketing department and is a major stakeholder in the business at large. A CMO collaborates with other managers and executives, including the CEO. They lead the company's digital marketing strategies, branding, sales and marketing alignment, business growth, and long-term customer value.


Marketing Manager
The Marketing Manager organizes new marketing campaigns and oversees various marketing activities, from advertising to product launches to reporting metrics and analytics. It is essential for marketing managers to set goals that are aligned with sales management and the business at large.


Project Manager
The project manager is a key role in complex, fast-moving marketing departments. This person oversees all the projects and is responsible for planning, organizing, managing people, and ensuring projects are completed on time. They are in charge of the project budget and resources, tracking progress, and managing the project documentation.


Social Media Manager
The job description for social media manager can vary business by business, but they typically perform the following duties:
Developing the business's organic and paid social media presence

Collaborating with influencers

Monitor trends and KPIs

Create social media content

Manage the content calendar

Promote the business through social media

Oversee other employees in the social media team


Content Manager
Content Managers are responsible for planning content calendars, creating, editing, promoting content, and measuring the performance of the content department.


Graphic Designer
This team member uses creativity and artistic skills to produce clear and aesthetically pleasing web pages, digital ads, sales enablement materials, and infographics that the business can post online.


Web Designer
These team members take care of the website. They ensure the website is organized, easy to navigate, and in good working condition.


Copywriter
Copywriters are people who create optimized content to help the team achieve its digital marketing goals. They use their finely-honed writing skills to produce reports that cover everything related to the business and what it does.


SEO Specialist
The specialists are tasked with optimizing the website/s with thorough Search Engine Optimization (SEO). They are proficient in search engine marketing and know how to use their skills to make the website stand out.


Public Relations
Public Relations specialists are seen in most organizations; PR duties include communicating company news, including:
Company and Leadership Announcements

Community Relations

Multimedia Storytelling

Influencer Relations

Content Monitoring and Analysis

Training

Communications


Data Analysts
A Data Analyst's responsibilities revolve around evaluation and metrics. The critical analyses from Google Analytics, HubSpot, and other tools are crucial because they help the rest of the department's marketing efforts test, measure, iterate and align with the business needs to help the business to grow.
4 tips to reduce marketing team burnout and beat your competition
3 Marketing Teams' Responsibilities and How to Allocate Them
A marketing department is responsible for a wide range of responsibilities that other departments depend on to keep the business's growth machine functioning properly. Furthermore, marketing teams will have separate teams that handle different types or different elements of marketing.
These separate teams have marketing roles that work closely together. They all contribute something unique to the marketing campaign machine. You can keep track of each team's responsibilities with an organizational chart, or an org chart for short. These are the typical marketing roles and the marketing operations they are assigned to deal with:

Digital Marketing Team
Digital marketing team is a broad term; a massive department that covers all different marketing trends and marketing channels. Social media marketing, content marketing, email marketing, graphic design, and web design.

Social Media Team
This group handles multiple paid and organic social media platforms, such as LinkedIn, that the business depends on for outreach. They post content and ensure the business's social media presence is strong and noticeable. They know how to represent the business accurately and honorably.

Content Team
This group focuses on SEO and high-quality content marketing and content creation. Obviously, a content writer is a key component of digital marketing, and social media marketing is a type of digital and content marketing. The content team creates and produces branded content worthy of the company website and social media pages to provide the target audience with the most accurate and interesting information possible.
To balance the department's workflow, you need to develop priorities and allocate tasks efficiently. Make your expectations clear, be collaborative, and remember that teamwork makes the department and all its teams functional. Communication between roles and with the sales team is essential.
9 Important Marketing Skills
Due to the complexity of a marketing department, there are certain skill sets that the team must be equipped with to form and fulfill a marketing strategy.
 
Market Research: It is important to stay up to date with the latest marketing trends, what is and isn't generating demand and why, what the competition is doing, and how the economy is affecting the market. Research frequently and extensively; your results will help you prepare for any problems lurking around the corner and improve what currently needs to improve as well.

Technological Proficiency: It is important to stay up-to-date with the latest technological advancements, devices, and services. Proficiency in social media, emails, automation, search engines, apps, documents, and web design are all things that require a deep understanding of technology.

Writing: Writing is one of the most important skills for people of all walks of life to have in their arsenal. No matter where you do your writing or where you put it, you need to have a creative voice, clarity, and a fresh and extensive vocabulary. You can apply your writing skills to copywriting, blogging, and social media, among other things.

Customer Knowledge: Marketing employees must know how to interact with customers. Understanding what customers want and how to accommodate them, communicate with them, and see things from their perspectives helps build strong customer relations. This also boosts the business's reputation for being kind, supportive, informed, and competent.

Leadership and Teamwork: Functional teams must trust and depend on each other. This includes all groups in all departments across the entire business. Every team has a significant role to play, and every team builds up the other teams and keeps them functioning. For example, the content and social media teams use outreach to find leads, and when those leads turn into customers, it helps the sales team perform their duties. If you are a leader, you need to understand the importance of every role of every little way that your team members contribute to the success of your department and business. You need to make sure that every member is doing what they're supposed to and feels supported doing it. Help them out, listen to their input, and tell them they are doing a good job to motivate them.

Communication: Communication is key to a functioning business, whether you are notifying your boss about project updates, reminding your employees about upcoming meetings, or emailing customers the tracking information for their recent purchases.

Problem Solving: Critical thinking, intuitiveness, and creativity are all important characteristics of skilled problem solvers.

Time Management: Projects take time. They take a lot of attention. They need to be thorough. However, a marketing department cannot afford to drag its feet.

Analytics: Modern digital marketing departments make data-driven decisions. Evaluation, iterative design, and adaption of strategies and products are necessary for marketing, design, and sales processes. Analyzing data allows businesses to improve, learn, and grow.
Measuring the Performance of Your Marketing Department
-KPIs: There is an endless assortment of Key Performance Indicators (KPIs) that are worth measuring frequently. KPIs include customer retention, brand awareness, lead and demand generation, return on investment, conversion rate, and more. The statuses of these KPIs will tell you what needs work and what is working.
-HubSpot and Other Analytics Tools: To gauge the performance of your marketing department, you need to record data and analyze it thoroughly and regularly. Use a reliable online analytics tool like HubSpot to track as many metrics as possible and make decisions based on your data. For example, if your data indicates that your return on investment is low, then you might need to meet with the rest of your marketing department to strategize about optimizing your resources.
Conclusion
Now you understand the basics of what it takes to form a functioning marketing department. Marketing departments are complex, they are like well-oiled machines where all the parts need to work together constantly for the desired result.
If you are part of one, whether you are in a position of leadership or are an individual contributor, you have a large responsibility. Remember first to figure out what your business's goals are, what structure you use, what it requires, and what skills you need the teams to have. Clearly, it's impossible to hold the sum of human knowledge when it comes to digital marketing teams. Understanding your strengths will help you shore up your challenges with expert outside help.
Explore how to align sales and marketing teams for success
Comments