What Does A Winning Revenue Operations Team Structure Look Like?
Reading time: 13 minutes
Many struggling businesses lack two things.
An effective revenue operations system and the team to make it work. 
But, before we leapfrog to what a revenue operations system is and whatnot, let's set the scene. 
Every successful business has one chief aim: delivering quality customer experiences and satisfying customer needs. After all, delivering better customer experiences than your competition is how you win over a market today.
 
2009: Your product needs to be 10x better than the competition

2019: Your customer experience needs to be 10x better than the competition

— Brian Halligan (@bhalligan) April 15, 2019
But this feat doesn't come easy, especially for growing businesses. I see many businesses (large and small) today that have already developed silos in their operations.
Don't get lost yet. Silos are independent working parts of the same organization. This means you have your sales and marketing teams, for instance, working separately instead of collaboratively to achieve your organizational goal.
The result? You create leakages in your operations, impeding customer experience and business growth. Luckily, you can close the loops in your processes and create a first-rate customer experience by integrating your silos. That's where revenue operations (RevOps) come in.
In this article, I explain the must-knows about RevOps (with as little jargon as possible) and highlight the ideal team structure for an effective RevOps team so you can start building one for your business. Let's start with the most pressing question:
What is RevOps?
Revenue operations is a business process that helps a company's sales, marketing, and customer experience departments work better together. Here, you have all your revenue-related processes in one ark, so you improve efficiency and increase predictable growth.
Integrating all your customer-facing departments through RevOps creates a singular experience throughout the customer's journey with your brand. This experience can be the difference between you and your competition.
In fact, excellent customer experience is why prospects like Phalin will choose your business over your competitors.
 
Tried out @BluSmartIndia India for the first time today. Apart from the EV bit, it's the customer experience which wins it for them. Way better than @Olacabs & @Uber_India.

Polite drivers are a rarity in Bangalore. BluSmart solves that!

— Phalin (@PhalinShah) December 20, 2022
But is that all there is to RevOps? Certainly not.
Should You Care About RevOps?
Your typical organization has several go-to-market departments managing the different touchpoints along your customer journey. First, the marketing team draws the prospect in, qualifies them as a lead, then sends them to the sales team to close. Then, after several processes, the sales team also hands off to the customer success team and ..... it's just a windy process.
While this model gives you team independence, it also creates gaps in the customer lifecycle. You know how stressful it is to explain a challenge to different support line operators. It's the same thing here.
Then, you have to get more personnel to fill these gaps, costing you time, money and resources. You also reduce your operational efficiency and increase churn.
Sometimes, it's not even your fault. For instance, when you're in hyper-growth, you think having so many processes and workflows will dilute your team's effectiveness and revenue growth. So, you let departments run independently. This creates silos.
But, with a RevOps model, every gap or touchpoint is an opportunity for a better customer experience. In fact, running RevOps helps you scale big and fast. That's how Hubspot scales too.
According to Yamini Rangan, CEO of Hubspot,
"As we were scaling, we wanted to be big and fast, not big and slow. I think this is fairly typical of a lot of companies in our space — as we are scaling, you've got to be able to look at where you must go and adjust the organizational strategy based on where you must go. So, it was our company's vision to bring all the customer-facing organizations — including Marketing, Sales, and Customer Success and the operating teams around it — into one single organization "
That right there is RevOps. RevOps brings more internal alignment, leading to a delightful customer experience.
Now, the problem becomes, where and how do you start? Start with developing a flywheel for your customer lifecycle, not a funnel.
A funnel ropes your prospect in, converts them into customers, and lets them drop through the bottom. A flywheel, on the other hand, converts that prospect into a loyal customer and a promoter who draws in more new customers. This way, you extend your customer lifetime value and get sales leads through the door.
But first, you need a starting point.
 
Revenue Operations Team Structure and Roles
The first thing to know: there's no playbook for building a RevOps team. This section is just a guideline for your business, not a set-in-stone structure.
The type of team structure you go for depends on factors like your business size and budget. However, most working RevOps architecture has this personnel in them:
 
Chief Revenue Officer
According to Michael Maoz, SVP of Innovation Strategy at Salesforce, "Companies need to think across three years, ten years, a generation. So they bring in a chief revenue officer." A chief revenue officer is a visionary, data-obsessed executive responsible for all things revenue in a business.
A CRO focuses on customer satisfaction, opening new paths to generating revenue, building workflows and processes to create that revenue, and aligning all revenue-generating operations in your business.
But let's get a tad deeper. Here's what you'll typically find a CRO doing:
Preparing for board meetings

Reviewing forecasts and revenue

Informing stakeholders of revenue performance and revenue goals

Carrying out go-to-market strategies

Bringing in the right tech stack to optimize revenue operations

Hiring salespeople and other relevant team members, training them, and, when necessary, firing them
A CRO's role may differ depending on what your company does and your established process, but it's not so different from the functions above.
 
Sales Operations Manager
As your organization grows, your sales enablement process suddenly becomes complex, and your KPIs increase. You need a sales operation manager to hold down the fort.
In general, the sales operations manager's primary duty is to reduce bottlenecks in the sales process so that salespeople complete their daily tasks. They handle mundane tasks so sales representatives can sell more effectively and quickly.
In addition to working with CEOs and sales managers to improve your sales process and sales funnel, sales operation managers serve as mentors for new reps. They even collaborate with the marketing team to develop winning email campaigns and lead qualifying processes.
 
Marketing Operations Manager
A marketing operations manager oversees an organization's marketing initiatives and strategies. They organize and develop technical infrastructure, analytics, compliance, etc. They integrate automation and technologies into your systems, so your marketing team can easily do their work.
Marketing operations managers are the brains behind your brand's strategy and messaging. That's why it's crucial they're motivated, excellent customer service providers, great negotiators, and outstanding communicators.
 
Customer Success Operations Manager
A customer success operations manager ensures all CS teams function efficiently at scale. This means they work directly with your CRM, managing the onboarding and examining customer data for patterns in customer behavior with KPIs related to customer attrition.
They are also in charge of collecting information from many sources and using it in subsequent retention operations. But, as you'd expect, making sense of the data is challenging because you get it in bits and pieces. You need careful data analysis.
Your CS Ops manager handles these analytic processes so they can make informed decisions to improve customer satisfaction.
 
Data and Tech Stack Manager
Your data and tech stack manager keeps an eye on your customer data and metrics, ensuring it's used efficiently and getting where it needs to go. They also provide you with all the software, apps, and processes your go-to-market teams need to perform your daily operations.
This is important as your RevOps leader must constantly communicate with the GTM departments. The tech stack manager will ensure you have all the data and tools to create a unified RevOps structure.
It's like Chloe Barritault says, "I have seen sales operations, marketing operations, finance operations all sitting under different teams and, ultimately, collaborating extremely closely with each other but, at times, having maybe competing priorities because of sitting in different teams. So, the idea of creating revenue operations is to unify those functions and those roles under one team to create efficiencies and to align on priorities."
That begins with the right tools and resources to facilitate communication.
 
Operations Enablers
An enabler is a supporting component that improves the efficiency of your revenue operations. Think of it as a ball bearing in a motor or a conveyor belt at a manufacturing warehouse. So what are RevOps enablers?
One RevOps enabler is technology. Without reliable automation and APIs connecting your tech stack, RevOps is all but impossible.
 
RevOps Project Manager
Teams in charge of revenue operations frequently have a backlog of significant tasks. They also collaborate with other teams and often get ad hoc requests for operational advice, reporting, strategy, etc. This can easily cloud your processes and create silos in your ops.
That's why I recommend having a dedicated project manager available to evaluate these requests as they arise. Some requests could send your team off course. The project manager is the gatekeeper for your revenue operations team.
Building the Right RevOps Team for Your Business
Now, you know what an effective RevOps team structure is, and you're ready to build your own team and start implementing RevOps. Great, but where do you start? Here's what to do.
 
Start With an Audit
You must know the bottlenecks in your existing strategy. These are the disconnects between your departments - where the customer journey hits the speed ramps. It begins with asking burning questions like
Are our go-to-market teams aligned in terms of goals, processes, messaging, etc.

Does our customer-facing content resonate with the buyer's journey?
These questions identify your loopholes so you can fix them. At O8, we go beyond these questions to evaluate three vital pillars in our client's ops:
existing content

technology

digital footprint
Find the disconnects in these three areas, and you'll increase your sales and boost revenue.
 
Focus on Alignment
Alignment is a crucial factor if you want to get RevOps right. It's even more important than strategy. Here's why. Each department in your organization can have its own working strategy, but until those strategies align with the organization's overarching goal, you'll only create silos in your ops.
Sadly, 37 percent of revenue operation leaders say their sales, marketing and customer success team aren't aligned to deliver results effectively. Meaning, getting your alignment right pushes prospects in your direction.
That's why I advise GTM operations leaders to identify their goals and develop a unified strategy to achieve those goals. Find your true north.
One way to do that is to provide your GTM teams with proven RevOps workflows, maybe even technology, to streamline their processes. Once you can provide technology for a more efficient operation, you're charging your RevOps team to work as a cohesive unit.
Else you'll have fast-building silos as Matthew Volm had at RevOps Co-Op.
"You're not accountable to the head of Sales or the head of Marketing. You're accountable to the business. And so you're like, "Okay, what's more important this quarter? Do I do this marketing thing or this sales thing?" And so, you pick the marketing thing, and the sales team might be like, "Okay, but my thing is more important, and I want it done." Then, people start figuring out, "Well, I need a sales ops person," or "I need a dedicated ops person on my team that reports to me so that I can just have them do the stuff I want." And so, it doesn't take much for those silos to get created. "
Ignite and Align Your RevOps Model Today
Build, Activate, and Optimize Your RevOps
Next thing to do is to develop a clear go-to-market roadmap that moves your prospect around your flywheel revenue engine. But you have to do more than just strategy.
Create an environment where RevOps can thrive. For instance, get a RevOps lead to jumpstart your revenue operations. You can also hold bi-weekly meetings to stay aligned with organizational goals.
In our meetings, we answer questions like
Do we have the right people for running efficient RevOps?

How do we hold ourselves accountable?

How do we organize our GTM teams? Are they aligned with our customer-facing strategies?
 
Incorporate Design Thinking Into Your RevOps
Or, as I like to put it, keep your team members from running downstairs for the oil.
The foundation of design thinking is to teach engineers to think like designers when solving problems. That is, to think of the user first. But this approach to problem-solving isn't exclusive to designers - every innovator can implement design thinking.
You can incorporate design thinking into business operations to develop products and services that satisfy your customer's needs. That's how to make your business stand out from your competition too.
 
By using a user-centered approach and focusing on empathy and understanding customer needs, design thinking can help organizations create products and services that are more likely to be successful in the market. #designthinking #uxdesign

— Dennie Nguyen (@the_newgenesis) December 30, 2022
Many great companies incorporate design thinking into their processes too. Forward-thinking companies like Netflix, AirBnB, UberEats, and Unilend Finance all know it is the way to go.
 
The @UniLend_Finance team have been consistently using a variety of design thinking techniques that are specifically targeted at the interactions that consumers have with the #DeFi itself. However, the general public has found the current level of DeFi usability to be👇🏾

— Crypto Blog (@Cryptoblog001) December 30, 2022
The bottom line? Think about how you can make the buyer journey smooth, so prospects go from awareness to purchase easily.
RevOps in Action
Enough talk now. Let's dive into how a UK-based freight forwarder realized a 113% increase in shop usage after implementing RevOps in its operations.
When ItsMyCargo wanted to increase its revenue, it turned to RevOps as a solution. First, ItsMyCargo started with an operations audit to determine where the road was bumpy in the customer journey. 
They looked at their consumer store data to determine which geographic areas and types of transportation users engaged with the most. Then, they observed what customers were doing in the store, where they were navigating, and what caught their interest.
Charged with this info, ItsMyCargo started "decluttering". They created a personalized offering based on the users' top interests, reducing rates and products in the store. Doing this gave shoppers a more streamlined view for creating their preferred shipping.
ItsMyCargo also started a booking shop to track drop-off rates. These drop-off rates were an indicator of whether or not prospects were ready to buy or just looking to get price indications. True enough, most prospects simply wanted a price gauge.
Knowing this, they changed the shop to quotation-only, requiring fewer steps to complete purchases and enhancing the user experience. As a result, ItsMyCargo has already seen a 172.73% increase in unique users since January.
But RevOps won't work if your operation is stuck in the old world. Here's what that means. If you don't have the right communication processes, you're just setting yourself up to fail. 
Rob Dandorph, VP of Global Revenue Operations at Behavox, realized this when he started working on sales ops and had to collaborate with a marketing ops personnel. Here's what the ops structure was when he came in: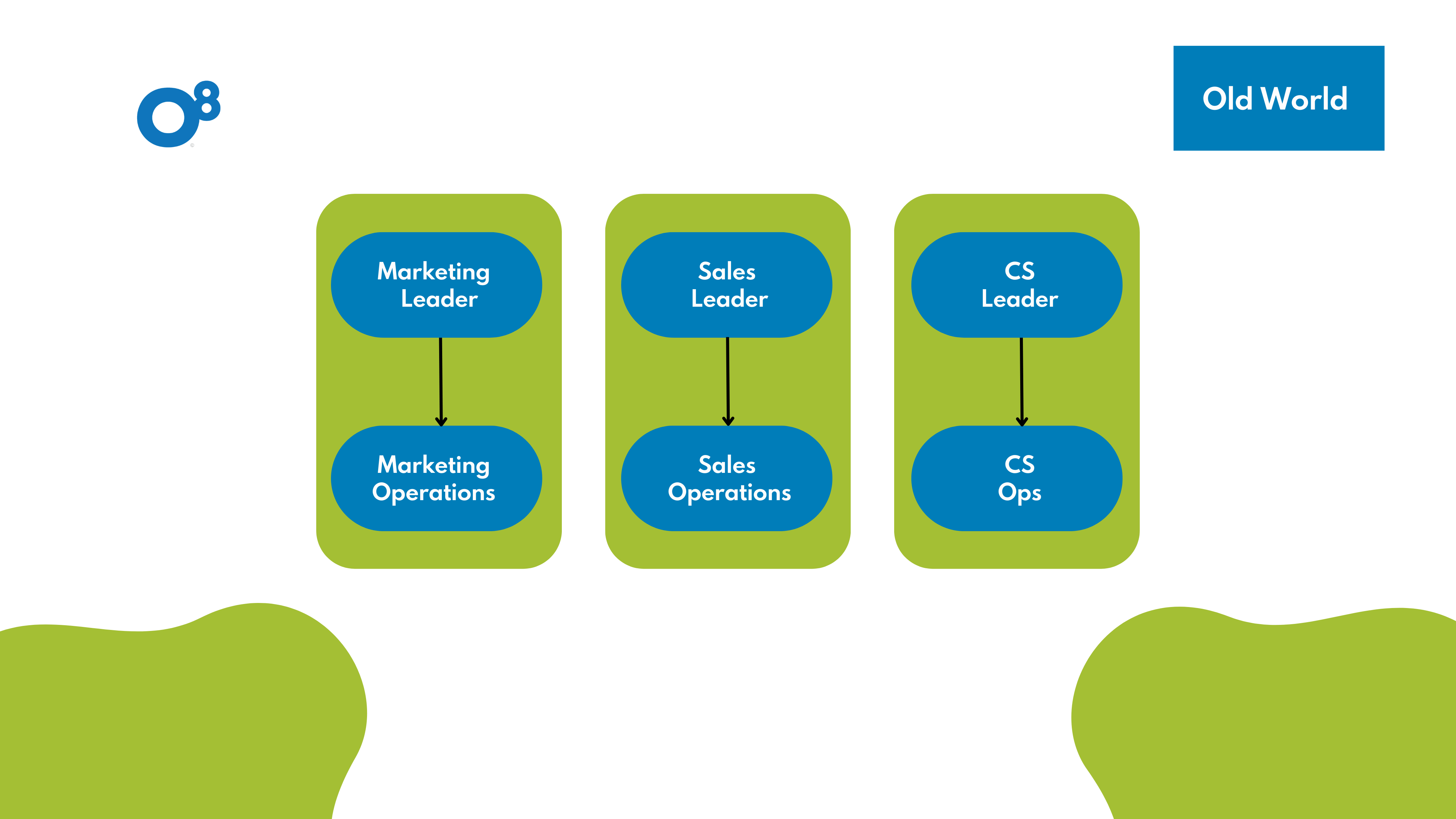 Because of a lack of unified strategy and communication, the company was retrogressing. It wasn't until he set up a unified process that the company began seeing measurable results. Here's what the new world structure looks like: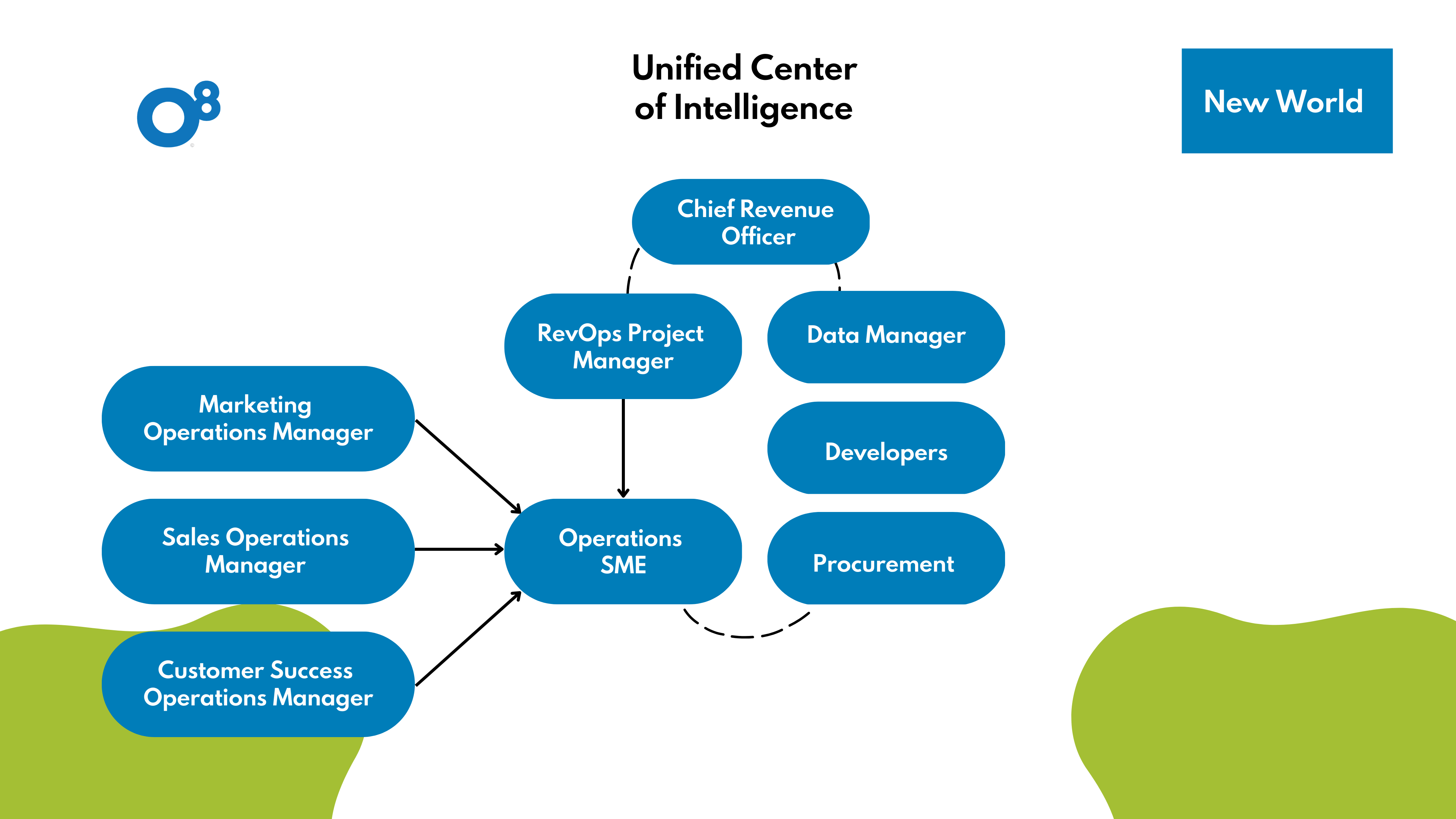 With a unified process like this, you're guaranteed positive results from your RevOps team.
What Are Your Next Steps, Then?
Every successful RevOps team has a cohesive approach to the revenue cycle at its core. However, even if your company has the right intentions, it won't succeed in adopting a comprehensive RevOps strategy without the proper framework in place.
Luckily, O8 can help! We have a tried and tested process for implementing RevOps that unites all your go-to-market teams and moves them in the same direction.
Additional queries? Still not convinced? Be one of the few to book a consultation with our RevOps specialists to learn how RevOps leaders build winning revenue teams and how you can too.