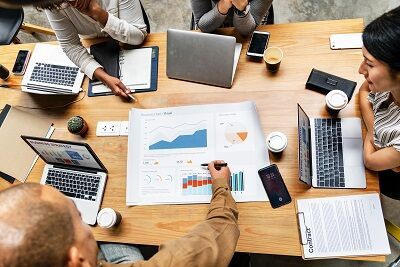 The best digital marketing team has the proper skill sets and strategy to accomplish organizational goals in the most efficient manner.
How this is achieved and how the ideal team is structured varies. Not all roles can or should be in-house, nor do they need to be permanent employees. Some can be gig-based projects, freelancers, contract-based digital experts, or marketing agencies.
Depending on the complexities of an organization, the best marketing team structure could be anywhere from small and simple to large and complex. Whatever the size, the team should always be moving the needle forward on KPIs through constant optimization. The exact size should be determined by the team's ability to produce a return on investment (ROI), including a return on advertising (ROA), as well as a SWOT analysis since a fully-staffed, large-scale modern marketing team has approximately 18 different roles, which is impossible for most small-to-medium organizations, and even some larger ones.
What Kind of People Make up a Great Marketing Team?
There is an important difference between the kind of people who are part of a marketing dream team and the kind of roles that make up its structure.
Ideally, the perfect marketing team should include the presence of very specific archetypes that represent the skills – both soft and hard – necessary for success. These can all be individuals or a single person who embodies all of them at the same time.
The Marketing Mind

These are the thinkers, the marketing strategists, the ones that pool all their creative resources into giving life to elaborate plans and tactics that can reach the desired goals. They may be the ones to lead your marketing department's content marketing efforts or even its own center of excellence.
The Metrics Interpreter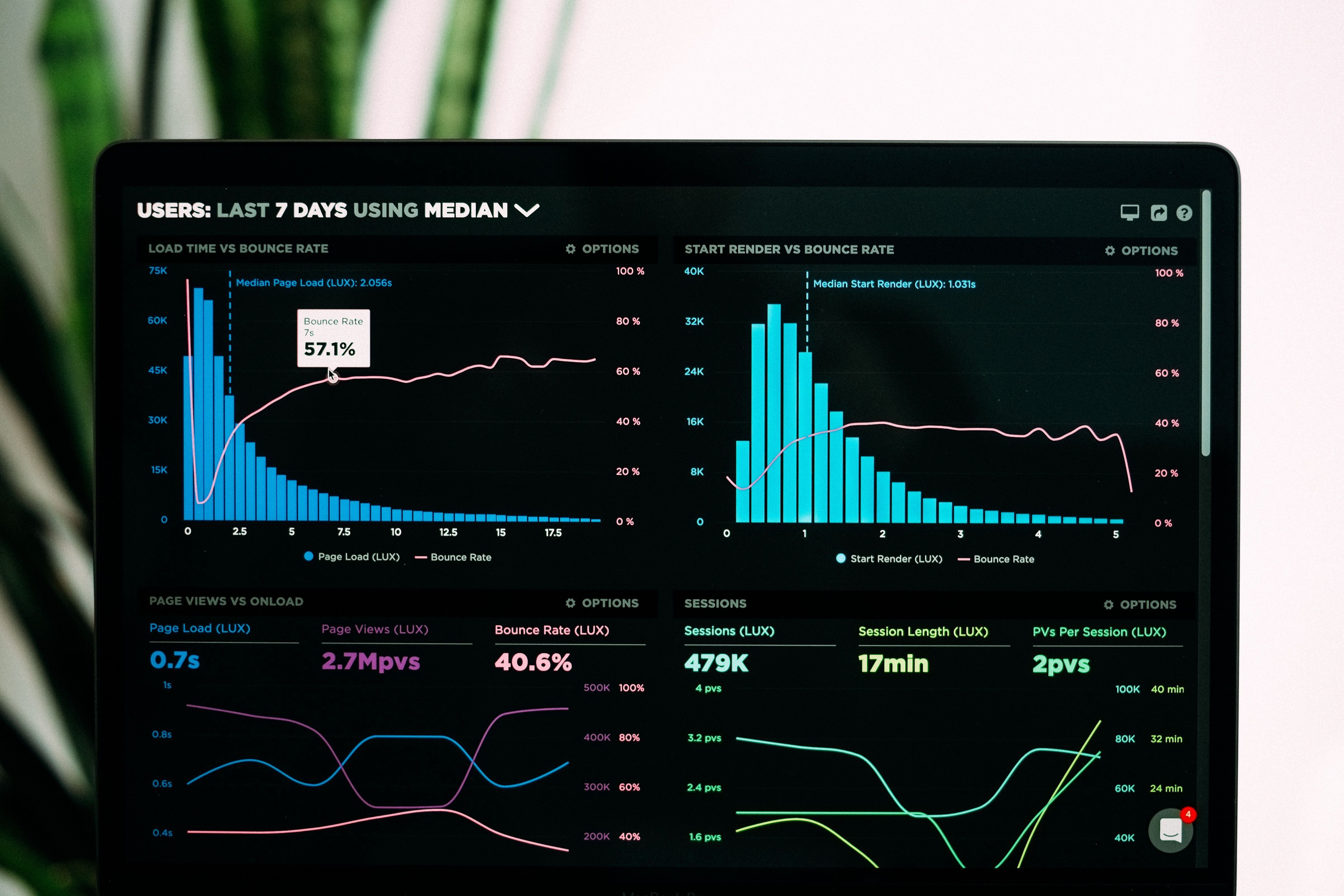 They swear by the power of analytics – they live and die by the might of numbers and KPIs. These data-driven professionals will leverage hard mathematical information to come up with solutions, interpreting figures to glean otherwise unfathomable insights.
The Wordsmith

Every letter, every word, every sentence, and every paragraph matters. They focus on content creation that will attract, retain, and connect with audiences, and they will tell the stories that forge lasting emotional or intellectual bonds.
The Relationship Builder

Prospects and customers want to know they are valued, that their opinions matter. Relationship Builders are there to make sure that is the case. They engage with audiences through all available marketing channels, make them feel appreciated, listen and learn from their experiences, and turn that valuable feedback into ideas for potential optimization.
The Technical Architect

They know all the tools and how to use them to get the best results. They understand optimization for searches, email marketing, landing page conversion rates, PPC, and every single part of the process that may need that very technical know-how. They favor efficiency and results over anything else.
The Creative Mind

They favor aesthetics above all things. The way each part of a website or social media profile is structured matters, most of all in terms of how visually appealing it is. They communicate through images and videos because artistic inspiration fuels their work.
These are the archetypes that often compose all marketing teams, whether separate individuals, a single individual with many hats, or anything in-between. A marketing dream team should have a little bit of each, working in perfect balance and harmony.
The Project Manager
Let's not forget one of the most important, sometimes overlooked roles. The taskmaster marketing generalist to help manage deadlines, team members, resources, and overall project mechanics is key to any efficient marketing team. A team of creative and technical people can only be powerful if they have the proper management to work together efficiently.
Supercharge Your Digital Marketing Team
It is important to nail this point down: perfection is in the eye of the beholder. Whatever works best for some companies might not be what works for others. That said, there are general ideas of how a marketing team should be structured:
Marketing Leadership (CMO and others)
Marketing leadership oversees the entire operation and ensures the smooth and successful execution of the marketing strategy. This can be a CMO, VP of Marketing, Director of Marketing, or a combination of these roles, sometimes substituting "growth", "demand", or other trendy terms for "marketing" in their title.
Editorial Director
Editorial Directors supervise all aspects of content generation, both textual and graphical, and oversee all efforts to attract interest and retain it so it can convert to quality leads and eventual customers. Editorial is, essentially, in charge of the digital face of the company.
Content Manager
Content Managers oversee the content marketing strategy, inbound efforts, and all content generated for and by the company. They ensure every piece of content is up to the desired levels of quality and adheres to any guidelines established in terms of brand. They strive above all else to foster appealing material that will attract and retain traffic through all the target channels.
Blog Writer
Blogs are an integral part of any business. Once considered a simple trendy feature, they have become one of the driving forces behind website traffic for any serious company.
Those in charge of writing and editing the content for blogs are tasked with the monumental responsibility of presenting target audiences with the right amount of added value to generate further engagement through the marketing funnel.
Media Editor (Video + Audio)
The written word is not the only means by which to engage an audience. The growth of video and audio via podcasts has been substantial over the last few years. Having someone in charge of creating great content is vital for any marketing strategy seeking to leverage as many channels of communication as possible. The right amount of knowledge and creativity will drive traffic in hordes.
Community Manager / Social Media Manager
Social media is more than just a way to promote content and ideas. These are the channels used by prospects and customers to communicate directly with a company, to offer feedback, issue complaints, or just start a conversation with a brand they love.
SMMs need a high level of emotional intelligence and empathy in order to handle everything – the good and the bad – with tactical care, in order to avoid offending anyone and giving the business negative exposure, and with the shrewdness to make full use of all the feedback in order to make suggestions that can improve operations.
Creative Manager
Creative Managers oversee all the creative and graphical efforts that represent the company's brand. From the website structure and layout, to the logo, to the tactical actions in order to ensure a top-of-mind with the audiences, this role requires the capacity to innovate and attention to detail.
Front-end Developer
Having the right website is one of the fundamentals of marketing. Websites are your company's calling card, and having one that is efficient, appealing, and powerful will define those first impressions about your business. Front-end developers must understand just what it is the company needs to convey, and translate that into a functional and well-structured website.
Brand Strategist
Brand Strategists are tasked with all the strategic parts of the creative efforts. What kind of logo would work best and why? What colors and fonts should be used on the website? Is the company tone whimsical or serious? Their job is to answer these questions using hard data and proven methods in order to optimize the company's presentation.
Graphic Designer
The first thing people tend to see is images. Shapes and colors are naturally appealing, which is why skilled graphic designers should be able to listen to brand strategists, follow the instructions of the creative managers, and come up with brand assets, illustrated content, infographics, and designs that will lure the eye.
Acquisitions Director
Acquisitions Directors oversee all efforts to convert leads and close customers. They ensure the more technical aspects of the marketing strategy are optimized, such as the content for search engines or the website for optimal engagement. Their team will also handle all the direct attempts to target prospects, such as paid campaigns and sales.
Analytics Manager
Analytics Managers oversee data. Their job is to leverage the power of metrics to fix or improve issues, and generate the best possible results based on scientific analysis. They are optimizers by nature.
Conversion Rate Optimization Specialist
In order for traffic to convert to quality leads, the website needs to be optimized so it generates significant engagement. This is achieved by analyzing the behavior of users and elaborating conclusions based on those observations. Conversation Rate Optimization (CRO) specialists are experts at interpreting actions and identifying issues within the user experience.
Data Analyst
Data Analysts see behavior where others just see numbers, and they understand drive or lack thereof where others simply see metric parameters. Their job is to take the cold, hard data provided by any range of analytics tools, and giving it meaning. Are users staying longer on one page than others? Are they clicking some links more and others fewer times? Are they interacting with a specific page, but bouncing off without further engagement with the rest of the website? These analysts will glean the deeper answers from the data, and make the appropriate suggestions for improvement.
A/B Testing Specialist
Where the CRO Specialists and Data Analysts reach conclusions and make observations based on data, the Testing Specialist will take that information and create specialized tests in order to find the best versions for changes. If something is not working, they will come up with several solutions and test them all out, using that secondary data to determine which one works best.
Lead Generation Manager
Lead or Demand Generation Managers are focused on targeted acquisition. While others work from within the company, these guys find ways to go out there and proactively obtain leads. Sometimes called Growth Hackers, they will find quick, efficient ways to capture leads and drive them through the funnel to generate customers.
Email Specialist
Email Specialists are dedicated to reaching audiences through e-mail, which is one of the most important channels available to digital marketers. Whether as part of existing leads, a customer database, or a cold outreach campaign, these professionals need to be in full mastery of their craft. The sheer volume of emails sent every day makes competition fierce, and they must know how to generate significant open rates and engagement with the content.
Paid Ads Specialist
Social media and search engines are powerful marketing tools. Organic traffic is a great source of credibility and authority for companies, but the road to closing customers is long and arduous. Enter the Paid Ads Specialists, who are experts in using the paid options of social media or the diverse range of paid ads across platforms like Facebook and LinkedIn to target very specific audiences and lure them in with copy or content that is explicitly designed for them. They are marketing sharpshooters who need to know where to aim, when to pull the trigger, and, in case of a miss, how to land that second shot through remarketing.
SEO Specialist
SEO Specialists do not need to be a part of Lead Generation, per se. Or even Acquisitions in general. They exist outside everything and within every department. They understand what users are searching for and just what needs to be done in order to optimize paid ads, website or blog content, or even social media in order to drive organic traffic. They are keyword wizards, and their magic needs to permeate across the entire marketing strategy.
There is no absolute way to structure a perfect marketing team. Roles can switch sections or even names. What matters is that all the different tasks are covered in order to see optimal results.
But I Don't Have The Budget to Hire A Huge Team
The good news is that you don't have to hire an entire team to fill in the roles. You may have heard of the term "fractional" with regards to filling in responsibilities for marketing leadership, such as the CMO role, but did you know it can apply to your entire marketing department structure? Watch this video to find out about how fractional marketing teams can improve your marketing team structure, ROI, and efficiency as your organization grows.
What About Small Marketing Department Structure?
A small marketing department structure may consolidate several roles into one, making team members wear several hats. Your CMO may be digging in to project work, SEO, and several areas, delegating when possible, or you may have a fractional CMO. There are even alternatives to the fractional CMO role, or you may not have one at all. You may have a marketing manager who interfaces with a C-level executive such as the CEO who holds most of the marketing strategy, or a VP of Marketing who works hand-in-hand with other execs. Your team, then, may consist of general marketing employees who work on a variety of non-specialized functions, possibly supplementing with contractors and agencies, or using fractional marketing teams.
How Do I Hire This Perfect Marketing Team?
Hiring for the marketing team begins by establishing what your company wants and needs. Abundant resources are not always available. Strategy does not begin with the actual marketing work, but rather before you fill the roles by defining your goals and expectations. Once you have that, you can begin your search.
Look for professionals who are creative, driven, and passionate. Technical skills and experience are very important, of course, but you can always teach the ropes if needed. What you cannot teach is the natural disposition and willingness to work. Make sure your marketing team hires actually wish to be there.
Understand what candidates wants in terms of each role, and be sure about what you can actually offer. Good communication begins even before the game itself. Having clearly defined benefits, responsibilities, tasks, and goals will help ensure the people you hire are the best possible matches.
Is It Better to Hire the Perfect Marketing Team In-House or Outsource the Process?
This is the most important question you should ask yourself.
The first thing you need to understand is that there is no right answer. This is a very personal choice for your company.
There are several benefits to outsourcing your marketing efforts in order to drive productivity and reduce costs, much like there are plenty of reasons to keep all the work within your own walls. You can also choose to outsource only a few things, such as search engine optimization (SEO) efforts or web design.
[Related: The 10 Reasons You Will Need to Outsource Your SEO Work]
In the end, the perfect marketing team should not be about the where or why, but the how. As long as you are getting the results you want, then keep doing whatever works. Perfection, after all, is in the eye of the beholder.
What Are the Keys to Establishing Efficient Marketing Team Operations?
The operations involved in creating the best results through marketing require more than a dream team. It is not enough to have every role filled with the right person if there is no teamwork.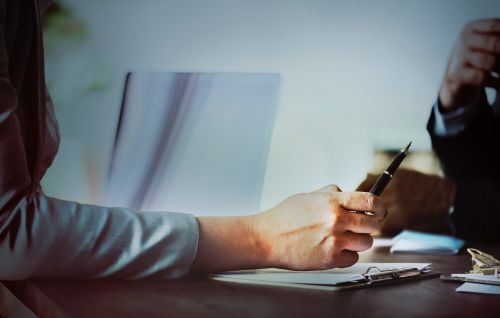 There are four key elements to the success of any marketing team:
Good Communication: No single person in the marketing team is an island. In order to get results, good communication is crucial; everyone needs to learn from each other and work together to achieve the established goals. Questions need to be asked and answered, instructions issued, and concerns voiced.
Clear, Concise Roles, Tasks, and Goals: Disorganized teams seldom do well. In order to avoid chaos, everyone needs to know what his or her role within the marketing team is, the kind of workflows involved in making processes efficient, what their tasks are (including what they are and are not authorized to do), and they need to know what the goals are. Clear, realistic goals, set for them to trace their path there.
Respect: It goes without saying that respect is the foundation of productivity. Toxic environments will not provide the best quality of work. Respect is vital in order to make everyone feel welcomed and valued.
Corporate Empathy: We are all complex human beings. Usually, work is not the sole factor that defines us. In order for the team as a whole to function properly, everyone needs to understand that there is a person behind the role. Empathy helps clear the air, understand when others are going through personal issues, and it helps create deeper bonds within the team.
Learn More About the Benefits of Extending Your Marketing Team
---