Top Digital Marketing Strategies for Physician Recruitment
Reading time: 7 minutes
The physician recruitment process can be highly competitive, slow, and expensive. But your patients and practice depend on it. Using digital marketing for physician recruitment helps you attract, engage, hire, and keep the talent you need to grow.
As a result, let's dive into how to use digital strategies in your marketing efforts to help your health system stand out and recruit physicians.
The Current State of Physician Recruitment
Physician recruitment efforts often parallel outbound sales strategies. You use a recruiter to meet people, build a network, and ask for referrals. Then you make outbound calls, set up interviews, and pay a hefty commission for placed doctors. 
But as the healthcare industry evolves, physician recruitment becomes more challenging. For example, many physicians are battling burnout and striving for work-life balance after the pandemic. Plus, patient demographics are shifting.
 
By 2034, experts say the number of Americans over age 65 will grow by more than 42%. Since the senior population has the greatest healthcare needs, the demand for doctors will also increase. But experts don't expect growth in the physician workforce to keep pace. That's why the Association of American Medical Colleges (AAMC) projects a physician shortage of up to 77,100 specialists and 48,000 primary care physicians by 2034.
With digital marketing, your practice can rise above the competition, reach a larger audience, and attract top talent.
How Digital Marketing Strategies Help Physician Recruiting
Investing in your website is the first step in deploying digital marketing strategies for physician recruitment. Unfortunately, many healthcare providers don't use their websites as strategic business assets. To recruit top physicians, the best place to start is user experience (UX).
It's crucial to understand that different people visit your website for various reasons. Therefore, you must develop separate personas as strategic marketing tools to optimize each group's UX.
A persona is an image of your ideal candidate profile — and you'll likely have many. For example, your website communicates with patients, payors, and, in this case, physicians. Each persona has different pain points, challenges, and goals. 
Your messaging must appeal to each of your personas' needs. They won't stick around unless you give them what they came for. During site visits, patients want to learn about your care. Payors need to know about your financial process. And physicians are curious about your culture.
Curious how to overcome healthcare industry marketing challenges?
Best Digital Marketing Strategies for Physician Recruitment
The best digital marketing strategies for physician recruitment lead you to ideal prospects — and vice versa. You need SEO, PPC, email, and social media strategies to meet physicians where they are on their journeys.
 
Search Engine Optimization (SEO)
One of the best ways to reach physician candidates is by ranking high in search engine results pages (SERPs). When you optimize your content for relevant keywords, you improve your prospects' chances of finding you online. 
Use SEO principles to attract physician prospects to your healthcare organization:
Keyword research: select words and phrases physicians use in job searches based on search volume, ranking difficulty, and search intent

Content creation: create valuable content for searchers — such as blogs, articles, videos, job posts, and web copy — based on your keywords

On-page SEO: use your keywords to optimize content, headlines, HTML tags (title, meta, and header), images, internal links, and URLs

Link building: display expertise, authority, and trust (EAT) with mentions and links from other websites 

Technical SEO: enable search engines to find, crawl, index, and render your content efficiently
SEO helps potential candidates find your facility online. When job-searching, most millennial physicians (85%) check out an employer's website first. They also search for news, reviews, and social media posts. With SEO techniques, your website and online reputation will be more visible to physician recruits.
 
Pay-Per-Click Advertising (PPC)
Paid media is a highly effective way to recruit new physicians. Research shows that 98% of healthcare professionals search for health information online. So an ad promising a unique opportunity in a physician's field of expertise may grab their attention — even if they're not thinking about making a change.
With paid media, you can target physician prospects, control who sees your job offers, and get better conversions. Potential PPC advertising channels for healthcare recruitment include:
Online directories

Job boards

Google

LinkedIn

Facebook
After selecting paid media channels, ensure your message stands out to ideal physician candidates. Choose target keywords, set bids for the best return on investment (ROI), and write irresistible calls-to-action (CTAs). Taking these measures will generate qualified leads.
 
Email Marketing
Email marketing is another excellent way to attract passive physician candidates. Most physicians (86%) aren't actively looking for employment. But they spend a lot of time in their inboxes. As a result, physicians are far more likely to see a new opportunity via email than a job board or a job fair.
Follow these tips to run an effective email marketing campaign for physician recruitment: 
Build and segment your email list: ensure you're sending relevant job opportunities to suitable candidates

Create an email design: apply your branding, make your content responsive, and indulge in white space 

Personalize the subject line and content: include the candidate's name and other identifying factors to promote engagement

Send emails from a person (not your practice): keep your message from going to spam and sounding robotic

Keep it conversational: create friendly and approachable emails to build and nurture relationships

A/B test: create two versions, change one variable, then see which message resonates better with candidates

Follow up: send subsequent emails (but not too many) to warm up candidates and stay in touch
Besides emailing physician candidates, consider text messaging as another way to personalize communication. Keep the same tips in mind: send relevant open positions, create a friendly message, and follow up.
 
Social Media 
Building a social media presence for your practice is a great way to connect and engage with physician prospects. You can learn which social networks your candidates prefer and make your practice top of mind.
Here are steps to create a social media strategy for physician recruitment:
Research and pick the best platforms for your practice

Establish an active presence with content and engagement

Talk about your practice's culture and career advancement

Perform outreach to prospects who fit your ideal candidate profile
Social media helps you share your practice's mission and values with physician candidates. Being active on these platforms offers transparency and attracts prospects who align with your goals.
Pro tip: Don't limit your social media options for physician marketing to mainstream platforms like LinkedIn and Twitter. There are also social networks for physicians. For example, more than 80% of U.S. physicians belong to Doximity. Consider researching this community and other physician networking sites before choosing your platforms.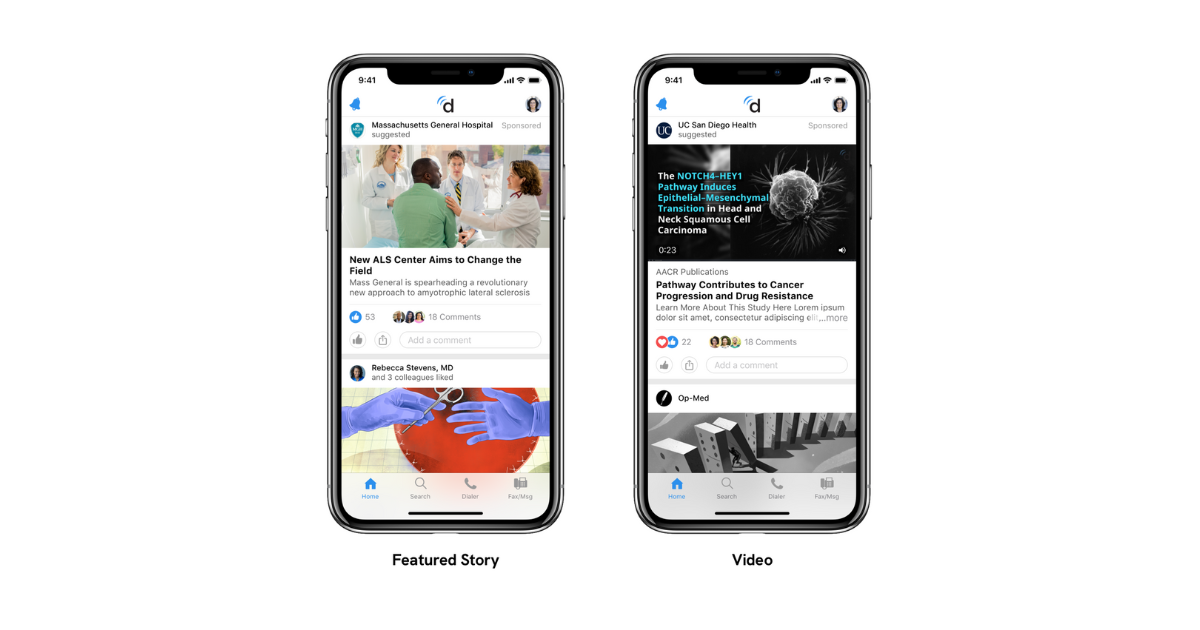 Examples of Digital Marketing Strategies for Physician Recruiting
So how do you put digital marketing strategies for physician recruitment into practice? Here's an example of using online tactics to recruit new pediatricians. 
 
SEO
You perform a few searches on an SEO tool like SEMrush. Phrases like pediatric jobs, pediatrician jobs, development pediatrician, and holistic pediatrician come up. These keywords have good search volume, show low-to-medium keyword difficulty, and match your search intent. You use these keywords in job posts, web copy, and other website content. 
 
PPC
Using the same keywords, you create paid ads and target pediatrician candidates on Google, Facebook, and LinkedIn based on job title. After doing some more research, you narrow your prospect pool by adding keywords that target education, location, and interests.
 
Email
You segment your email list to send job openings to pediatrician prospects only. Then you incorporate email marketing best practices by writing an attention-grabbing subject line, a clear value proposition, and a simple CTA. You use A/B testing to determine the most effective version of your email and follow up with pediatricians who don't respond at first.
 
Social Media
After researching the best social networks for pediatricians, you find your ideal candidates on LinkedIn and Doximity. You post pediatric content and join conversations on related topics. In addition, you also showcase how your practice operates. Lastly, you connect and engage with prospects who meet your expectations.
Once each healthcare digital marketing strategy is in motion, you investigate which strategies are working and where there's work to be done. You monitor results and make adjustments based on lead quality.
Curious how to become a leader in healthcare marketing?
A Digital Approach to Physician Recruitment Strategies
Digital marketing strategies work for physician recruitment and retention. Use these tactics to attract the right prospects and keep top talent on your medical staff.
O8 has extensive experience developing websites and digital marketing strategies for healthcare organizations.
Contact us today to create your physician recruitment campaign.