6 Reasons Drupal Remains a Leading CMS in 2023
Reading time: 7 minutes
In this article, we cover what features you should look for in a CMS and why Drupal is one of the strongest options on the market in 2022.
Why Drupal?
With over one million users worldwide, Drupal is an open-source CMS platform that small-to-large organizations can use freely without fear of vendor lock-in, low cost of implementation due to enormous amounts of freely-available community code, and robust and flexible architecture ready for the enterprise.
Drupal is a highly flexible platform for digital innovation, speed of implementation, and scalability. Its supporting open-source community is like none other, and it's a wonderful thing to be a part of – you can in fact do good in the world by contributing back to open source software while you build with Drupal.
The Current Landscape
The digital landscape is changing, and with it are increasing demands on web content management systems (CMSs) and organizations to keep pace with consumer needs. Users are demanding more personalized experiences, greater connectivity between devices, and more interactive elements in their web experiences. Organizations want omnichannel content publishing (previously knowns as COPE - Create Once, Publish Everywhere), fast and fluid user experiences, and a website that achieves KPIs and business goals.
For a more in-depth explanation of the process behind choosing the right CMS
Reasons Why Drupal Remains a Leading CMS in 2022
1. A Powerful Tool: Drupal Improves With Experience
2. Drupal Is a Proper Web Experience Management System
3. Customer-Centric and Personalized User Experiences
4. Drupal Is Highly Extensible via APIs
5. Drupal Integrates Well With Popular Marketing Tools
6. Drupal is Great for SEO: Leading Tools for Metadata and Taxonomy
1. A Powerful Tool: Drupal Improves With Experience
Drupal has become the clear leader as an enterprise-level CMS platform for more complex projects, tending to be on the larger side.
As you can see in the image below that we snapped at DrupalCon Europe with the creator of Drupal, Dries Buytaert, research shows that, like a fine wine, a user's opinion of Drupal improves with experience. It is a very powerful tool, and with great power comes...a complexity-usability tradeoff, at least for beginners.
For someone looking to manage their finances,
QuickBooks will always take longer to learn than Mint.com.
That is the complexity-usability tradeoff.
That said, a major initiative started in 2020 is improving Drupal's user experience, especially for beginners.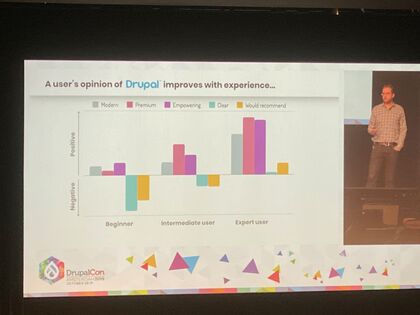 2. Drupal Is a Proper Web Experience Management System
Drupal differs from much of the competition in that it makes it easy for organizations and marketers to integrate third-party tools. This is because the Drupal CMS has made a point of being a flexible platform that performs more like a web experience management system – giving you the ability to integrate your favorite customer relationship management (CRM) software, such as Salesforce, or inbound marketing platforms into your website, rather than making you use proprietary automation and analytics tools. This is why Drupal is a clear choice for organizations that want to seamlessly integrate your preferred third-party technology with your website.
3. Customer-Centric and Personalized User Experiences
Drupal 9 gives organizations the tools they need to create customer-centric experiences. Your website should meet the needs of your visitors, guiding them towards that all-important purchasing decision from the moment your webpage loads. As Forrester notes, in today's market, that means using personalized and customer-centric interactions that make each visit to your site feel like their experience has been tailored to meet their individual needs across multiple channels through their user journey.
How Drupal Leads in User Experience
There are several built-in and contributed modules that supercharge Drupal, making it the best choice among content management systems for these reasons:
Personalization – give your users the experience that's right for them using one of several content personalization modules for Drupal, including Personalization Module, Browsing History Recommender, Commerce Recommender, and Context-Menu Block.
Enhanced caching capabilities – Drupal leads in terms of page loading efficiency and speed thanks to BigPipe and other caching optimization modules.
Options and flexibility - There is more than one way to create excellent user experiences in Drupal. Some situations require the utmost flexibility, like flexible landing pages for specific marketing campaigns, while others require more uniform control, so that look and feel are maintained across each type of content. One popular means of accomplishing a consistent-yet-flexible layout is the Paragraphs module.
Flexible layouts for marketing campaigns - The Layout Builder module is now included in Drupal core. It is a visual design and layout tool that allows the easy creation of flexible landing pages and reuse of content across marketing campaigns. Another popular alternative is the Gutenberg module, featuring the same flexible editor you will find in WordPress.
Built-in block system – drag and drop blocks to rearrange the appearance of text and images on your website, repeating the same block across multiple pages, giving you design uniformity and content reuse.
WYSIWYG editor – a much-appreciated feature that allows users to sneak a peek at how the text and images they've entered into the text editor will look before pushing the "publish" button.
Responsive design – whether a visitor to your website is using a smartphone, tablet or desktop, Drupal's responsive web design that comes out-of-the-box and scales to fit their screens.
Social media modules – easily connect online customers to your Twitter and Facebook social media feeds from your website with one of Drupal's several social media integrations modules.
Multilingual functionality – these features are built right into Drupal 8 core and give you the power to translate your site or have the language displayed on your website shift depending on the user's geographic location.
Quick Edit – type directly into a text editor in Drupal to cut down on the time required for adding and uploading content to your website.
Enhancing your UX and UI is akin to cleaning shop so that you have a more presentable, inviting, and efficient store for your customers to visit and staff to work in. The nice thing about laying your storefront on a Drupal foundation is that you're pretty much guaranteed to be working on solid ground.
Want a Free Drupal Upgrade Audit?
4. Drupal Is Highly Extensible via APIs
Access to robust APIs is one essential ingredient a modern CMS needs if it is to enhance and integrate with all steps of the customer journey. The releases of Drupal 8 and 9 have heralded several such APIs:
Added to this, Drupal's API, querying, GraphQL, and microservices models make it easy to mold to almost any architecture with tools and features that improve the experience of both customers, admins, and developers.
5. Drupal Integrates Well With Popular Marketing Tools
Organizations are looking for dynamic content across many digital touch-points (omnichannel), therefore they need a web CMS that stays in step with new sales and customer engagement technologies. eCommerce is another area in which Drupal excels. Drupal has been seamlessly integrated into the commerce platforms of companies like Tesla, IBM WebSphere Commerce, Magento, Puma, and Motorola to drive sales through better customer interactions.
The Google Analytics module allows you to collect all-important customer data and make adjustments to optimize how well your Drupal site speaks to and engages your target market.
6. Drupal is Great for SEO: Leading Tools for Metadata and Taxonomy
According to a 2017 Forrester report, semantic structure plays a key role in the working lives of content authors and managers. Auto-tagging tools, such as Drupal's Metatag module, allows you to add meta tags to your website automatically – an asset for search engine optimization (SEO). Drupal's Metatags module also allows you to shape how your content appears on social media sites with such APIs as Twitter Cards for Twitter and Facebook's Open Graph protocol, giving you the ability to share consistent messages across platforms. All of these tools make Drupal SEO one of the best and most configurable options out of any web CMS.
Another key asset for modern, SEO-friendly websites is having a flexible and intuitive taxonomy system. Drupal's built-in taxonomy system is designed to simplify how you organize your content, with the help of keywords. This intuitive content classification system has obvious benefits: it makes it easier to organize information on your website, including by theme, and to navigate to search terms and set viewing options. Drupal's flexible taxonomy system is designed to support the growth of your organization, so you can continue to add more content and features to your website without bursting your CMS's seams.
--
Get the right support from O8's Drupal and CMS experts. Contact us for a free consultation.
Drupal Compared With WordPress
Drupal often gets compared with WordPress. Both allow you to quickly customize and innovate upon a solid pre-existing framework, open-source code, and modules, with access to countless tools and information free of charge to help you get the right features, functionality, and design.
However, the platforms are still actually quite different. See our post here for more details on how exactly Drupal differs from WordPress and for what circumstances it is best suited.
Latest Version of Drupal
Drupal 9, the most current release, is constantly innovating to be a leading platform in interactivity, personalization, and scalability. It has an ever-evolving ecosystem for organizations looking to integrate CRMs like Salesforce and Hubspot, eCommerce, marketing and SEO, and automation.
---