Client Overview
APEX Financial Services provides complex business valuation, asset appraisal, cash flow and revenue streams financial consulting, gross merchandise value (GMV), and opinion services to a variety of industries, businesses and professions, with an emphasis on valuation of intangible assets.
Project Website: https://www.apexfsi.com/

The Challenge
During the pandemic, APEX needed a new channel to act as a thought leader and influencer, educating prospective buyers about the highly-specialized appraisal services available through APEX, including Equity Compensation, Purchase Price Allocations, Goodwill and Asset Impairments, Ownership Succession, Gift and Estate Taxes, and ESOPs.
Our Solutions
1
O8 built a customer experience-focused website on the Shopify platform, which provides excellent functionality for small businesses and startups looking for a simple, cost-effective, and scalable website or e-commerce platform. Although many retailers choose the Shopify platform for its point-of-sale (pos) online store functionality, this platform has ideal pricing for a first website for financial institutions, even if they do not require payment processing for online sales.
2
O8 also conducted keyword research and search engine optimization to drive traffic to the site for APEX's highly specialized financial services appraisal offerings.
3
O8 developed a content strategy that included highly technical — and search engine optimized — blogs and an email campaign to the company's customer base.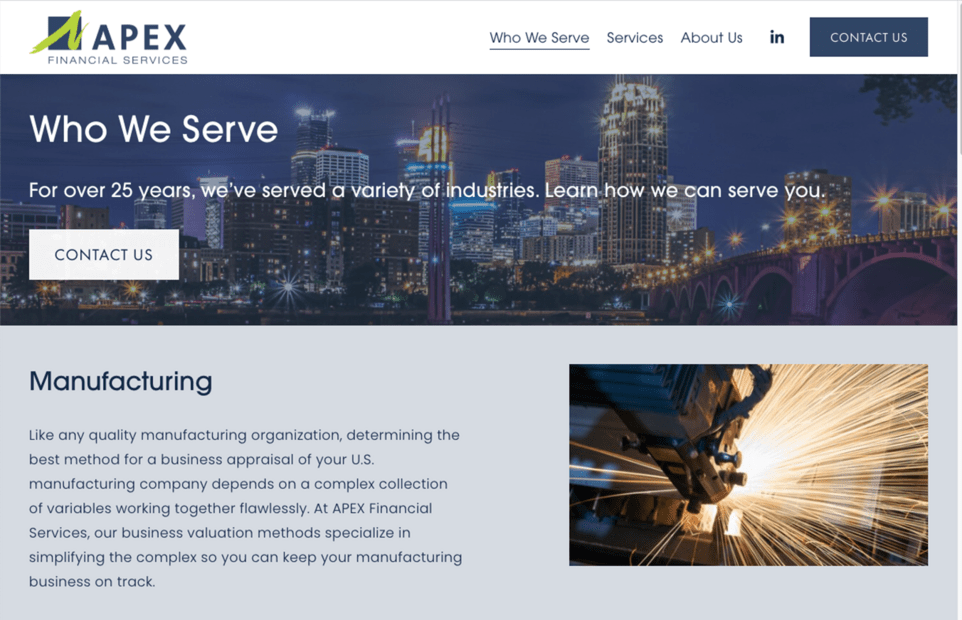 Flexible, Visually Appealing Website
 APEX used O8's user experience (UX) and financial services marketing expertise to develop a clean, easy-to-navigate omnichannel experience that establishes credibility, highlights APEX's entrepreneurship and technical financial services expertise, and features an ecosystem of multiple, clear calls to action.