Stay Ahead Of The Competition.
SEO is Only a Small Part of The ROI Picture. Say Hello to DIO:
Digital Impact Optimization™ (DIO)
1
Improving traffic and ads (SEO+)
...generates higher traffic quantity and quality.
2
Improving user experience (UX)
...makes your website and ads work harder for your business.
3
Improving conversions (CRO)
...motivates and shifts user behavior and increases KPIs.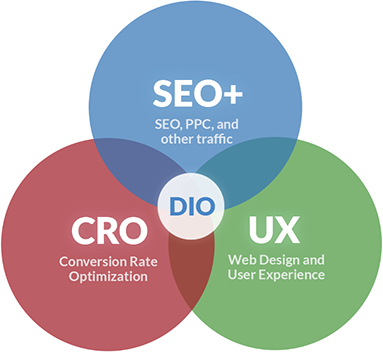 The Power of Digital Impact Optimization (DIO)
4x
conversion rates
Emotionally-focused website experiences convert 3 to 4 times better.


— André Morys, Conversion Expert
126%
higher profits
Companies measuring web and marketing performance have 126% profit improvement over competitors.

— McKinsey
50%
more revenue
Organizations actively using available web and marketing data have 50% higher revenue growth.

— Dell Global Technology Index
13:1
average ROI
Investments in analytic solutions returned $13.01 for every dollar spent on average.


— Nucleus Research
How We Do It
We follow the Measure, Build, Learn cycle of agile improvement.
1. First we measure and collect data to gain advanced insights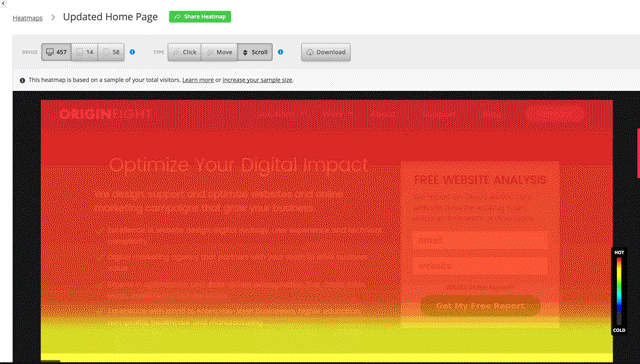 Do you know how people are engaging with your website, landing pages, and ads?

We measure what's important to your users. We analyze what they see, what they click on, how far they scroll down the page. This data helps us develop tests for improving KPIs and conversion rates  
We can do this for any website, but we have special tools, enhancements, and in-depth experience for WordPress and Drupal.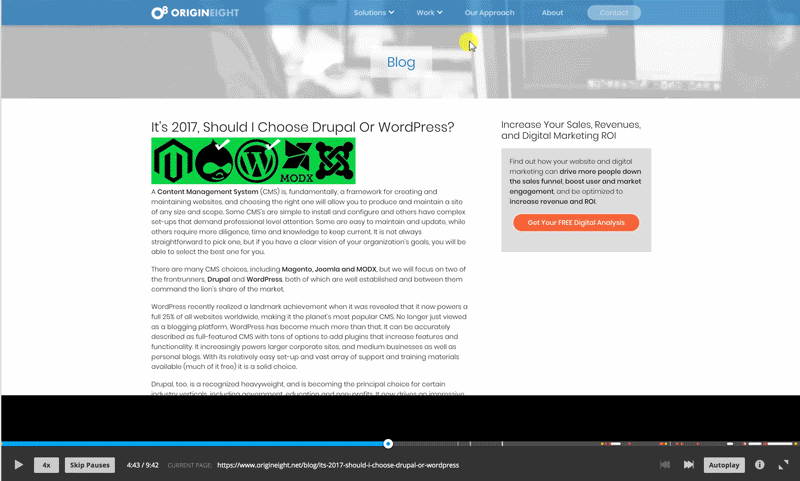 We also analyze movies of your customers trying to use your website.
These movies are gold mines for understanding user behavior, catching bugs and usability issues, and improving the KPI performance and user experience of your website and landing pages. We can detect hesitation, friction, and other issues that prevent people from taking desired actions by watching recordings of your visitors' mouse movements. These issues prevent people from contacting you, purchasing a product, downloading a whitepaper – whatever your ROI drivers may be. This can be a powerful supplement and sometimes replacement for usability testing.
2. We then learn by testing highly strategic improvements

Best practices and even the most beautiful ideas are often suboptimal. Why not test your assumptions and look at data?
One method, called "split testing", sends a percentage of your web traffic to the original or "control" version (A), and another percentage to an improved version (B). After attaining statistical significance, we can make statements like "we doubled conversions on Marketing Goal X in only 2 weeks" with certainty. 
3. We then build incrementally better versions, drive better quality traffic, and ultimately improve your marketing goals and KPIs
We help you create, track, and automate profitable and competitive SEO and paid advertising campaigns that work better and waste less money because your website, ads, copy, landing pages, and overall strategy are optimized.


Stop throwing away SEO and advertising dollars on digital marketing that is not optimized.
Request A FREE Strategic Report or Demonstration
We will put together a custom strategic report with DIO opportunities and insights for your website and digital marketing.
The report will demonstrate the process of getting more traffic, sales, leads, user engagement, and a better user experience. If you prefer, we can give a personalized demo with one of our experts.