Your Content Should Be Backed By a Plan
Our Team

We are seasoned web designers and digital marketers with years of experience and a large number of successful case studies to back us up.

Why Us

We know content. We know how to plan for it, structure it, make it appealing and interesting, and fully optimize it for best results.

Content Will Make or Break You

Visitors come to your website to learn, be entertained, be informed or even be awed by something. With a proper content strategy, you can be sure their needs and desires will be met.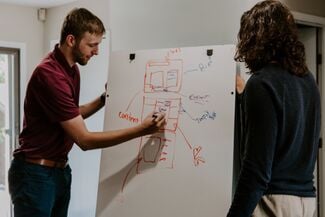 A truly great website has a strategic plan for its content before it is even built. We use content strategy to ensure we are best able to convey business and brand goals. Also, in order to tell your story best, we need to think about how content unfolds visually on the page, which means understanding its structural components such as the fields and media that comprise a given type of content. 
Content strategy really can make or break your site's success in terms of user experience and engagement, SEO performance, and driving traffic to desired calls to action.
Content Strategy can also provide a framework to unify your messaging, not only across multiple editors on the same website, but across other channels such as social media, sales & marketing collateral, and the numerous other venues where your business may be active in content creation. When it comes to the actual copywriting, we believe in copy that converts, and a proper content strategy can prepare you (or us) for that.
Our process. We start with a discovery process, often involving in-depth discussions with relevant stakeholders from your team, covering discussion points such as business and project goals, user segments and information needs, UX needs and requirements, content requirements, marketing activities, and technical requirements. We discuss website audiences in a prioritized framework, look at the prospect path and buying journey, come up with a core statement and guiding principles, and end up with a content model.
We then employ various tools such as page templates to help you visualize and, ideally, prepare content throughout the entire process. We believe in copy-first design, since copy and messaging is really how you tell your story – and it helps to know the story before we start designing for it visually. Would you design a children's book or a magazine without the content first? You can, but it's most ideal to have as much of the story as you can upfront; the same goes for websites.
Deliverables. In the end, we are left with helpful tools that help all parties involved build and maintain the best website with the best content possible. These include buyer personas, initial content plans, brand editorial audits, analytics data, SEO audit and recommendations, admin workflow documentation, and navigation inspiration. 
Contact Us Now to Optimize Your Site's Content Strategy