Smooth and Efficient User Experience
Our Team and Approach

We are seasoned experts who design the kind of UX that just works. Not only does it work, it's backed by the research, information architecture, and data, and testing required to drive optimal business ROI along with the most efficient experience for your users. 

We Handle The Tough Parts

When you and your team need to make decisions with utmost confidence, user and UX research is required. We handle the user recruitment, study design, information gathering, and reporting, often using online testing and recruitment tools that improve result quality while also reducing overall costs.

We Involve You

We engage stakeholders for insights and feedback, because we want to learn the context of your business thoroughly.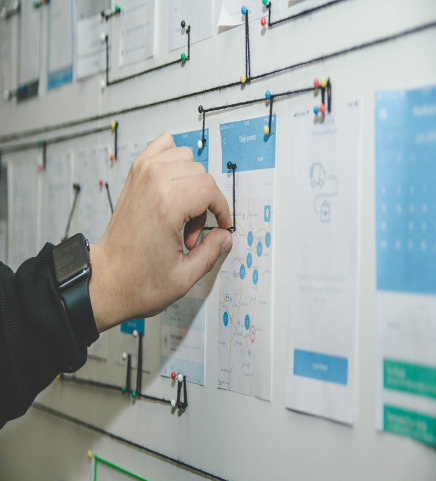 User Experience (UX)
UX Design is a strategic step in the design process. It is essential to ensure an innovative and interactive experience that engages and retains your target audiences, as well as an early alignment by stakeholders on the project's vision.
Wireframes. Wireframes are an important part of UX design. They are the "blueprints" of the web, showing you in a rough sketch format how your website will look. Things like layout, menu hierarchy, and basic messaging such as page titles, button copy, and section headers are included. 
User research. The best work is based on data. This applies to many fields, and web design is no exception. User surveys, focus groups, data-driven user personas, and other such tactics give us the data we need to inform the best website possible. You are designing your site for users -- not yourself -- and the best way to move them towards your goals and KPIs is to talk to them and gather data from them.
Stakeholder feedback meetings. Besides talking to users themselves, you know them second-best! We use whiteboard sessions, post-it notes, and topical discussions such as talking about your prospect path and sales and marketing funnel from a user experience perspective. Our goal is to get to know your users in the context of your business, and your goals and KPIs for what you'd like them to do, how you'd like them to feel -- what their experience should be.
Interaction design. When a project is highly interactive, we employ interaction design principles, making sure we document every dynamic movement and animation of the site during the UX process so that this is captured in the design and final build. 
Information architecture. How will information be organized on your website? Menus, prioritization of content, navigational elements, taxonomy and tagging of content –– all of these are important to understand when putting together the wireframes so that your site's content is properly organized in a way that makes sense to your users. We use techniques such as card sorting exercises, tree testing, and first-click testing on your wireframes to make sure navigation and content organization is optimal for your users, letting them get to where they need to go in the best possible way. One of our favorite tools for this is Optimal Workshop. 
Usability and user testing. There are various methods such as in-person user testing sessions in computer labs, usability lab testing where we track eye movement and verbal user feedback as they attempt to accomplish goals on a prototype of your new website, and more informal, faster testing such as the plethora of online methods now available such as UserTesting.com. 
User Experience testing. Want to make sure your UX is the best it can be? Learn more about our UX Testing Services.
Contact Us Now to Optimize Your Website's UX Design