Complex website redesign for an established and renowned tech company
Results
The website restructure and redesign resulted in a 140% increase in conversions year over year and a 15% increase in traffic, including a rise in mobile traffic.

Conversions increased across the board from contact form submissions to whitepaper downloads, and higher trial software and demo downloads.
"While our measureable goals are related to site conversions and leads – and those are increasing nicely – we are really pleased with how we are engaging with the market. A lot of people come to our site to get educated on topics like cybersecurity and IT operations management. This new structure helps these people get the information they need and connect with us if necessary." –Mike Devine, VP of Marketing
Project Components:
Content strategy
User research 
User experience design
Discovery sessions
Design
Multilingual implementation
Solr search
Ongoing maintenance, feature additions, and design refreshes
Emergency support
Web hosting architecture
Security and disaster recovery planning
Migrations of acquired brand websites
Digital Impact Optimization (ongoing SEO, UX, CRO improvements)
HelpSystems develops intuitive, easy-to-use software solutions for IT management and monitoring, cybersecurity, business intelligence, and document management. The software simplifies everyday operations to help save time and cut costs, and consultants offer professional services to guide successful project outcomes.
The Challenge
HelpSystems is a high-velocity business with expanding product lines and services. Some of these services and brands were competing for visibility and clarity, and the company was rapidly outgrowing their old site. Also, they had made a strategic decision to move away from a product-focused to a solutions-focused site structure.
They needed a web solution that could unify and strengthen all offerings through a single customer-facing gateway, and be dynamic enough to accommodate new services as they were developed. Also, they recognized that optimization for mobile devices was a key requirement for future success.
For a project that was this mission-critical, HelpSystems was looking for a reliable partner with top-level technical ability, sound DevOps practices and expert-level Drupal CMS experience.
Key Requirements
Facilitate change of strategy, from product-focused to solutions-focused

Streamline complex services/brand offerings into one portal

Improved content creation, management, and administration

Emphasis on mobile and optimization for mobile devices

Powerful and scalable CMS platform

Confidence in long-term technology lifespan and solid ROI
Choosing The Drupal CMS
The Drupal CMS was chosen for its robust and extensible technology, flexibility, scalability and security. Also, the technology was proven on other major sites, and as a standards-based open source platform it offered significant cost savings over other solutions. Because of its high adoption and trust in government, education and business sectors, it was a prudent long-term investment.
The decision was made to upgrade from an existing Drupal 7 website to the same platform via a complete refocus, restructure and redesign. HelpSystems already had experience with Drupal, so there was some existing familiarity and trust in the platform.

The Approach
Discovery, Strategy, Design, Development
The Discovery & Strategy Phases helped us distill key requirements into a roadmap for the project, with deliverables including a content strategy framework and user experience wireframes. Design was guided by stakeholder feedback and brand standards, involving several iterations and feedback rounds. The Development process was iterative so that we had measurable progress yet flexibility for adjustment along the way. Deployment went well, given a bit of complexity with a remote S3 file system for assets, and a production environment on a load-balanced Rackspace server.
How We Did It
Systematic and thorough review of existing site, users, workflow, and website goals

Collaborative discovery period with workshops/meetings to prepare a needs assessment and find solutions

Professional in-person Content Strategy, User Experience and Design consulting 

and stakeholder feedback

Agile development methodology to demonstrate success at each step of the build

An in-depth review of Drupal modules, matching stability and features with required functionality

Custom code development
Solutions
Thorough review of existing site and content, identifying user personas and user journeys. Pinpointing friction points, but also analyzing successful interactions so that they could be understood and further improved.
 
Holistic approach to site flexibility. Reworking of the site structure to accommodate future business growth and acquisitions.
 
Customized migration of valuable technical content, articles, and custom code from previous site using Drupal modules to ensure no loss of data, zero downtime, and the quickest possible turnaround for the new site upgrade.
 
Review of content flexibility. The previous site was rigid and restrictive in terms of types of content and how it was displayed. To solve this we created a customized layout system (using the Paragraphs module), and a flexible page header structure allowing content creators the ability to easily create and organize content in pages as required.
We Created Customizable Page Layouts for Easy Content Authoring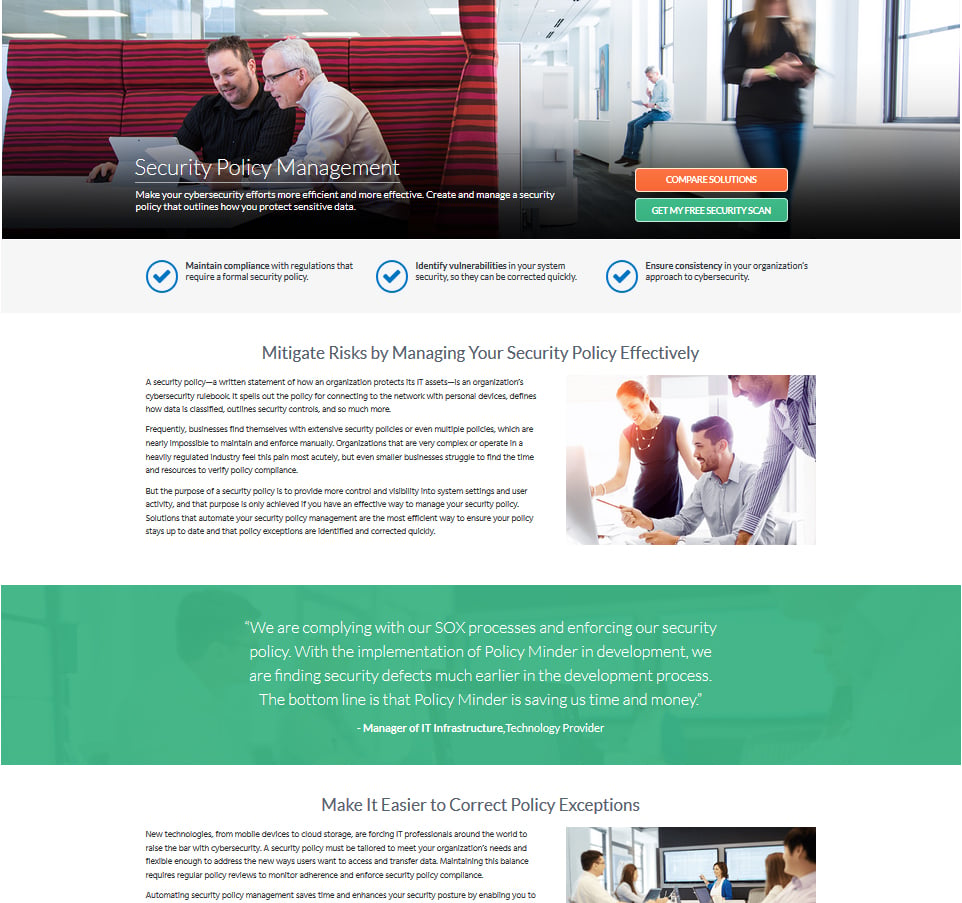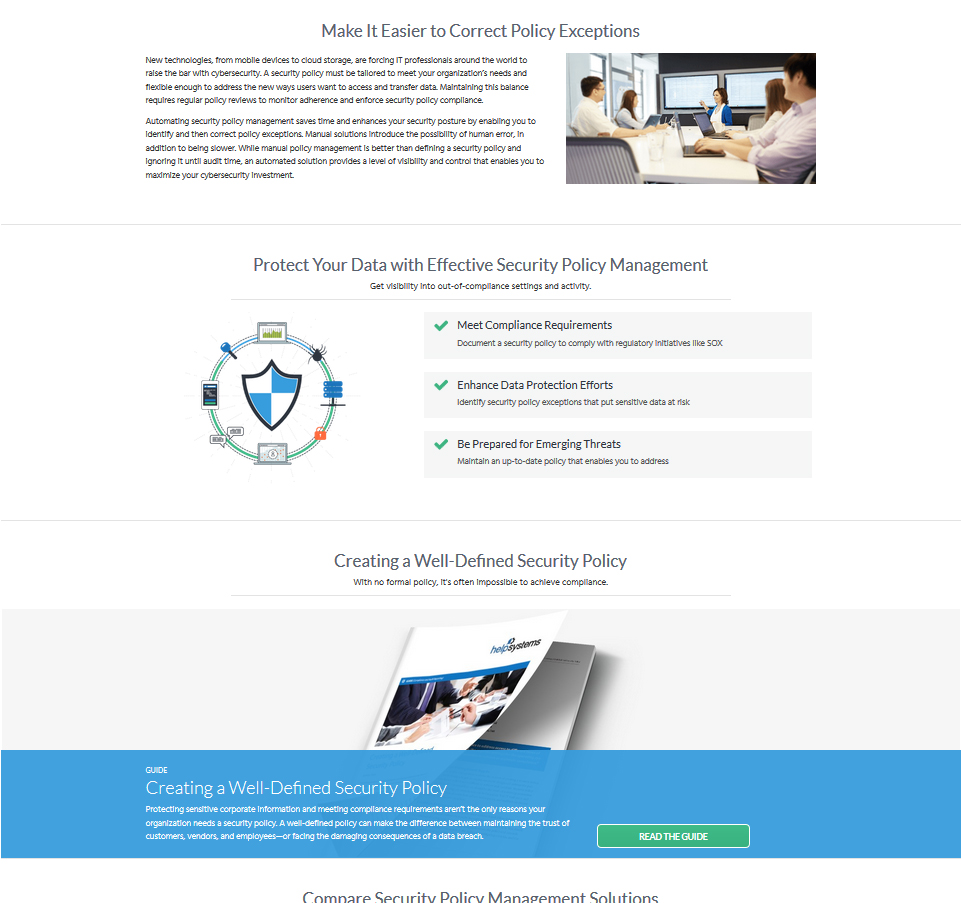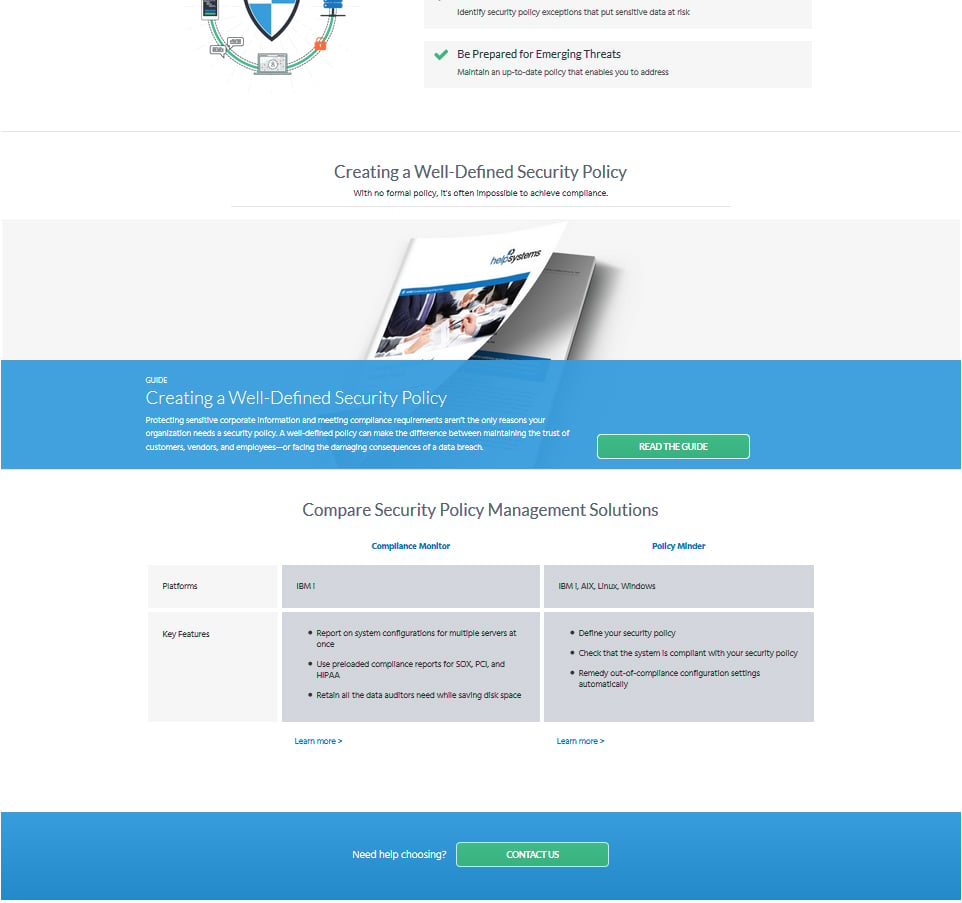 Solutions continued >>>
Implemented a streamlined and sustainable content workflow process to allow for a growing number of users, different content states, smoother revision monitoring, and more granular control over content permissions. The new system allowed for greater oversight and review, allowing content to be managed and repurposed rapidly.
 
Completely customized backend administration to cater towards specific site needs. These included a product dashboard for easy access to all product/service related content, menus, events, webinars, calls to action (CTAs) and others. Site governance is now easier and less time-consuming.
 
The design strategy discussion resulted in providing various templates (again via the Paragraphs module) that could be used to assemble content with flexibility and ease, thereby reducing the need for a developer/designer to be involved with standard content entry tasks.
 
Website theme tailored to branding and corporate identity guidelines. This provided a cohesive look & feel designed to engender trust and confidence in the HelpSytems brand. The overall result is polished and professional.
 
The primary communications tools used were TeamWork and Slack, which allowed us to become truly integrated with the HelpSystems team. Hotgloo and InVision were used for collaboration on wireframing and design mockups.
We Designed Flexible Page Headers and Custom Product Pages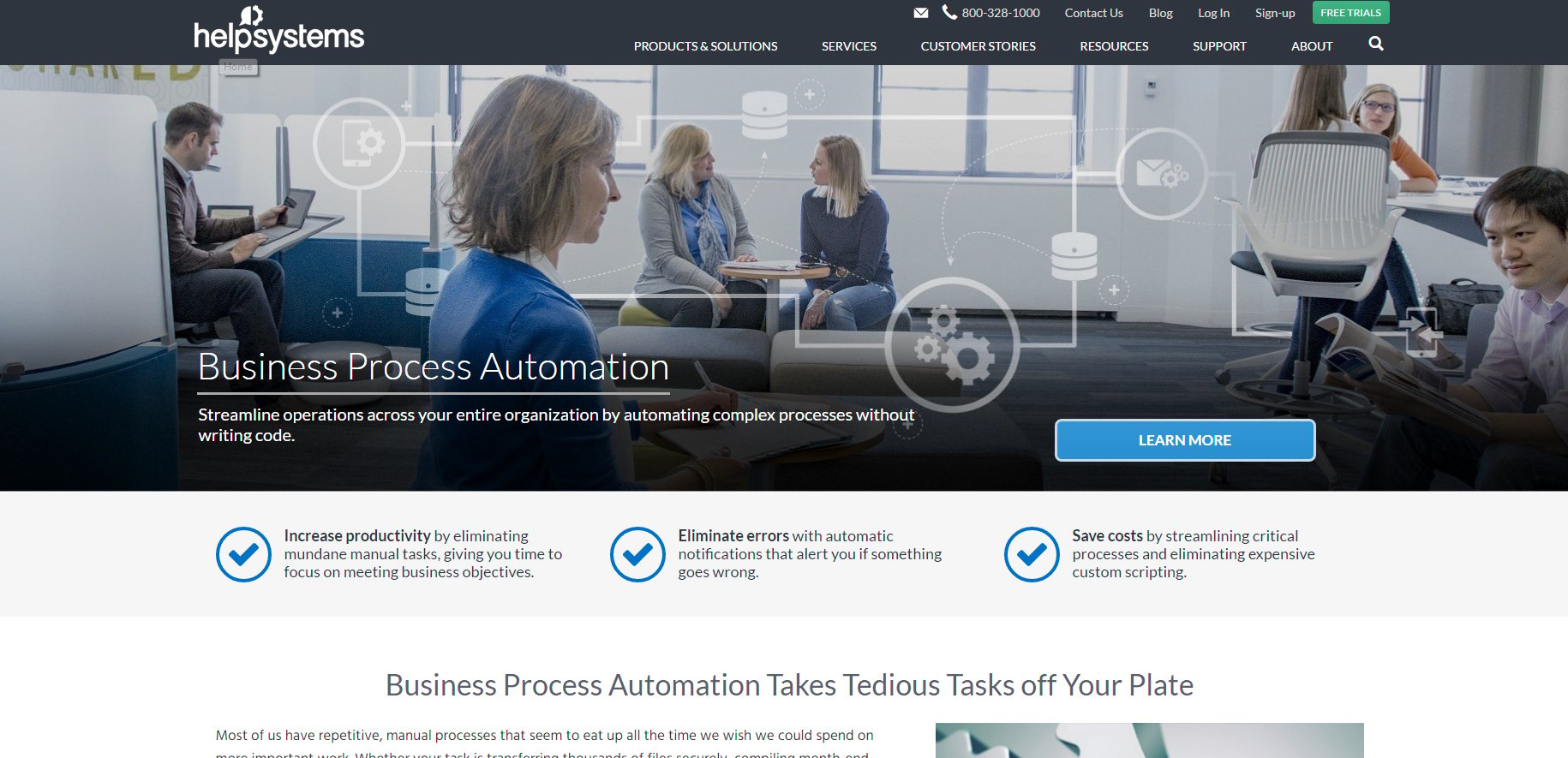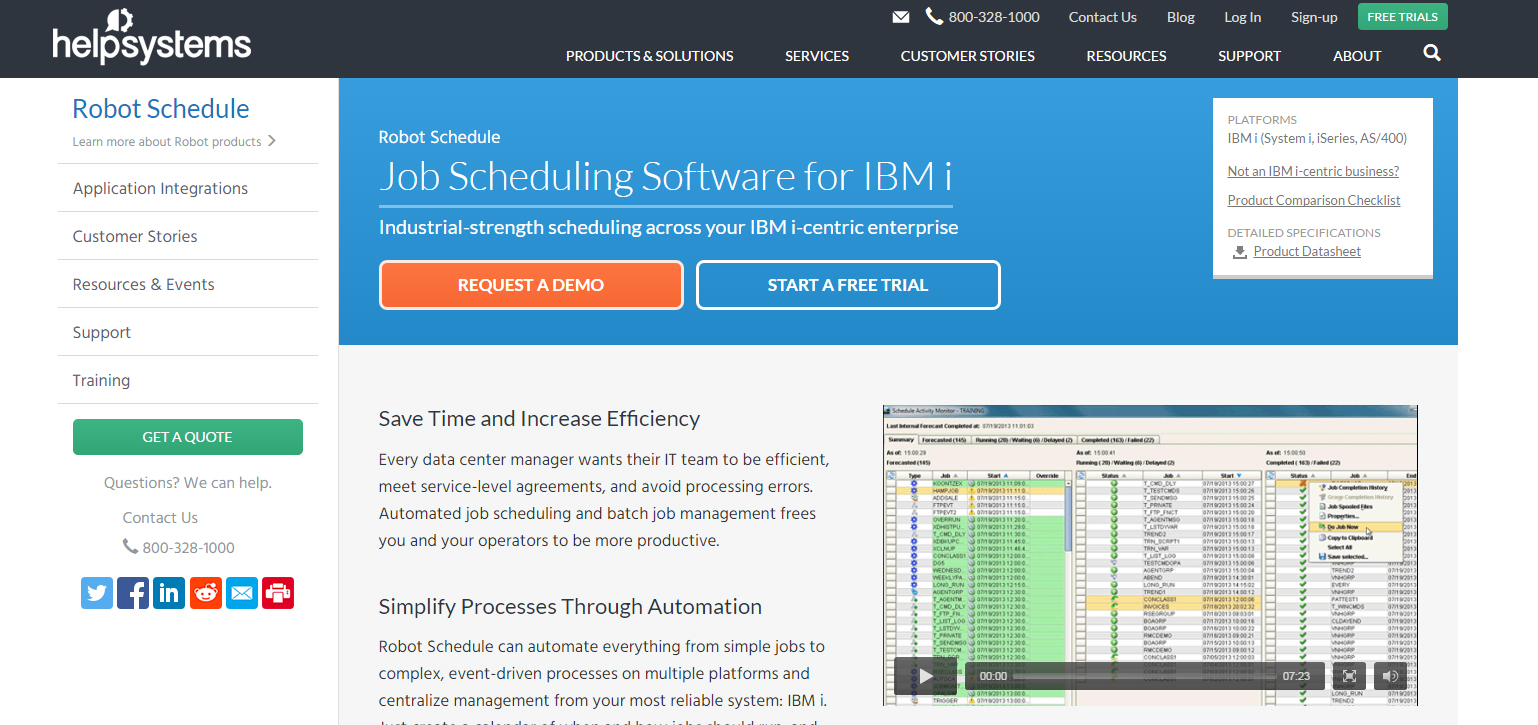 Launch and post-launch support

Our whole project team was made available for the launch of the website for assessment, monitoring and post-launch support. This resulted in a smooth roll-out with minimum glitches that were addressed quickly and easily. Our team still enjoys a strong partnership with HelpSystems, providing ongoing support, maintenance and optimization.
O8 Delivered
Robust web architecture with performance and security as paramount
Structured framework for intuitive and flexible content authoring and administration
Customized migration of technical content, articles, and custom code from previous site
Complex integration of multiple databases to power product and service offerings, and provide an improved experience for end users
Fully responsive, mobile device optimized website
Custom website theme based on corporate branding guidelines

Testing, deployment, and dedicated post-launch support

Ongoing support and optimization, which continues to this day.
"The team at O8 has exceeded my expectations throughout every phase of our project. Their talent runs deep, from design and development to project management — they have been a pleasure to work with and put me at ease knowing our site is in such capable hands."

Sarah Bartlett — Web Marketing Manager, HelpSystems