Drupal Redesign and Digital Marketing for HelpSystems
Complex, multi-lingual website redesign and ongoing partnership with an established and renowned tech company
Introducing the Story of HelpSystems
HelpSystems develops intuitive, easy-to-use software solutions for IT management and monitoring, cybersecurity, business intelligence, and document management. The software simplifies everyday operations to help save time and cut costs, and consultants offer professional services to guide successful project outcomes.

Website: https://www.helpsystems.com/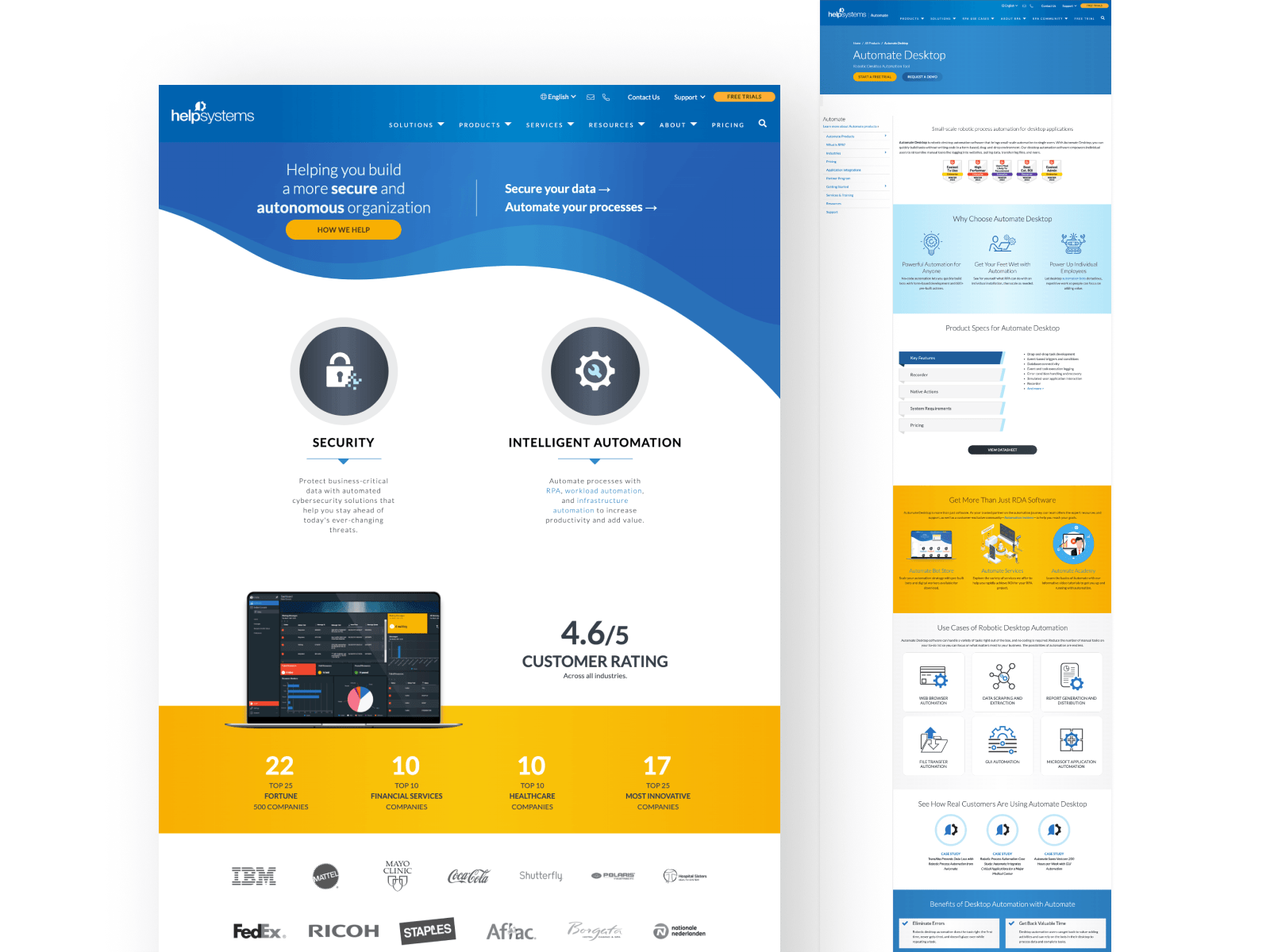 The Challenge
HelpSystems is a high-velocity business with expanding product lines and services. Some of these services and brands were competing for visibility and clarity, and the company was rapidly outgrowing their old site. Also, they had made a strategic decision to move away from a product-focused to a solutions-focused site structure.
They needed a web solution that could unify and strengthen all offerings through a single customer-facing gateway, and be dynamic enough to accommodate new services as they were developed. Also, they recognized that optimization for mobile devices was a key requirement for future success.
For a project that was this mission-critical, HelpSystems was looking for a reliable partner with top-level technical ability, sound DevOps practices, and expert-level Drupal CMS experience.
Key Requirements
Facilitate change of strategy, from product-focused to solutions-focused
Streamline complex services/brand offerings into one portal
Improved content creation, management, and administration
Emphasis on mobile and optimization for mobile devices
Powerful and scalable CMS platform
Confidence in long-term technology lifespan and solid ROI
Our Solutions
Drupal was chosen for its robust and extensible technology, flexibility, scalability, security, and cost savings.
The Discovery & Strategy Phases helped us distill key requirements into a roadmap for the project, with deliverables including a content strategy framework and user experience wireframes.
Design was guided by stakeholder feedback and brand standards, involving several iterations and feedback rounds.
The Development process was iterative so that we had measurable progress yet flexibility for adjustment along the way.
Deployment went well, given a bit of complexity with a remote S3 file system for assets, and a production environment on a load-balanced Rackspace server.

How We Did It
 
Systematic review of existing site, users, workflow, and website goals
 
Collaborative discovery period with workshops/meetings to prepare a needs assessment and find solutions
 
Professional consulting on content strategy, user experience, and design with stakeholder feedback
 
Agile development methodology to demonstrate success at each step of the build
 
An in-depth review of Drupal modules, matching stability and features with required functionality
 
Custom code development

Content and Migration
​​​​​​​
Thorough review of existing site and content, identifying user personas and user journeys. Pinpointing friction points, but also analyzing successful interactions so that they could be understood and further improved.
 
Holistic approach to site flexibility. Reworking of the site structure to accommodate future business growth and acquisitions.
 
Customized migration of valuable technical content, articles, and custom code from previous site using Drupal modules to ensure no loss of data, zero downtime, and the quickest possible turnaround for the new site upgrade.
The Results
140% Increase in Conversions 
After the website launch, the client experienced a 140% year-over-year increase in conversions! This happened through strong SEO planning and architecture, a solid SEO transition planning phase, and improved site design and content capabilities. 
 
The design strategy resulted in various templates that could be used to assemble content with flexibility and ease, thereby reducing the need for a developer/designer to be involved with standard content entry tasks.
 
The website theme was tailored to branding and corporate identity guidelines. This provided a cohesive look & feel designed to engender trust and confidence in the HelpSytems brand. The overall result is polished and professional.
 
Finally, we implemented a streamlined and sustainable content workflow process to allow for a growing number of users, different content states, smoother revision monitoring, and more granular control over content permissions. The new system allowed for greater oversight and review, allowing content to be managed and repurposed rapidly.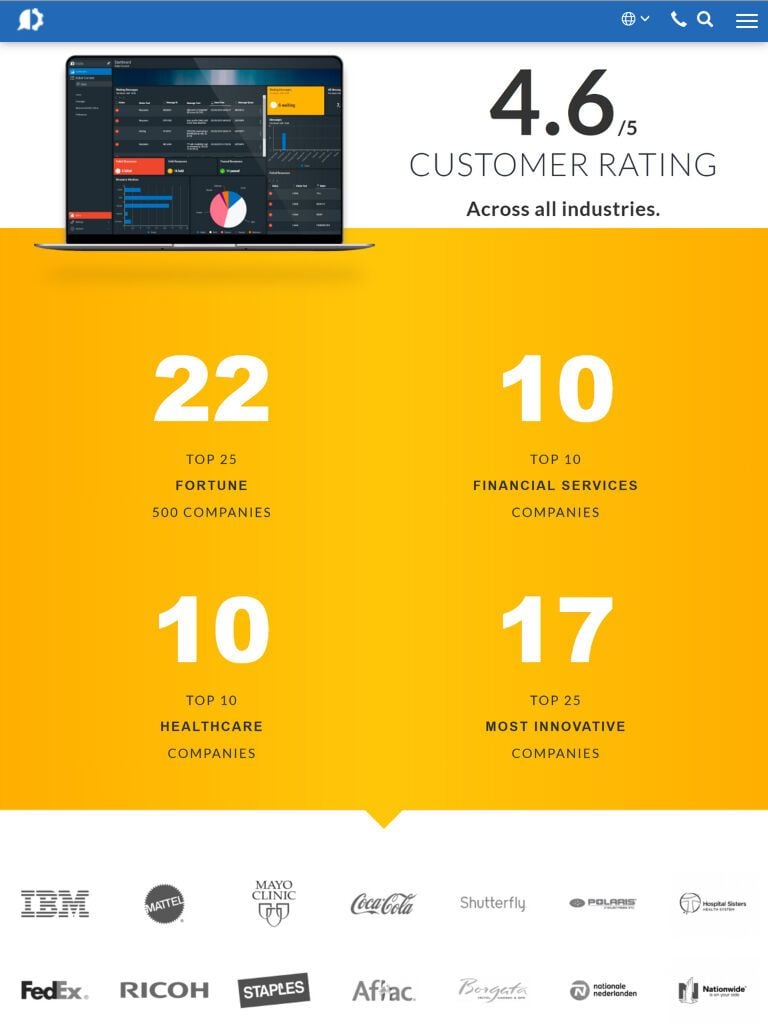 "Irreplaceable Partner for Our Business - The team at O8 has been instrumental in helping our company elevate our web user experience. From a website redesign, to ongoing customizations to CRO recommendations, we rely on this team to support us in managing a website that meets the various objectives of HelpSystems. Thanks for the hard work and killer guidance! Keep it coming."
Leila De la Fuente
,
Senior Manager