Large-Scale WordPress Migration and Digital Marketing for Ecumen
Migrating Drupal and a Custom CMS to a WordPress Multi-site Network for a Senior Living Organization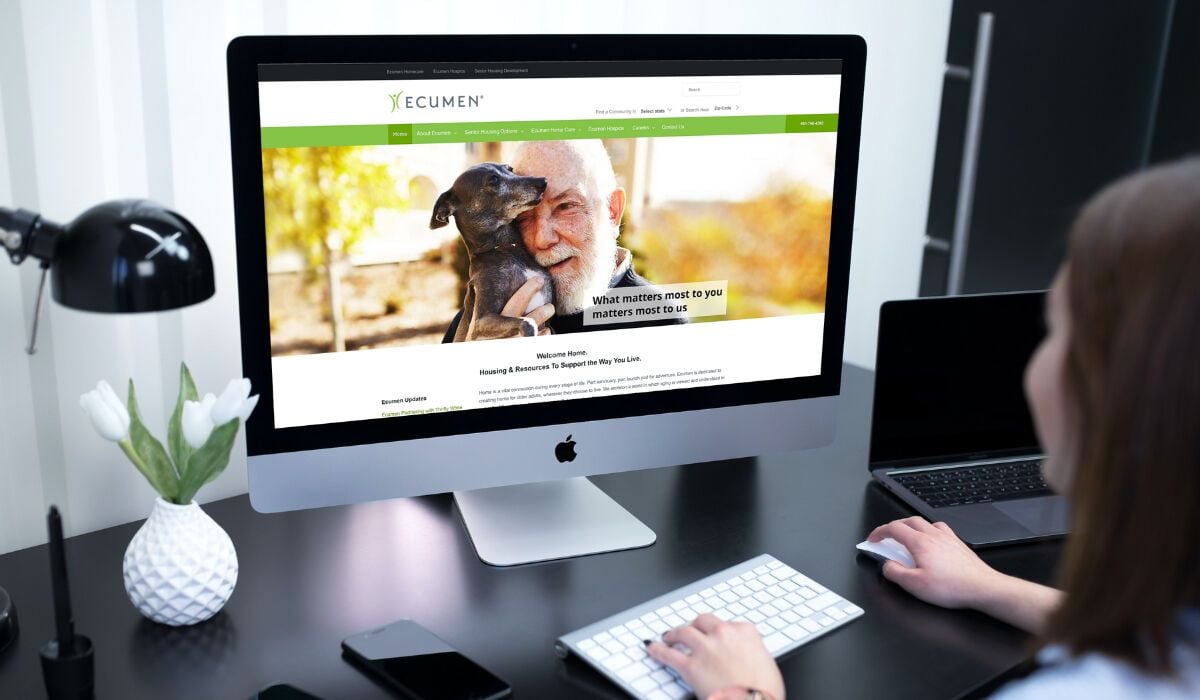 Introducing the Story of Ecumen
Ecumen operates a variety of senior housing options and services, including cooperative senior housing, independent living, assisted living, long-term care, short-term rehabilitation care, home care, and hospice. In addition to their consumer services, they provide senior housing development, clinical consulting and senior housing management services for organizations outside of Ecumen.
Website: https://www.ecumen.org/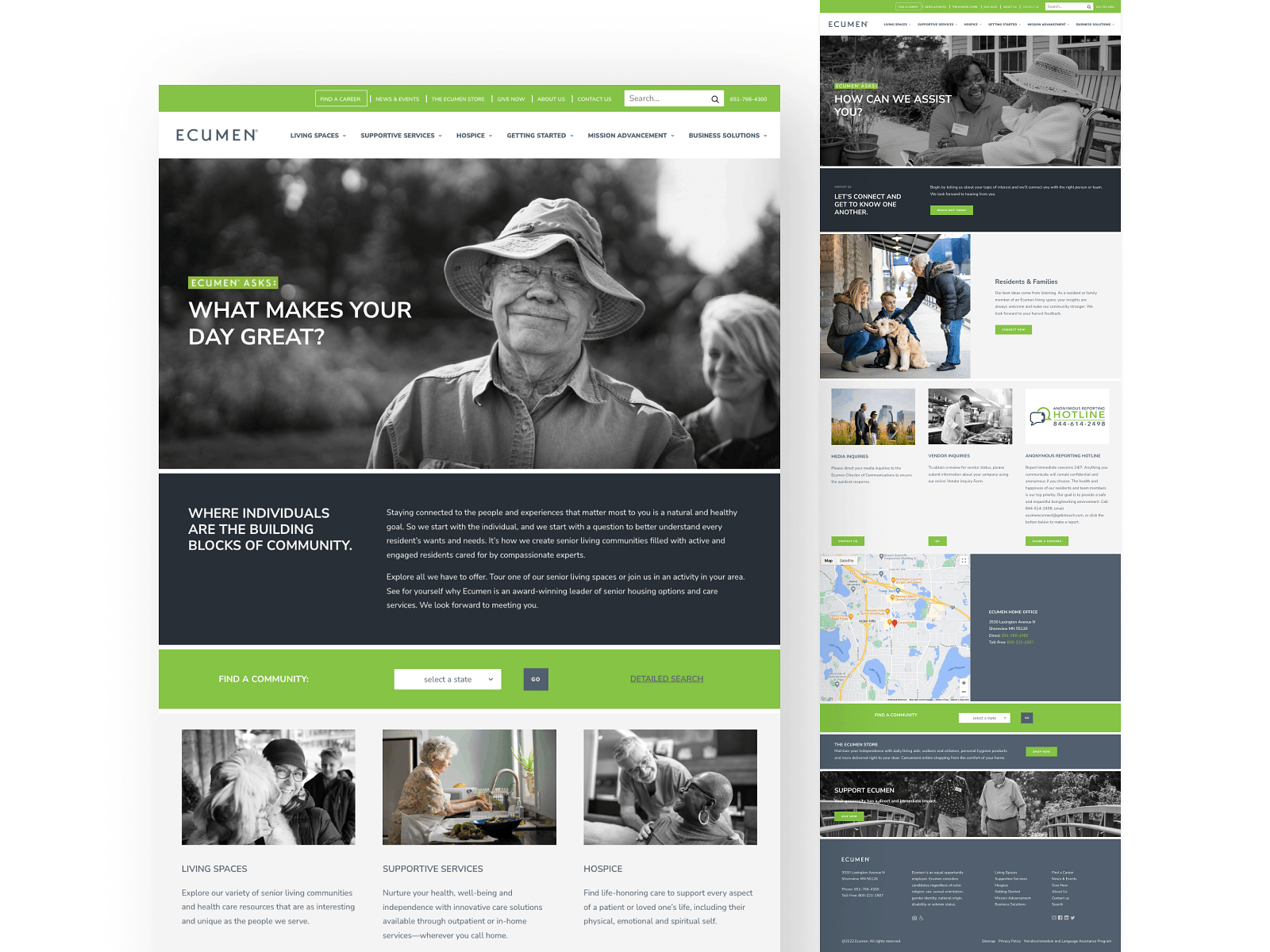 The Challenge
Ecumen had been working with an industry-specific vendor, who was increasing support, maintenance and hosting costs. Their primary motivation was to not only reduce costs but also "unify" their websites. O8 helped them choose a WordPress Multi-site Network setup as the best way to house a wide array of content and media while managing multiple users across multiple locations, all in a lower-cost, open-source, and digital-marketing-friendly setup.
We received a call from one of Ecumen's top decision-makers requesting our immediate services with the contingency of a very tight timeline (2 months, essentially, to do a 1-to-1 migration) on all of their sites - including their main site Ecumen.org (which had an excess of 2,200 blog posts).
Our Solutions
A Fast Timeline
O8 was initially engaged by Ecumen in early 2019 to support the massive site migration and relaunch of 28 sites within 2 months.
We had our team of eight WordPress experts migrate all the sites in order of priority. To this end, the client wanted most of the sites to look the same, yet with their own look and feel. Given the tight timeline, it was decided that a 1-to-1 migration was needed, at least initially.
Content Migration
Once the content was migrated, QA took place. Not only were we making use of an advanced editor, but inserting content into the new template had its own challenges - which we resolved by making use of customizations, additional trusted plugins, and some of our own custom plugin code.
After the second round of QA was complete, the tasks were assigned back to Ecumen's marketing team for final review.
User Roles & Permissions
Having a large multi-site network Ecumen wanted to hand much of the content control over to local site-specific users.
O8 had to create a framework around site-specific roles and various permission, even as granular as text-only content. We achieved that by customizing the user role editor.
Content Inventory and Historical Backup
Because of the urgency to move forward, and without the assistance of their previous tech partnership (nor logins to the vast majority of their sites), we wanted to make sure to make physical backups of their current live sites. We ran SiteSucker on all sites within their network, then relaunched on our local servers. This provided us with the backup and reassurance of a historical backup of the site to reference.
Large Multisite Challenges
Before we could even tackle multi-site content migrations, we had to set up the network. Prior to this, O8 had set up multi-site networks before, but not to this magnitude. First, we had to choose a server. After much discussion, Kinsta was selected as the server of choice. Not only for their focus on WordPress, but the ease of use with multi-site networks. 
The Results
The Locations Revamp
Communities were provided with curated pages that fit their interests and needs. From residential properties to sustainability efforts, O8 has given Ryan Companies the tools to show off all that Highland Bridge has to offer.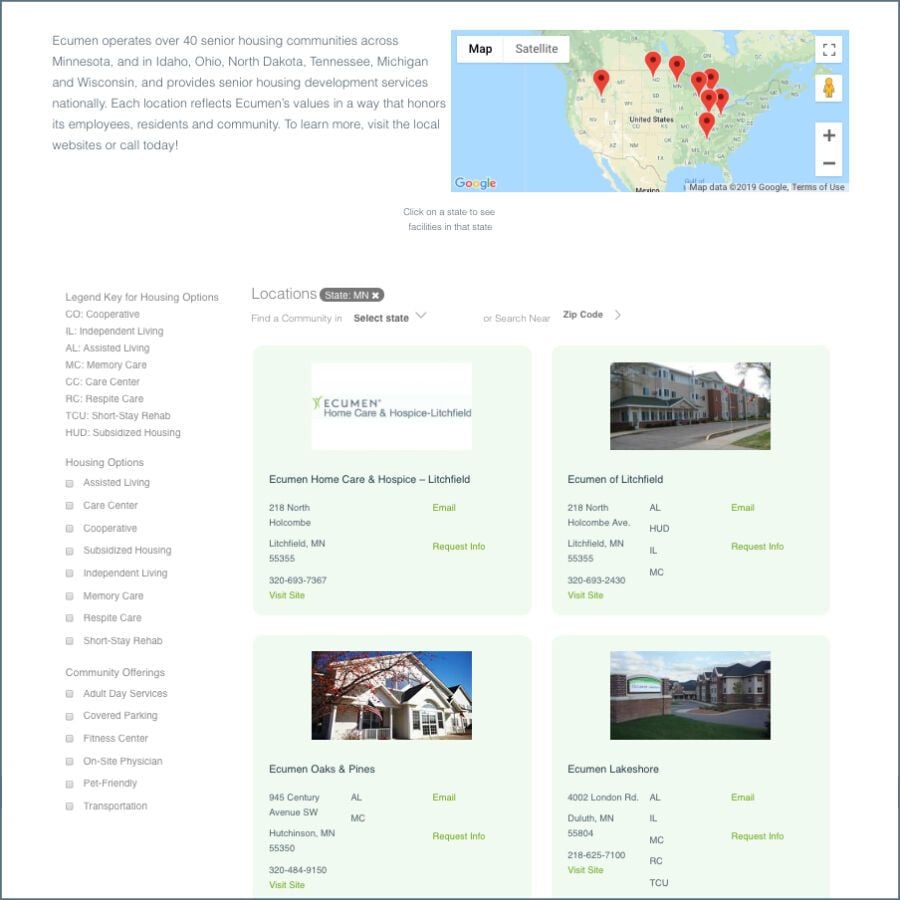 Before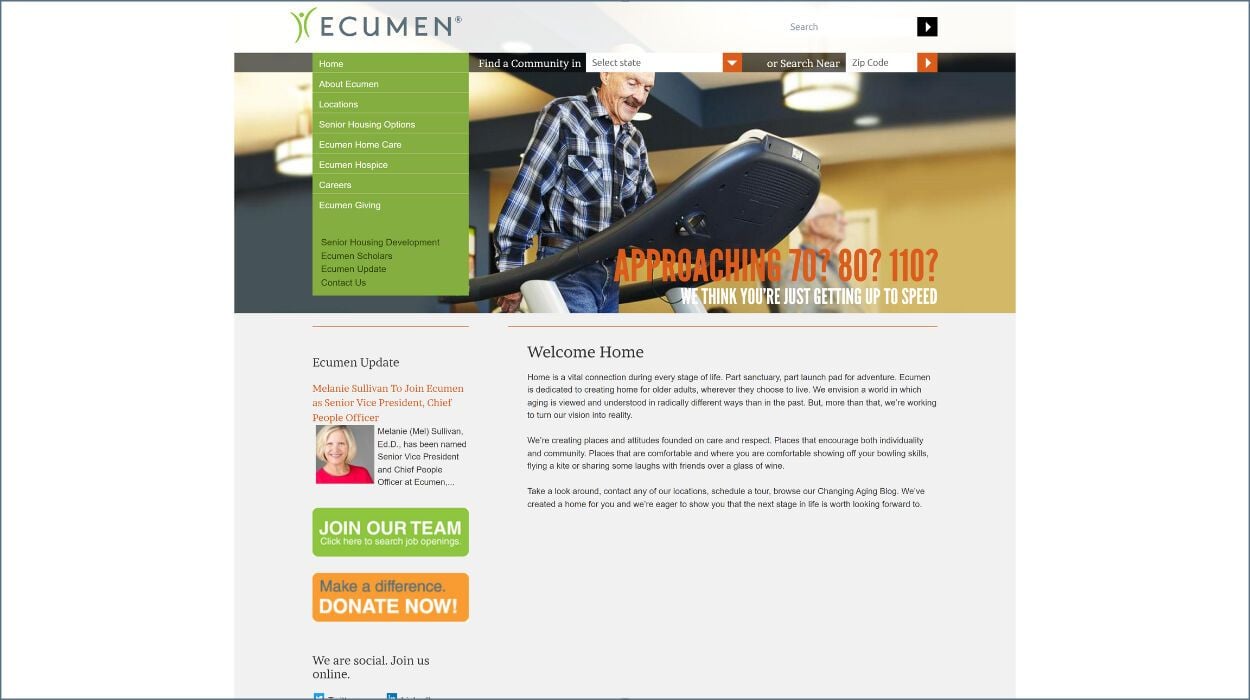 After