Client Overview
From the client's perspective:
"From start to finish O8 has been an excellent company to work with. We came to them with a responsive design template with many dynamic elements and a goal to use Drupal 8 as the content management solution. Though we have considerable in-house experience in web development, we had little specifically in Drupal. We needed a company that could partner with us and handle the technical challenges of site development and programming to provide us with a flexible interface to keep our site maintenance cost and update time to a minimum. They met the challenge head on and helped us reach all of our performance goals.

O8 set up a sprint-based project management process whereby we met online every two weeks to go over progress from both of our areas and set out the tasks for each person for the next sprint period. We wanted to do as much of the content entry as possible, so O8 took that into account and turned things over to us as soon as they were ready for data entry and testing. O8 documented tasks and progress in an online tool, so it was possible to see the status and thread of any task. The sprint process helped us stay on track too as the goals set each call were manageable within that time period.

In addition to their technical expertise, O8 was also very easy to work with. They listened carefully to what we said and used that understanding to either implement that specific request or to suggest an alternative method that could either lower maintenance overhead or be better suited for future site developments."
The website: https://www.tompkinscortland.edu/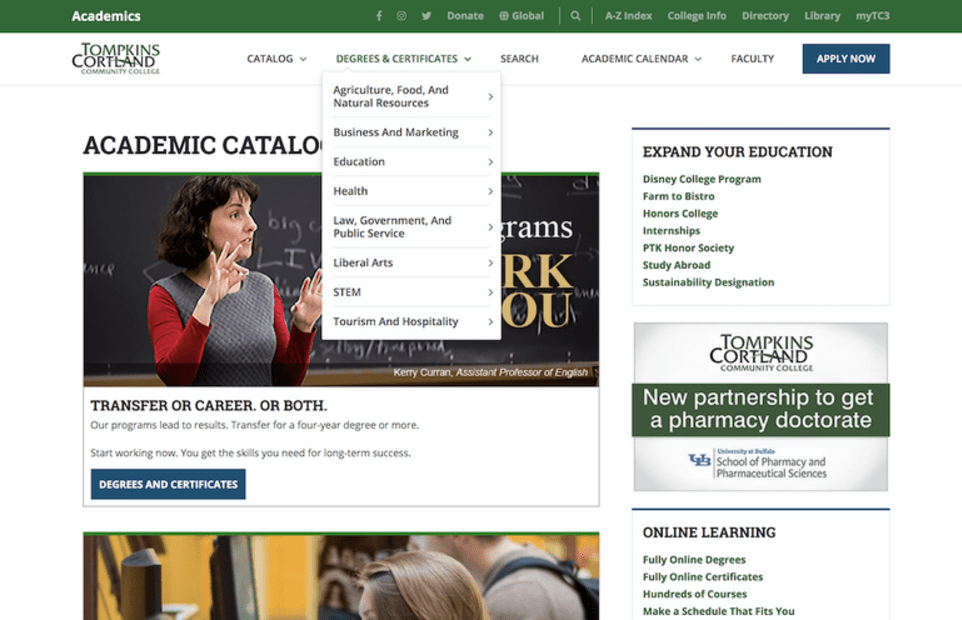 The client already chose Drupal as the destination platform, which was a wise choice. Their approach in using a clean, well-defined template was a bit unique, but wise. Ultimately it gave them a lot of bang for the buck, and a massively improved user experience, editorial experience, and SEO positioning.
We made significant changes to the template, but ultimately it saved a good deal of time and resources.
The stakeholder we worked with was technical and well-versed in the web, which made the experience and overall project that much more successful.
This was a fantastic approach to incremental improvement and agile development of a Drupal 8 site that dramatically empowers stakeholders at the college. But really, our client couldn't have said it better.