Higher Education Website Design and Digital Marketing
O8 has extensive higher education experience with various educational institutions across the country, specifically in digital marketing initiatives and complex higher ed web design and development with Drupal and WordPress. 
We have a deep knowledge of the CMS platform architecture, design, governance and usability issues that are unique to higher education.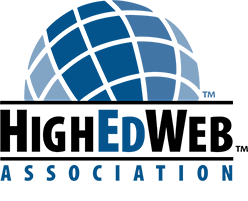 O8 is a proud member of the HighEdWeb Association, the premier international community of diverse digital professionals that are strategically positioned to advance higher education. 
Higher Ed Web Design and Marketing Portfolio

Relevant Capabilities
Let us help you architect, support, or host your next big project or platform.
User-Centered Design and UX
Graphic Design for Higher Ed
We keep track of visual design trends and issues of branding in higher education
Our design brings a high level of professionalism and uniqueness to your digital presence
Digital Marketing + Tech
We have an in-house digital marketing team that is equally as strong as our technical side
Ready to Discuss Your Higher Education Digital Project?

Higher Education Web and Digital Marketing Services
CMS platform governance
CMS platform architecture
Content strategy & governance
Hosting architecture and maintenance
Usability and accessibility solutions
Experience with platform end-users and their various successes and frustrations
Consultative relationships
Custom infrastructure and module project development
High level of involvement in each institution's success
University-wide design and branding initiatives
Are you from the University of Minnesota?
We have a University-Wide Agreement!

About Our Higher Ed Experience
O8 has a deep knowledge of CMS platform architecture, design, governance, and usability issues which are unique to higher education. 
We have worked as technology consultants for institutional decision-making in both web technology and digital marketing platforms. We have trained in-house developers, partnered closely with higher ed marketing, communication, and design teams, and done digital marketing work in the form of marketing strategy, SEO, paid ads, and campaign orchestration for our higher ed clients.
We have designed and built many solutions, from mobile apps to higher ed web sites, often involving open-source platforms like Drupal or WordPress as the main CMS technology.