Boosting Your WordPress SEO
Check Your URLs
Google prefers URLs that are easy to read and user-friendly.
For example, an address that follows the more common "/friendly-url/" format is much more attractive than a more complex alternative such as "/999/15/1/id123?var", so be aware of the permalinks for your pages and try to keep them self-explanatory.
To change this parameter, go to Settings → Permalinks and select Post name: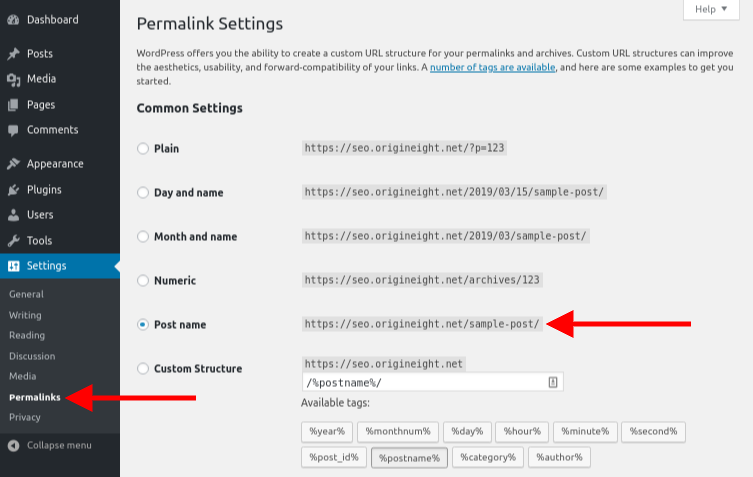 WWW or Non-WWW
This is a very common question for both new sites and site redesigns and the basic answer is quite simple: though the decision will have an impact on technical issues such as how cookies are managed, there is no SEO benefit to using one version or another.
In general terms, www was more common in the past, so many sites continue to use it due to its familiarity. Therefore, unless there is a technical reason to use the naked version of the domain, it is recommended that you use the www version to avoid any future problems with cookies.
Either way, be sure to standardize access using one of the versions through redirection. To do so, go to Settings → General, and enter the URL of your site the way you want it to load: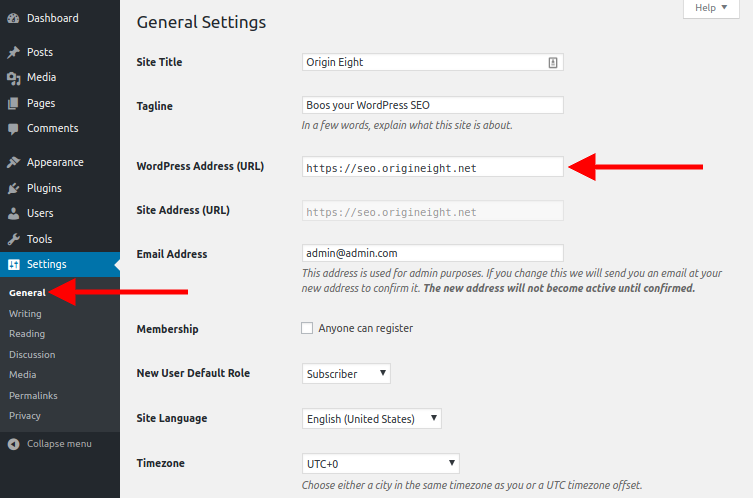 Install a SEO Plugin
Although WordPress already benefits from an efficient native structure for SEO, a specific plugin for this very purpose will make everything much easier. While there are many plugins that can potentially help with SEO, for the purposes of this article, we'll be focusing on Yoast SEO, which is one of the most popular and effective SEO tools for WordPress, and is essentially a de facto standard.
Yoast SEO has several features that will help your pages rank, ranging from content readability to a handy "stop light" indicator for confirming keyword use. The Yoast plugin will auto-generate XML sitemaps (very helpful guidance for Google and other index crawlers), add social and schema markup that helps clarify the purpose of your content, enable breadcrumbs and even give you real-time feedback on how to further optimize the post for search engines.
The steps below demonstrate how to quickly install Yoast SEO:
Step 1:
Navigate to Dashboard → Plugins → Add new.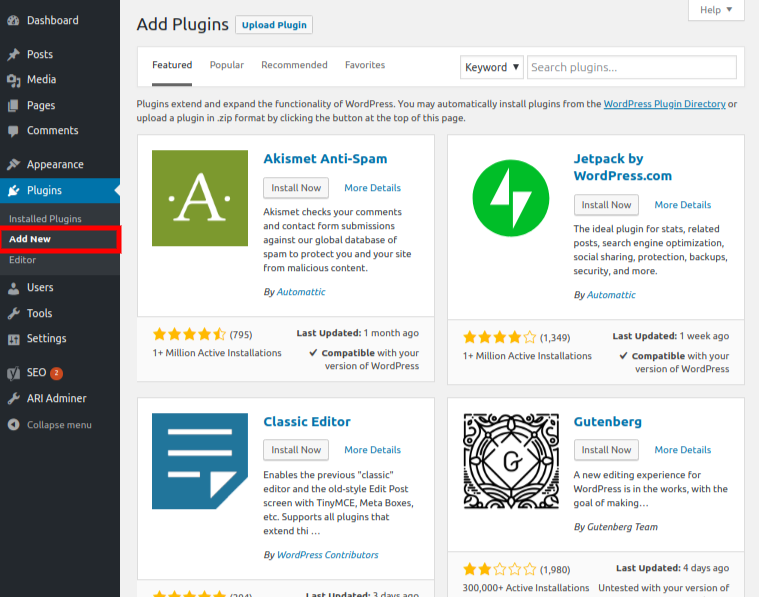 Step 2:
Write "Yoast" in the search box and click the Install Now button.
The plugin will automatically be downloaded and installed within a few seconds. All you have to do is click on Activate.
Build Out a List of Target Keywords
If SEO is a priority, you want to elaborate a list of keywords and phrases that describe your products and services. These are the phrases users are most likely to search for, so ranking for them will increase the likelihood that they will be attracted to your website.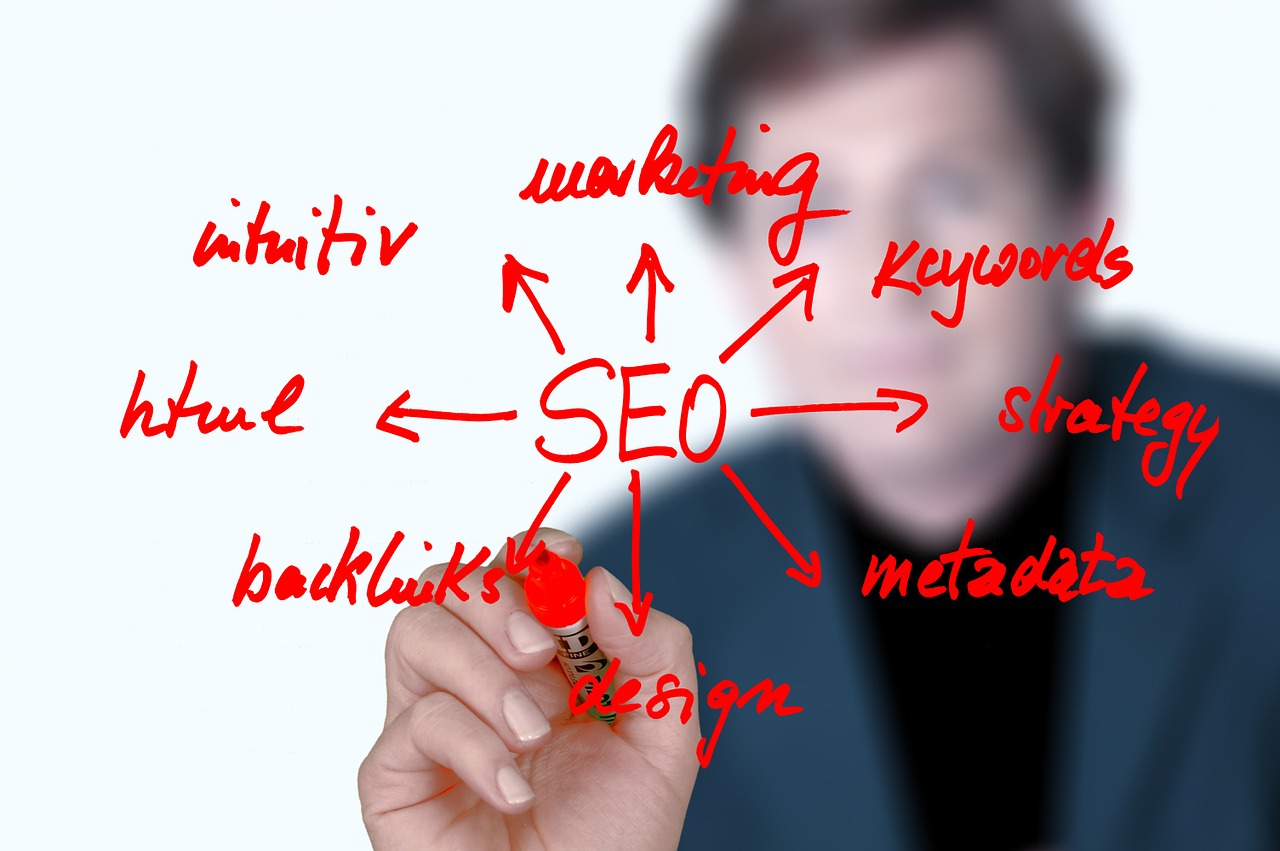 These terms should be relevant and as specific as you can make them, rather than broad terms that would be nearly impossible to rank for. Three- and four-word phrases (often referred to as "long-tail" keywords) will be more focused and likely more representative of search intent.  Increasingly, these may take the form of questions. You can use free tools like UberSuggest as well as paid tools like SEMrush, Moz or Ahrefs to research keyword candidates and get ideas for variations, along with search volume and ranking difficulty, both of which should be considerations. Ideally, your search terms should have a reasonable monthly search volume and low-to-moderate competition.
Google Trends can be a very valuable tool at this point. It can provide you with an overall idea of the search volume for certain terms, assuming they have sufficient search volume (it's less helpful for niche keywords and phrases). It can show you at a glance which searches are trending higher or lower, and which search variations or more popular. Search for issues your audience possibly has, and use the insights to inform your keyword strategy and build out your list.
As a reality check, run searches in Google and Bing for your target keywords and see what comes up on the first three pages of results. Does your site? Competitors? Big media or government sites that will likely be hard to outrank? Do the results look on-topic for your content?
This keyword list is not one-and-done, but rather a starting point. As you continue to develop content, you will research new keywords and add them to the list. Why go through this exercise? So when you are writing content, you are clear on which keywords represent the best opportunity.
Boost your business search results with SEO
Focus on What Really Matters
Keep your master keyword list close at hand as you develop pages and posts for your site. Think of the most important keyword/phrase in your post, the one that is both the most relevant and represents your best opportunity for traffic. You will add it as your Yoast focus keyphrase. The plugin will automatically evaluate all the content of the post and provide you with feedback of its quality based on the main keyword (Focus keyphrase).
Add Tags to Your Posts
WordPress is ready – straight out of the box – to welcome search engines. The tags' features are one of those easy-to-use SEO features that you should take advantage of.
Tags are basically keywords used for smoother navigation, listing identifying characteristics or topics for every page. These sort of labels are meant to be short words or expressions. Search engines pay attention to them, which in turn has an impact on the overall rank for the pages.
Title Tags
The title tag is the first information a user will see in the search results before accessing your page. For this reason, it is one of the most influential SEO ranking factors. When choosing the ideal title tag, you must keep in mind that both Google and users will be reading that sentence, so even if there is a good ranking, a poorly written title can lead to a low click-through rate (CTR).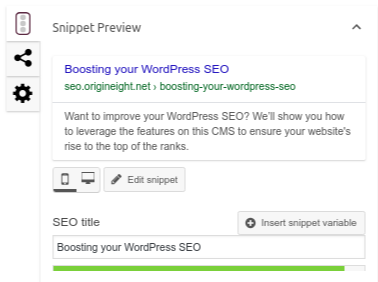 It is recommended that you add your focus keyword at the beginning of the title tag whenever possible, as this plays a role in the assessment search engines carry out to determine rank.
The title tag can be easily configured using Yoast SEO. Keep in mind that there is a character display limit on 65-character Google searches, so try adapting your title within this range. It's worth mentioning that this limitation is currently done per pixel, but the measurement per character continues being very close to the real limit.
Meta Description
The meta description displays below the title in organic results. It should succinctly and accurately describe the content that will be found on the page, and pique the interest of users, inviting more click-throughs. By incorporating the focus keyphrase, it reinforces to the searcher that your page is indeed on target for the search intent, which in turn can positively impact click-through rate (CTR). And since a higher CTR does contribute to your page's ranking, you could say that the meta description indirectly contributes to that.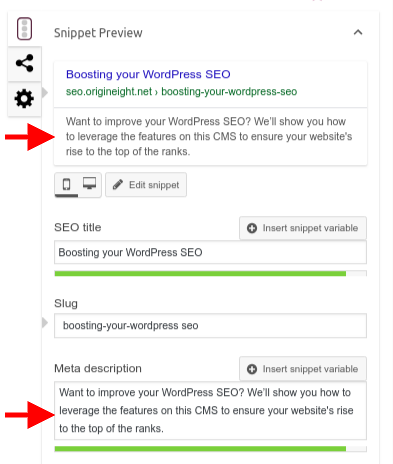 The available size of visibility for the meta description is based on pixels, which works out to just under 160 characters for desktop. But since the mobile limit is 130 characters, it's best to focus as much content as possible to attract users within this limitation, as anything beyond that is likely to be truncated. Also remember to add the focus keyword in the meta description.
It's worth noting that, depending on the search, Google may or may not use the provided meta description, instead of constructing a description from relevant copy found on the page. But nonetheless, it makes sense to provide a well-crafted meta description for each page.
Header Tags
Header tags are also prime resources for improving the SEO of your site. The H1 header tag visibly represents the main topic of your page, while H2-H6 are used for sub-headers.
Almost all updated and properly coded themes automatically identify the title of the post as H1, so you only need to create section headings. Google and other search engines assign more weight to the header tags (H1 in particular) than they do to routine body copy, so whenever possible, incorporate focus keywords into the H1 and/or other header tags.
The First Paragraph
The structure of your first paragraph should contain everything that your post is about. This introduction is where the reader will make the decision to continue reading or search for the information elsewhere. As for search engines, they do process the information differently, evaluating words that are relevant to certain searches. So, make sure to place that focus keyword in there. And because the search engines crawl through the page like humans do, from top to bottom, search  algorithms will give priority to content closer to the top.
Long Posts at Longer Intervals, or Short Posts Frequently?
Research by SEO expert Brian Dean of Backlinko determined that the average first page result contains just under 2,000 words.  This notwithstanding, the most important aspect will always be the quality of the content, because that's what gets clicks and backlinks.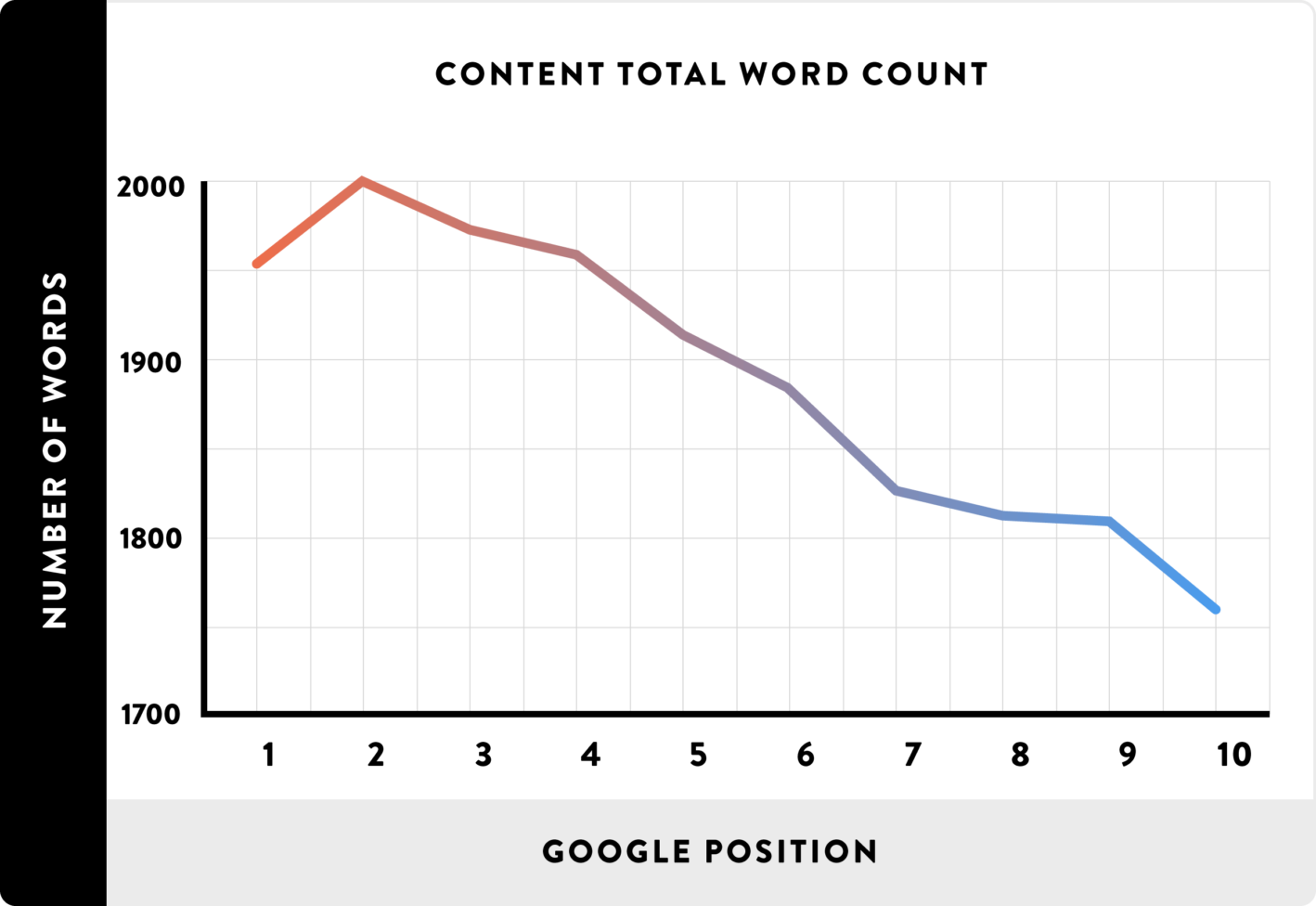 Source: Backlinko
Your overall content strategy plays an important role in this decision. Your choice of how often you wish to publish content, and the size for that piece of content, will no doubt depend on the topics you cover and your audience's interest level. A blog offering that quick takes on news and politics, might prefer short, frequent posts; one that discusses wine tasting and features in-depth reviews might choose longer, detailed posts, spread out over time.
In terms of SEO, the impact will come based on how astutely the keywords are used, and how effective the strategy is at attracting and keeping user interest. But based on the research in general, longer, meatier posts will tend to rank better than shorter, more superficial posts.
Use ALT Text for Images
For each image you use in your post, you must add the alt tag to better rank them for searches. This is a great place to post relevant keywords.
Google has a search function for images that works in much the same way as searching for web pages with keywords and relevance. When you add alt tags, Google can search and record your images when someone searches for images.
Image File Names
Even the smallest details matter. The name of the image files are important to Google, who will always read them and make ranking decisions based on this factor. So, instead of uploading an image with the name 1815200.png to the server, rename it to image-file-names.png (always using hyphens as a space for better understanding by Google). Try also to use the focus keyword in one of the post images, if possible.
Need to talk to a WordPress expert?
Use of SSL
Google views SSL as a security priority and therefore has begun to point out that https is a ranking factor. Because many websites do not yet use this, you can take advantage of that and migrate your site from HTTP to HTTPS.
For this we recommend using the Really Simple SSL plugin, which will force the use of HTTPS and correct mixed content.
Step 1:
Navigate to Dashboard → Plugins → Add new.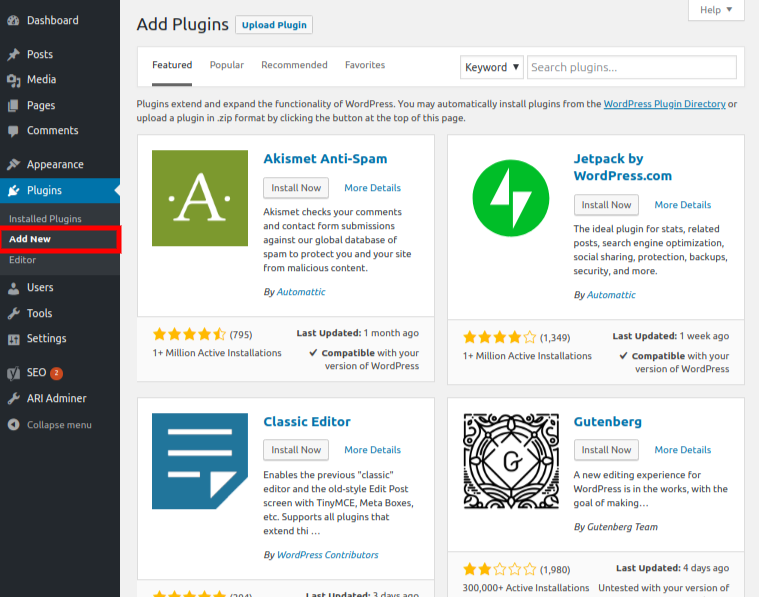 Step 2:
Write "really simple ssl" in the search box and click the Install Now button.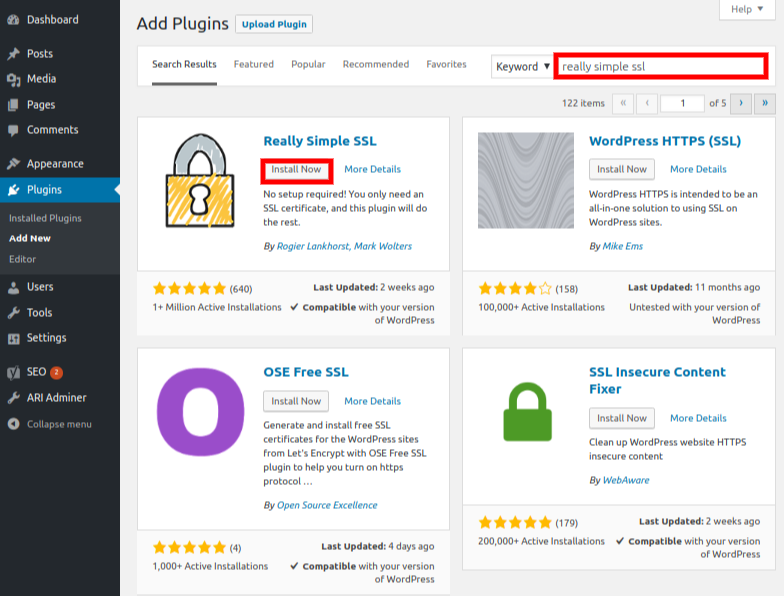 Step 3:
The plugin will automatically be downloaded and installed within a few seconds. All you have to do is click on Activate.
Block Spam Reactions
When people leave comments on your blog, this counts as content for Google. Keeping a close watch on the quality of discussions and the type is crucial. Spam – especially the kind unrelated to the subject matter in the page – will impact SEO. Blocking spam on your blog will indeed improve your SEO - and make your readers happier.
Internal Linking
An easy way to get more traffic is to add internal links to your blog posts.
For example, if you have an article about overcoming your resistance to writing blogs, you can post links to "Other related articles you can use" at the bottom of this article: 4 Content marketing trends for owners company in 2019 and other related items.
Sitemaps
Sitemaps are used by search engines like Google, Bing, and Yandex to identify the hierarchy and structure of your WordPress site while ensuring better exploration. The Yoast SEO plugin has the ability to generate your sitemap file for you automatically. To do so, follow the steps below:
Step 1:
Go to Yoast SEO → General → Features.
Step 2:
Click the question mark for the XML Sitemap. After that, just click in the See the XML sitemap to view how it is structured.

Conclusion
WordPress SEO might seem like an instructional procedure, it is very important to implement it. If you want to cut ahead of the competition, you need to get it right.
As long as you follow the above recommendations, you are well on your way to having a blog that search engines like to pay attention to.
Ready to start boosting your WordPress SEO?
Comments