How Sales Enablement Adds Value to ABM
Reading time: 4 minutes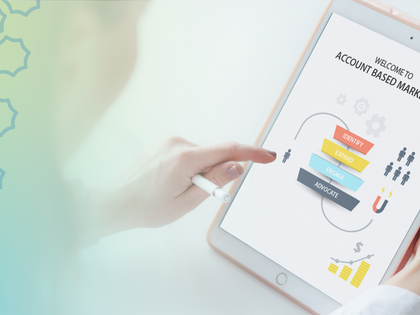 Sales engagement can have a dynamic impact on your sales team, adding value to ABM (account-based marketing) strategy if done correctly. Throughout this article, we will be discussing the ins and outs of sales enablement and how it can lead to more efficient sales and higher revenues for your company. Instead of focusing on each and every customer, your sales team may be able to hone in on key accounts based on deal size, decision making, and the length of the average sales cycle.
All of the marketing information that your company may be collecting is only useful when the right content is in front of the right eyes.
It's important to understand that sales enablement includes all of the procedures that a marketing department goes through to provide necessary content, key insights, and actionable tools that the sales team needs to succeed. From CTA's to SaaS technology and performance coaching, ensuring the content team is on the same page as the sales team crucial to the overall financial health of any company. If salespeople are unable to perform their jobs efficiently due to a lack of customer information or an overly broad target market, it often puts the livelihood of entire companies at risk, upsetting stakeholders along the way.
What is ABM?
ABM stands for account-based marketing, a sales technique that allows sales reps to target singular accounts as opposed to general ideas of what customers should be. Aligning your sales strategies with a goal to sell to specific companies or corporations with a sales enablement platform rather than customer profiles like you would with traditional inbound marketing techniques can yield a lot of benefits.
It's easy to see why account-based marketing would rely on aligned content strategy. With outside salespeople selling in the field and striving to build long-term relationships, relevant content and marketing alignment becomes a key to success. When there is clear and effective communication between the marketing team and sales regarding marketing strategy, marketing content, methodology, and sales enablement tools, the opportunities for growth are endless.
What are the advantages of ABM over traditional sales methods?
ABM allows for personalized sales strategy.
Sales reps can focus on B2B marketing
Customer relationships can be nurtured based on deal size
Salespeople are able to be more responsive to customer inquiries
Increased ROI, marketing becomes more focused on target accounts
Account-based marketing does still hinge on engaging copy (social media, website, and sales) to be created by the sales team much like inbound marketing. Outbound emails and communications to prospective clients can leave lasting impressions, especially if they aren't properly aligned with the general brand voice associated with your company. If done consistently with other brand content and if catered to a specific account, promotional and informational content can do a lot of the work for your sales team.
The Importance of Consistency when it comes to Sales Enablement
Sales Enablement copy should always be consistent with the brand's voice. A drive to increase impressions and brand awareness to reach KPIs is only valuable if you are providing prospective customers with correct information. Information and sales verbiage, or content that aligns with the views of the company and pain points of the intended target market. One method that has proven successful for a lot of large corporations is the strategy of nurturing relationships by referring them to content that has been produced for informational purposes. Marketing content and case studies providing success provide sales teams with all of the sales ammunition they need to close the most valuable deals.
Read our Complete Guide to ABM Set-Up.
Sales Enablement, ABM, and Marketing Teams
In a traditional sales process, content and data that is supplied by the marketing team through a CRM is meant to nurture prospective clients and catch the interest of leads before they are handed off to an outside sales team. Oftentimes this involves building an ideal customer profile including preferences, pain points, and desires as opposed to narrowing down your sales scope to only include specific target companies.
The goal for any company looking to support their sales team should be to introduce ABM, sales engagement, and perhaps a sales enablement platform as an extension of the current sales process. If your sales team is attempting to reach a specific sales goal for the month or year, try focusing on a few specific accounts that may be towards the end of the sales cycle to push your monthly numbers over the top. The tactic that is sales enablement is not just the process of enabling salespeople to perform outreach but also heavily relies on a sales rep's ability. Without a sales team that is capable of reaching decision-makers and building relationships with high-profile clients, the marketing team is gathering a lot of data that goes to waste.
Advanced Sales Enablement from O8
If you haven't begun to integrate advanced sales enablement into your sales process to improve ABM strategy, now is the time. O8 is a team of marketers and ABM strategy experts that understand a sales cycle and how ABM can play a crucial role in improving conversion rates and supporting sales reps.
Your sales team and marketing department should be on the same page when it comes to content, brand messaging, and sales initiatives, especially when targeting top-tier clients in your industry.
Boost your ABM strategy with advanced sales enablement from O8.  
---