O8 a Minneapolis Leader Across Seven Categories on Clutch!
We are pleased to announce our inclusion in Clutch's annual feature of the top creative, advertising, development, and IT services companies in Minneapolis! Not only that, but our team has been highlighted as a leader in seven categories, including branding, creative agencies, UX designers, digital design, PHP dev, Ruby on Rails dev, and web developers in Minneapolis. Featured alongside some worthy competition, it's worthy to note that while any company may be listed on Clutch, only the most well-performing and evaluated are selected as leaders. 
Clutch is a ratings and reviews platform dedicated to covering over 7,000 companies across 500+ industry verticals ranging from web developers to UX designers to answering services. The core of their assessment lies in client interviews, in which Clutch speaks to a company's references on the challenges, solutions, and results of their time working together. Additionally, Clutch takes into account their multi-faceted scoring methodology, considering factors like industry recognition, market presence, and clientele. They are then able to formulate a Leaders Matrix for a particular industry, identifying the firms that deliver from those that do not.
Evaluating our expertise across a number of services, it's an honor to be listed by Clutch as one of Minneapolis' finest. For that reason, we want to look back on the projects and relationships that have helped propel us this far. Here are some of the things they've had to say about working with us:
"I can tell you when we just had them switch to their hosting platform, which was about two weeks ago, that our site operates much faster than it ever did before. We haven't had any crashes, downtimes, or anything that we were having terrible trouble with before we transitioned," mentioned the Interactive Media Specialist for an American craftsmanship nonprofit.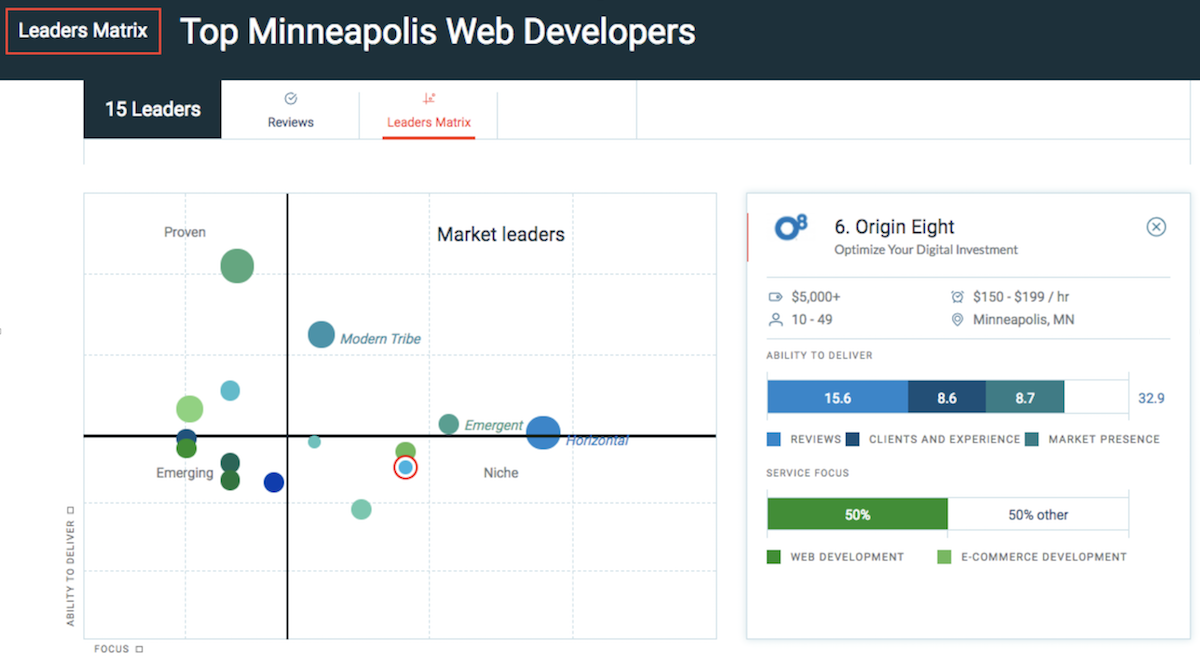 Another client, a Systems Analyst for the University of Minnesota, explained what made our team particularly unique:
"They've been more flexible than a lot of vendors I've had to work with during the past in the sense that they've been able to deal with all of the challenges and limitations we've thrown their way."
To learn more about our clients' experiences and how we're a Minneapolis leader in web design, development, and more, check out our Clutch profile here! And contact us about your next project here!
Join the conversation