Your Online Reputation: Understanding and Managing It
People are talking about you.
This is true even if you do not know it.
And what they say about you or your company matters. Now more than ever.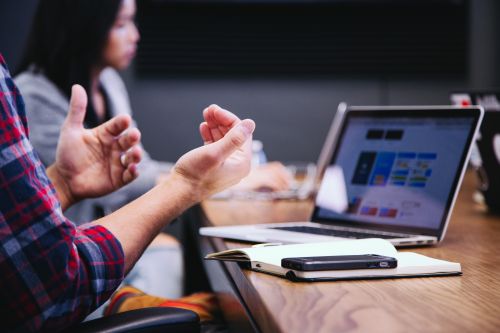 ​
The sum total of those opinions make up your reputation. With the ease of access to information that was brought about by the internet that perception about your company will have a major impact on the success of your business. This is why, from marketing to user experience and customer relations, online reputation management should be a key component of your overall operational strategy.
But… What IS Online Reputation?
Your online reputation is made up of all the opinions generated by your company, creating a general perception about your business, its credibility, and its trustworthiness. Because the web provides a wide array of channels to make those opinions public, it is up to you to keep tabs on all the conversations happening that involve your brand.
The very first step in gaining a grasp on your online reputation is establishing boundaries, which is achieved by controlling the amount and type of information you make available. Remember that absolutely everything you do or post online leaves a digital footprint which can become permanent and have a lasting effect on your online reputation. Making sure your company is on top of its content generation process will be vital. This is true as much for businesses as it is for individuals.
Once the information is out there, though, the real work begins.
There are usually three main areas that impact your online reputation, with degrees of weight depending on the type of business:
Social media

Search results

Website comments/reviews
Understanding these three areas, monitoring them, and ensuring the process of communication in each is frank and effective will be the deciding factor when it comes to managing your online reputation.
Hold On. I Get It: People Talk. So What? Why Should I Care?
Because if people do not trust you, they will stop doing business with you. It really is that simple.
And what others say about you online, repeated enough times, will be perceived as true even if it is not.
Edelman's Trust Barometer has consistently shown the weight search engines have on public perception, with trust for results through that channel ranking as high as 65% in 2019:
​
Think about that. Search engines are toe to toe with traditional media. Given that visible trend, do you think those numbers will go down over the next few years?
And if you are thinking that because social media ranks low on that chart (though 43% is still a significant number), then think again. Social media still matters for your business for two very important reasons:
Conversations had about your brand can still reveal areas where your company is weak and can grow.

Matters brought up on social media have the potential to go viral, which, if negative, can deal your online reputation the kind of

damage that takes years to recover from.
Finally, do not underestimate the power of comments and reviews, which several prospects point to as influential in their eventual decision of whether or not to proceed with a purchase or business. In fact, according to BrightLocal's Consumer Review Survey, 68% of users said that positive reviews are more likely to make them buy a product.
Numbers do not lie. By now it should be clear that proper online reputation management is necessary to stay ahead of your competition or even stay afloat, depending on the situation.
So, What Can I Do To Help My Online Reputation?
Once proper controls and measures are in place to effectively filter your online actions and the information you generate and promote, the actual work of managing your online reputation comes into play.
Social Media
Social media is all about the conversations being had with or about your company. This means that the key to success in managing your online reputation is effective and timely communication.
So, first things first, you need an active social media presence. Having one will make it easier to monitor those conversations, to respond quickly, and to create a loyal audience that is both interested in what you have to say and that feels valued enough to trust it. Even if other sources claim otherwise.
Here are some best practices you may want to keep in mind:
Always be true to your voice

Be transparent and sincere

Respond politely and in a timely manner to any comments, good or bad. This one is important. Never, ever lose your temper if you feel offended or attacked. An overreaction could lead to more negative attention, which would spell disaster for your online reputation.

Be consistent with your generation of positive and key messages
If you stay on top of social media conversations, you will be among the first to learn if something is going wrong and fix it, which will prevent further damage down the line.
Search Engines
Search engines now enjoy as much credibility as traditional media in terms of the information found and how trustworthy it is, which means using Google to look up your company is a very effective way of measuring your current online reputation.
The real challenge here is the fact that search engine results can in fact be manipulated, which means your company better have an impressive SEO strategy in place to stay ahead of any potentially negative exposure and to properly manage crises should they arise.
​
Much like any proactive content marketing campaign you may be engaged in, it is important to remain proactive and consistent with the generation of material in order to conquer search engine results.
Comments/Reviews
When it comes to comments or reviews, there are two main types:
Sincere opinions, which reflect what users or customers honestly feel about your services or products
Insincere attacks, which are created specifically to damage your reputation
You can usually tell these two types apart by the quality and detail of what is written or said. Attacks are usually repetitive and short, because they are only there to bring your numbers down. The best way to deal with the latter is to report them. Review websites are often good at filtering out bots or posts that are clearly meant to damage online reputations. If it is happening on your own website, you can clear them out yourself, though be absolutely sure they are indeed attacks or you might risk conveying that your company wants to silence critics.
In the case of honest reviews, the key is to listen/read. If these users had issues with your business, this is an opportunity to address them, show them you care, and learn from their feedback in order to improve your own quality of service.
Again, never lose your temper and remember that the best way to squash negative perception is to show people you respect their opinions.
Online reputation management can be tricky business, which is why it should be taken seriously. How others perceive you will define how they interact with you, which is quite important if you are a business looking to grow your customer base.
Find the right way to address your business reputation – whether through online reputation management services or an in-house team of seasoned professionals – and always remember that, as long as you remain vigilant, you can ensure your standing with the digital world remains at its best, and your responsive website can be in the spotlight instead.
Join the conversation