Drupal 7 End of Life (EOL): What To Know
End of Drupal 7: Start Planning Your Drupal 9 Upgrade
Drupal 7.0 has served us well since its January 2011 release. It powered web applications, leading the era of Drupal as a favored option for building any kind of website. Drupal 7 introduced us to more than 11,000 contributed modules, 600 themes, and 200 distributions. Now that it reaches its end of life, we must thank Drupal 7.0 for its service in November of 2022, and let it go.
Previously, D7's EOL was scheduled for November 2021. However, given the impact of COVID-19 on businesses and budgets, the Drupal organization has extended this date until November 28, 2022. Drupal 8 will still stop receiving support in November of 2021 due to Symfony 3's end of life, making way for a new age of improved Drupal core models. 
Get Your Free Drupal EOL Upgrade Audit
Drupal 7, 8, and 9
It's the classic joke: Why was 7 afraid of 9? Because Drupal 8 was a transitional step in between!
That's right, there will be a sudden switch to Drupal 9 when 7 and 8 both stop receiving support. To explain this, we must first warn you that the migration from Drupal 7 to Drupal 8 is a big one. For some teams, this transition will be seamless. For others, it will be more challenging, requiring extra time, talent, and resources. In the end, Drupal users will agree that the benefit of transitioning outweighs the cost.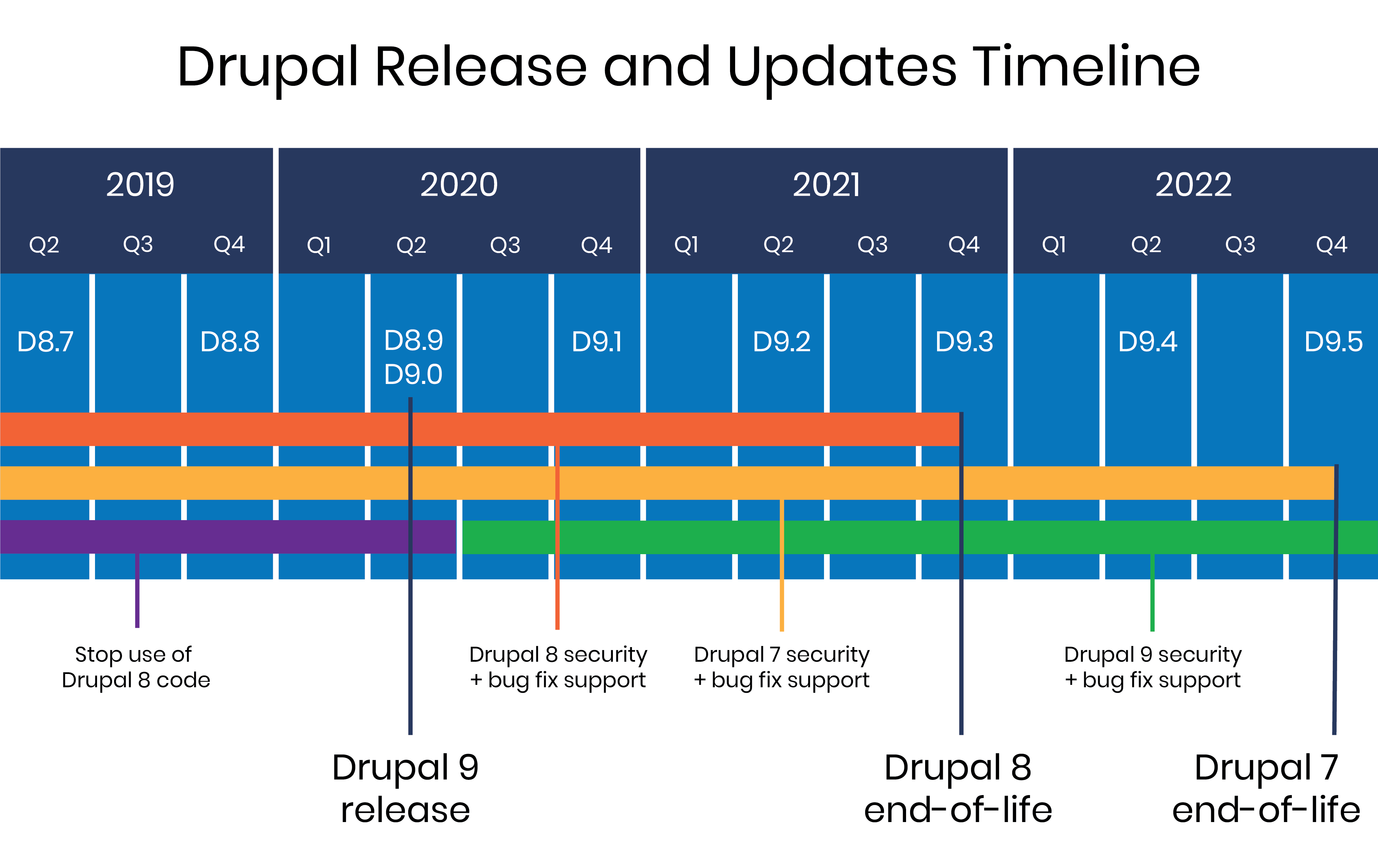 Highlights of Drupal 9
Easy author editing with a WYSIWYG editor or to create and edit content in-place

Smart language translation

Universal configuration storage

Responsive to touchscreens, tablets, and mobile readers

Improved Compliance
The Drupal 9 upgrade makes Drupal 7 obsolete. Drupal 9.0 was released in June 2020. We recommend waiting until Drupal 9.1 is released to upgrade, due to inevitable instabilities and bug fixes in the first "dot zero" version. You can still upgrade to Drupal 8, then make the relatively easy switch to 9 once 9.1 is released or whenever it is convenient. Feature-wise, the latest version of Drupal 8 and Drupal 9.0 are extremely similar. 
Expectations for the transition to Drupal 9
Drupal.org has provided expectations for the transition from Drupal 7 to Drupal 8 and 9:
Drupal 7 will no longer be supported by the community at large. The community will no longer create new projects, fix bugs in existing projects, or write documentation for Drupal 7.

There will be no further core commits to Drupal 7.

The Drupal Security Team will no longer provide support or Security Advisories for Drupal 7 core or contributed modules, themes, or other projects. Reports about Drupal 7 vulnerabilities might become public.

All Drupal 7 releases on all project pages will be flagged as not supported. Maintainers will be able to change the flag status if they choose to.

On Drupal 7 sites with the update status module, Drupal Core will show up as unsupported.

After November 2022, using Drupal 7 may be flagged as insecure during third-party scans as it will no longer receive support.

Best practice dictates not to use unsupported software — it would not be advisable to continue to build new Drupal 7 sites.

It is recommended to begin planning your migration to Drupal 8 or 9 now.
To all you sentimental folks, this is a welcomed change! Updating to Drupal 8 or 9 will upgrade your visitors' user experience, not to mention it will make your life easier as a content creator. It will also pave the way for much easier and lower-cost upgrades in the future – an upgrade to Drupal 10 should be just as easy as upgrading from Drupal 9.1 to 9.2 and so on.
Get a Free Drupal 9 Migration Consultation
Comments