Attract. Maintain. Convert.
Increasing Traffic is Not Enough:
Optimize Your Website for Lead Conversion
Performance Review:

Understand what's working and what isn't.

Opportunity Identification:

Use proven methods to acquire hard data, expose weaknesses, and reveal where there's room for improvement.

Conversion Optimization (CRO):

Use that data to fix issues and boost the rate of conversion, turning those visits into quality leads.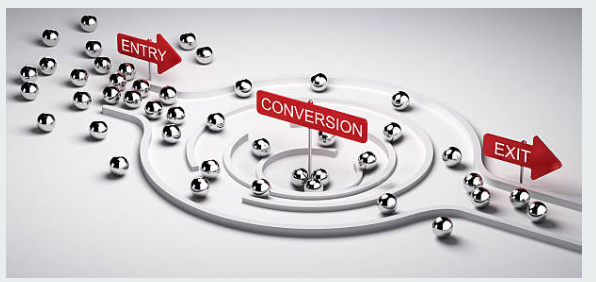 The Power of Conversion Rate Optimization (CRO)
4x
conversion rates
Emotionally-focused website experiences convert 3 to 4 times better.


— André Morys, Conversion Expert
126%
higher profits
Companies measuring web and marketing performance have 126% profit improvement over competitors.

— McKinsey
50%
more revenue
Organizations actively using available web and marketing data have 50% higher revenue growth.

— Dell Global Technology Index
13:1
average ROI
Investments in analytic solutions returned $13.01 for every dollar spent on average.


— Nucleus Research
Conversion Marketing and Optimization
What is the most important goal of your web presence? Often, it's to get users to click on a donate button, fill out a contact form, engage with a chat widget, download a white paper, or buy a product. But, did you know there is both art and science behind what grabs users' attention, what causes them to take action? This is where we specialize.
Design thinking focused on conversion
Vision-science computer analysis of designs to simulate what people see during the first few seconds
User experience analysis for conversion
Content strategy for conversion
Conversion test creation and optimization 
Analytics goal tracking and optimization 
Accessibility reporting
Heatmaps, which give a read on the most attention-grabbing portions of the site
Reporting and ongoing optimization for highest-value results
How We Do It
We follow the Measure, Build, Learn cycle of agile improvement.
We use high-end technology to audit your website and pinpoint the exact areas of weakness where even the most minimal change can have a significant impact on results.
Our data and expertise will boost your Conversion Rate Optimization. Guaranteed.
1. First we measure and collect data to gain advanced insights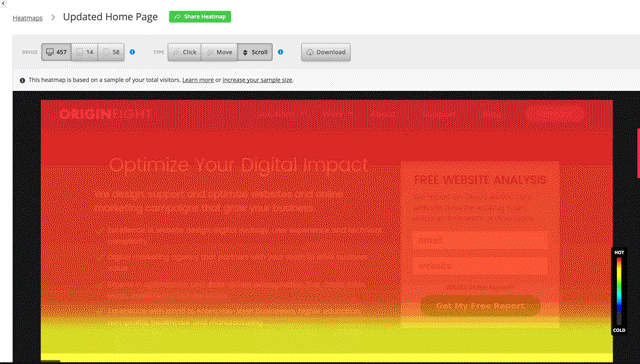 Do you know how people are engaging with your website, landing pages, and ads?

We measure what's important to your users. We analyze what they see, what they click on, how far they scroll down the page. This data helps us develop tests for improving KPIs and conversion rates  
We can do this for any website, but we have special tools, enhancements, and in-depth experience for WordPress and Drupal.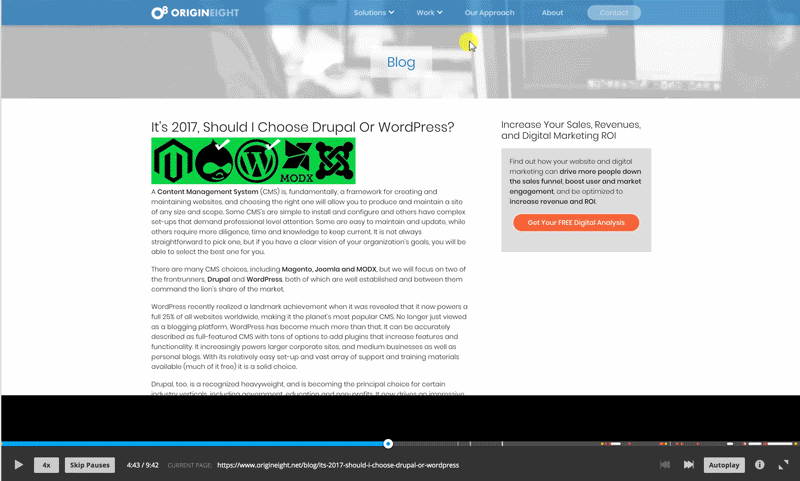 We also analyze movies of your customers trying to use your website.
These movies are gold mines for understanding user behavior, catching bugs and usability issues, and improving the KPI performance and user experience of your website and landing pages. We can detect hesitation, friction, and other issues that prevent people from taking desired actions by watching recordings of your visitors' mouse movements. These issues prevent people from contacting you, purchasing a product, downloading a whitepaper – whatever your ROI drivers may be. This can be a powerful supplement and sometimes replacement for usability testing.
2. We then learn by testing highly strategic improvements

Best practices and even the most beautiful ideas are often suboptimal. Why not test your assumptions and look at data?
One method, called "split testing", sends a percentage of your web traffic to the original or "control" version (A), and another percentage to an improved version (B). After attaining statistical significance, we can make statements like "we doubled conversions on Marketing Goal X in only 2 weeks" with certainty. 
3. We then build incrementally better versions, drive better quality traffic, and ultimately improve your overall conversion rate
We help you turn your website into its best possible version, ensuring your increased traffic will result in an equally high number of leads by using our expertly acquired data to optimize every detail of the user experience for conversion. 
Request A FREE Strategic Report or Demonstration
We will put together a custom strategic report with insights for your website.
The report will demonstrate the process of getting more traffic, sales, leads, user engagement, and a better user experience. 
If you prefer, we can give a personalized demo with one of our experts from our Minneapolis office.
We're here to help.