Getting Started with Google Analytics: A How-To Guide
Reading time: 9 minutes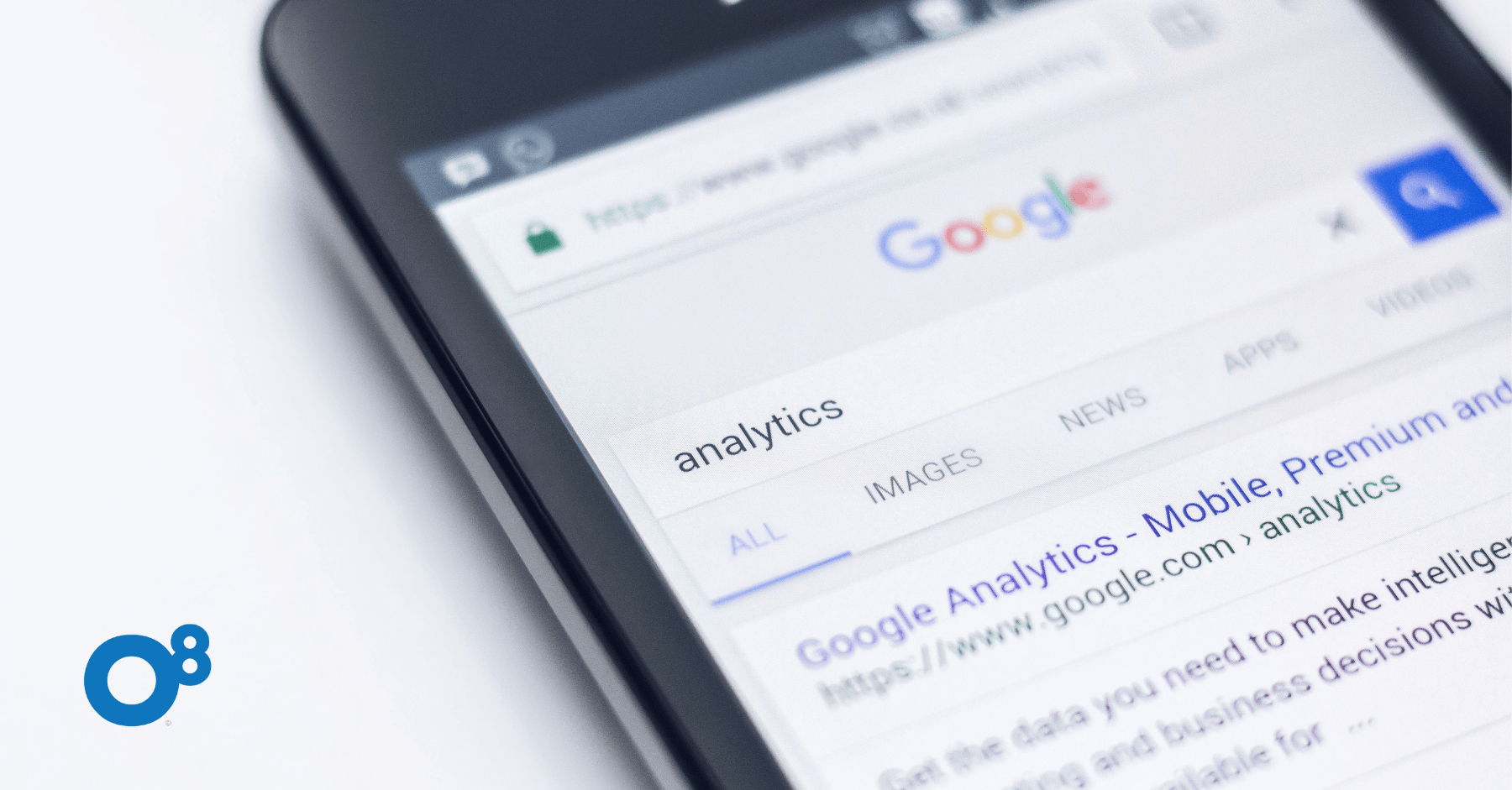 You want to learn more about your website traffic to improve your business. But the thought of starting a Google Analytics account intimidates you. Relax! You don't have to be a data expert to use this platform. Follow this step-by-step guide to Google Analytics for beginners.
What Is Google Analytics?
Google Analytics is a free resource that tracks traffic on websites. This tool allows you to see various statistics about your visitors.

What Information Does Google Analytics Provide?
Setting up your Google Analytics account and tracking your data is easy. The latest version, Google Analytics 4 (GA4), provides a wealth of information.
You can use Google Analytics metrics to:
See how many users visit your website

Track the time users spend on your website

See how often users return to your website

Better understand the path users take when navigating your website

Find what other websites send users to your website

Report accurate conversion rates

Set goals for web traffic and sales

Better assess the geographical location of your users

Learn whether more users access your site using mobile or desktop

Gain insight into your users' interests

Track success rates of marketing campaigns

Check your website load speeds

Gather demographic data for improved persona targeting

Apply an effective SEO strategy
With unlimited and customizable reports, you can do much more with your Google Analytics data than we cover in this shortlist.
Without a Google Analytics account, you may miss out on information that could boost your eCommerce sales and other key performance indicators (KPIs). Let's walk through how to get started with Google Analytics.
Using an Existing Google Account
Go to Google Analytics (google.com/analytics) and use an existing Google account to set up your new account. If you don't have a Google account, you must create one because Google requires it. Using an existing Google account also makes signing in easier. Your Analytics account links to your Gmail, Google Drive, and other Google accounts.

Can One of My Staff Members Create My Account?
Yes. A team member can create your Google Analytics account. But they'll have to use their Google account and grant permission to you. If you're assembling a marketing team structure, you'll likely delegate most of your Google Analytics management to the Metrics Interpreter.
Only you and a select number of trusted team members should have Manage Users permissions. This way, you can maintain control and make adjustments if someone leaves your company.
How to Create a Google Analytics Account

1. Click the Start Measuring button.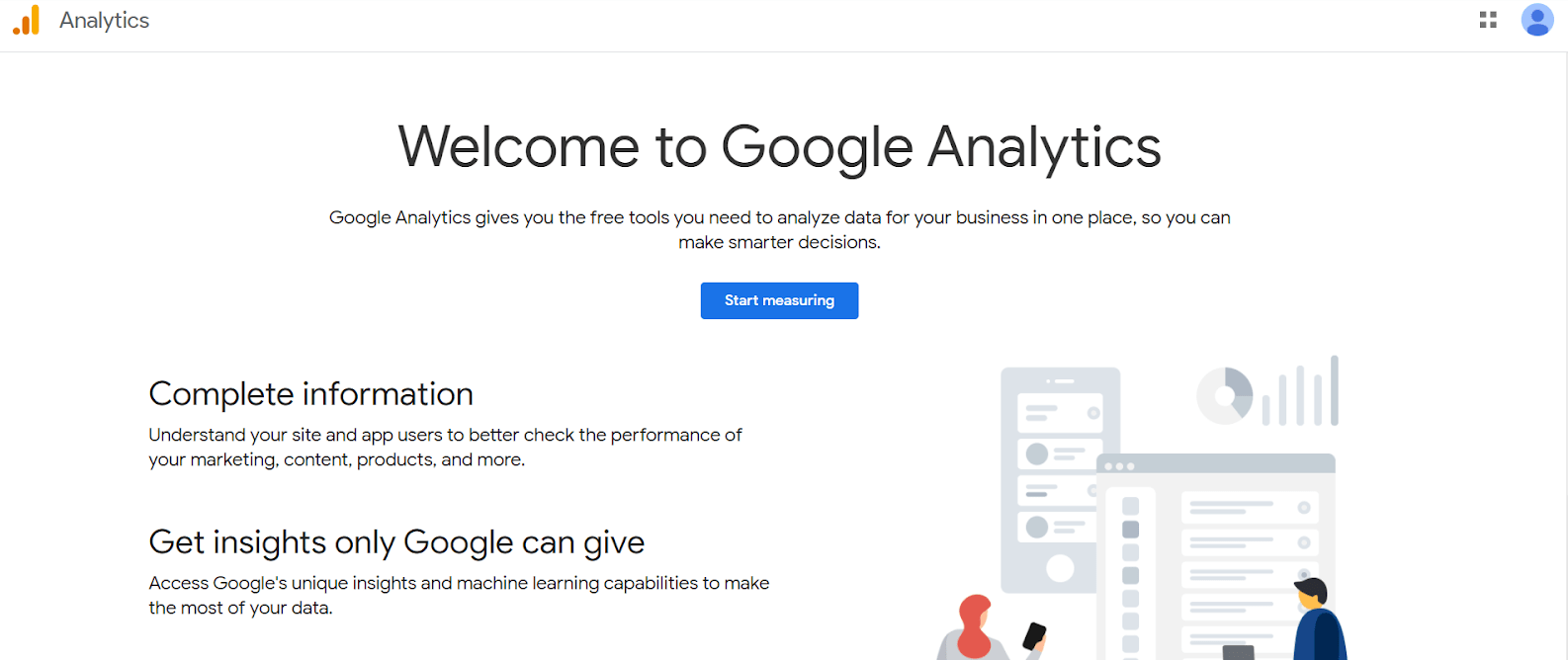 On the next screen, there's a box to enter your new account name.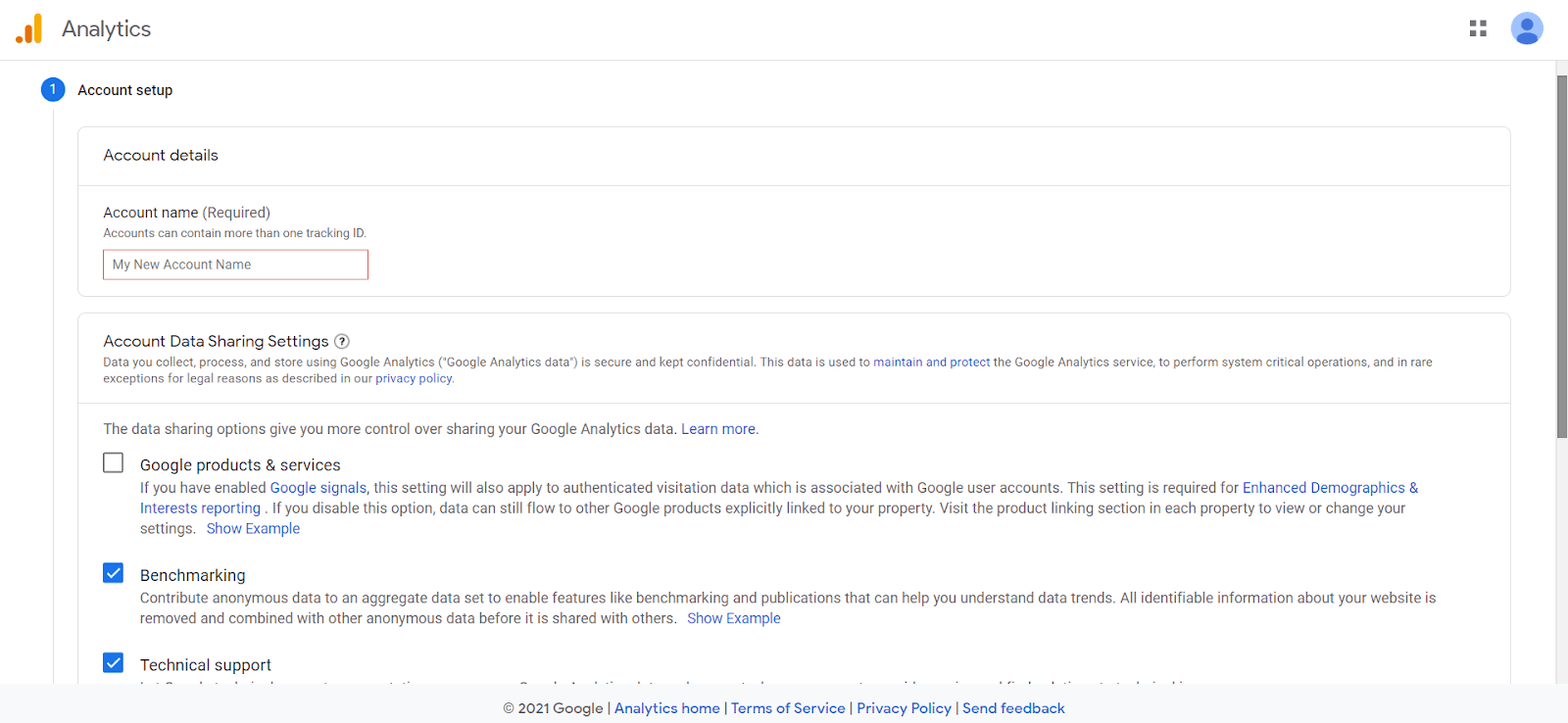 2. Name Your Account
This step is where you need to know some Google Analytics jargon. Most people don't know what Google means regarding property vs. account. Here's a graphic to make the Google Analytics structure easier to understand.
You'll name your first property in Step 4. Right now, you're just naming your account. You may also add more accounts later. Each of your Google accounts can have 50 properties per user and up to 100 users per Google Analytics account.
If you have multiple websites, decide how to organize the accounts—by business or individual website.
For websites representing distinctly different businesses, registering them as separate Google Analytics accounts may be a good idea. For example, you have a website that sells physical goods plus an affiliate website.

3. Choose Your Data Sharing Settings
For Account Data Sharing Setting permissions, you'll likely keep the default options as seen below:

After choosing your settings, click Next to move to Property Setup.

4. Property Setup

What is a property? A property on Google Analytics is a website or app. It's like a sub-account. Think of each property as a collection or cache of data for a website.
For users with one website, you can name your property your business name, website name, or whatever you choose. You can register up to 50 property names if you have multiple websites.
You can change the name of your property in the future under Admin > Property Settings. To add a new property, click Create Property under this same menu.
Note: if you create multiple accounts, you won't be able to move properties between accounts and keep your historical data.
After naming your property, choose your time zone and currency type. Then click Next.

5. Tell Google Analytics About Your Business

Select attributes that Google will use to customize your default analytics.
If your business's industry doesn't appear on the menu, pick Other. Next, choose your business size and how you intend to use Google Analytics. Check all that apply and click Create.
A pop-up box will ask you to accept the Google Analytics Terms of Service Agreement. You must check the box and click I Accept to move forward.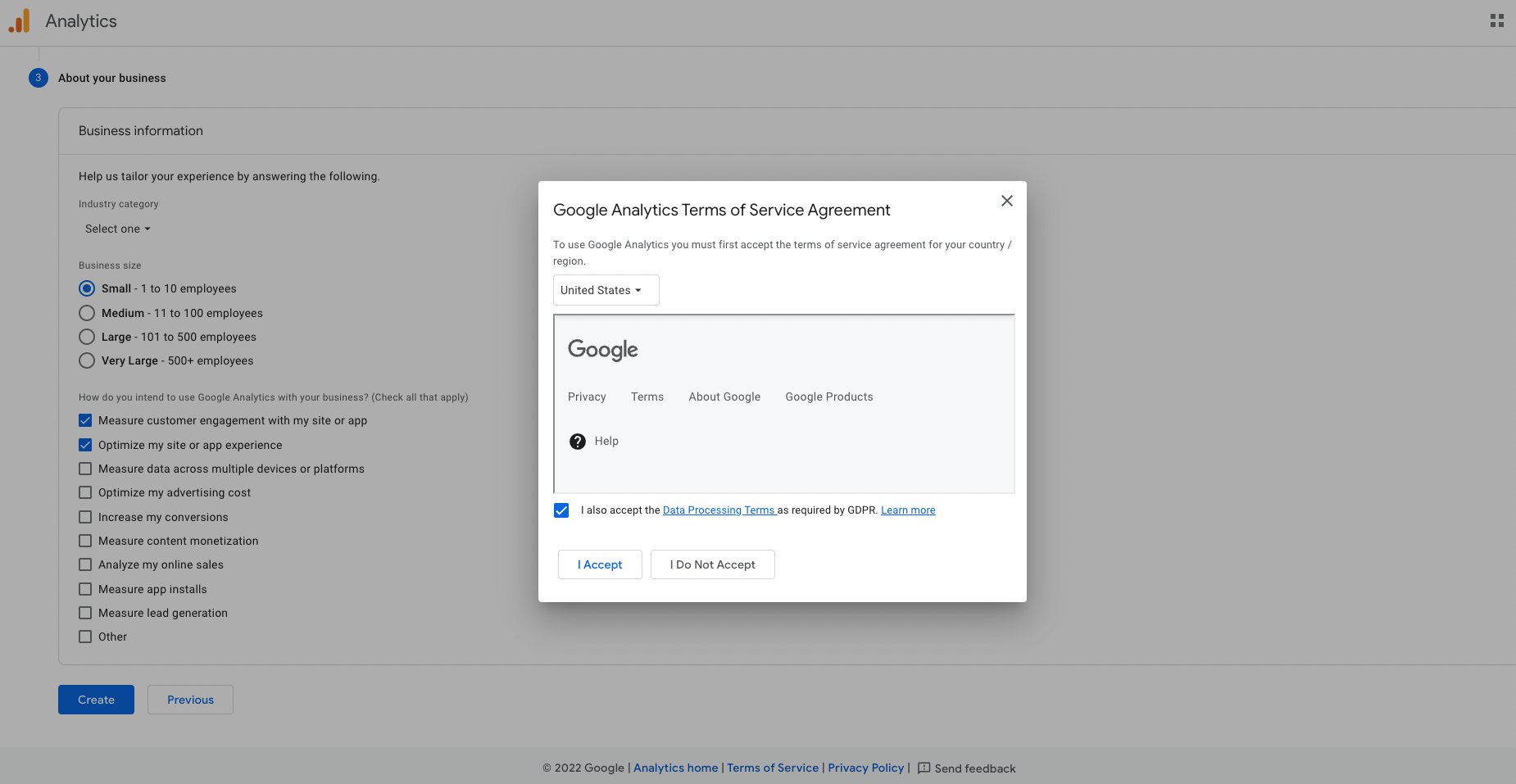 Another pop-up window will ask you to select your email notification preferences.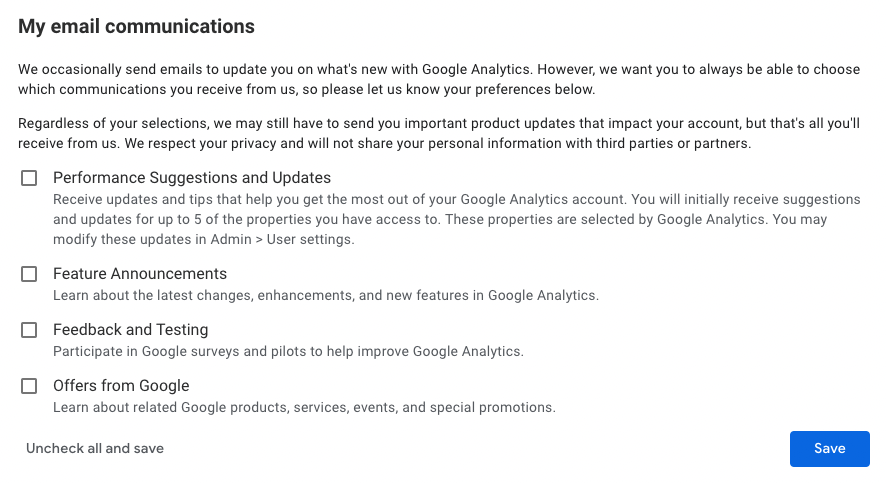 Congratulations! You've created your account and first property. You can now take a tour of GA4 and jump right into using your Google Analytics account.
How to Start Using Google Analytics
Begin tracking metrics and producing data sets and reports by telling the program what website you want to track.
To set up data collection for your website or app, select the Web, Android App, or iOS App data stream. Then enter your URL and Stream Name, then Click Create Stream. There's no need to enter individual pages—just your homepage. Google Analytics tracks all pages of your website.
To activate data collection, click View Tag Instructions and follow the steps to install Google tags with a website builder or manually.
Click Admin (gear symbol) at the bottom of the left sidebar to add your marketing team. Click Account Access Management, then the + sign in the top right corner to add members. You can also add more websites in the future by clicking Admin > Data Streams > Add Stream.

Now you're ready to turn Google Analytics data collection into Google Analytics reports.

Using Your Account to Gather Information
Your GA4 account has default tools and menus on the left sidebar:
Home

Reports

Explore

Advertising

Configure

Admin
You'll also find suggested reports to help you along the way. A great feature of Google Analytics is that everything operates in real time. So you can track successes or troubleshoot issues as they happen.
Also, the left sidebar stays pinned on the screen if you ever get lost. You can always click Home to return to your overview and start over.
As any data analyst will tell you, the greater your data pool, the more accurate it is. Your Google Analytics account becomes more valuable as you accrue more information. The sooner you collect data, the better!

Your Property Overview
When you log into your account, you'll see the Home screen. Here, you can look at an overview of your website's performance and get a quick report.
You can view the following:
Users and new users during a period (i.e., page views)

Average engagement time of your users (i.e., session duration)

Total revenue

Users in the past 30 minutes and their locations (you can view this in real time, too)

And more

Additional Google Analytics Reports
While an overview is a great way to check the pulse of your website, detailed metrics help you analyze what's working and what isn't with your digital marketing.

Audience Reports
As the name suggests, your audience reports give you information about who visits your website. First, learn your users' age, gender, and interests by looking at your audience overview. Then customize the report to pinpoint more information or a specific date range.
To access your audience reports, click Reports on the left sidebar, then click User > Demographics. Now you can choose between Demographics Overview or Demographics Details. You can add Age and Gender to either report by clicking Add Comparison at the top of the screen, then clicking Select Dimension on the right drop-down menu.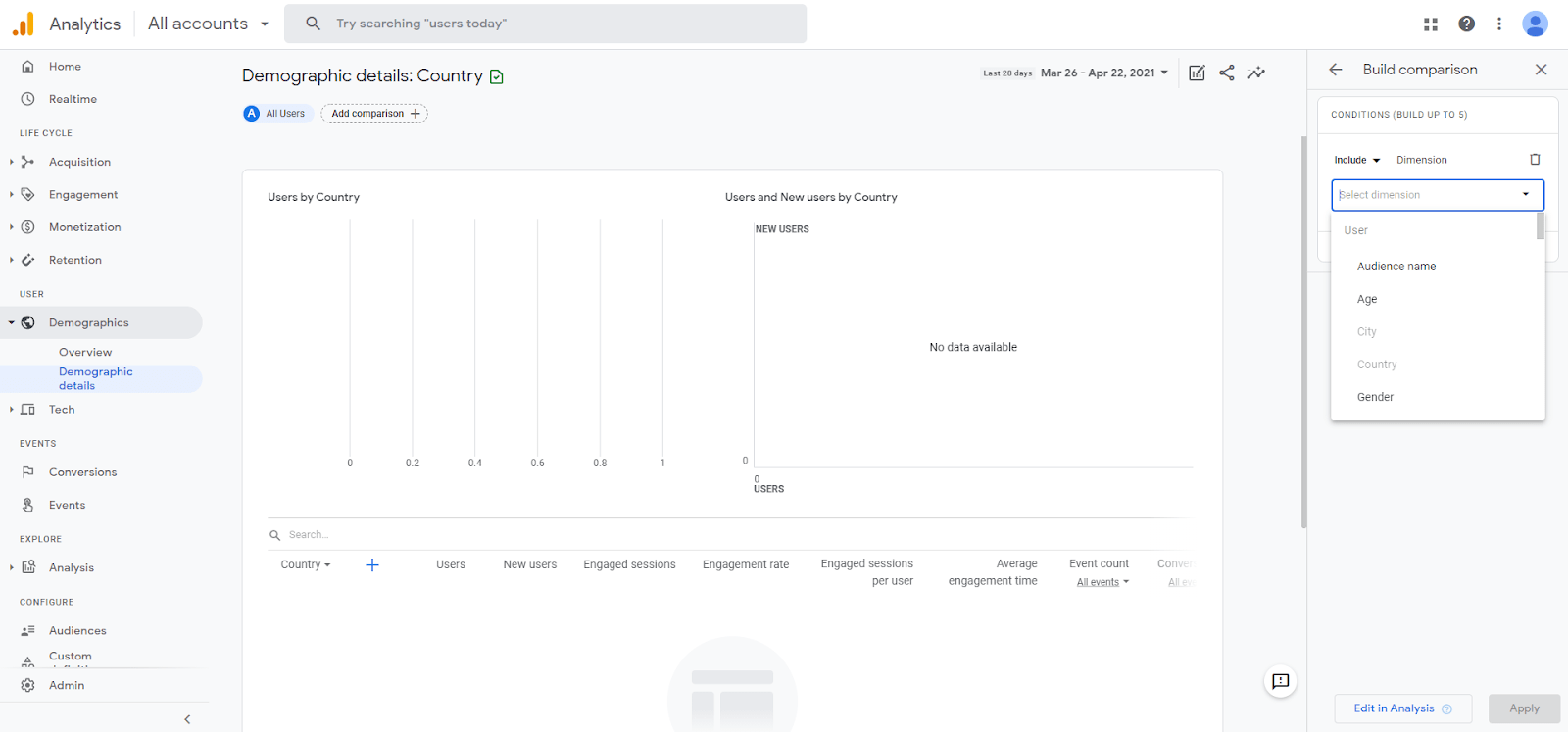 Note: You may see "cohort" pop up in your Google Analytics account. This term groups your users by common characteristics like age, location, or gender.

Acquisition Reports
Acquisition reports tell you how visitors wound up on your website. Traffic sources may include search engines, social media, or other websites.
To view these reports, click Report > Life Cycle > Acquisition, then pick Acquisition Overview, User Acquisition, or Traffic Acquisition.
User acquisition reveals what medium the user was on when they clicked a link to your website. Media could include email, social media, a mobile app, or an ad.
Traffic acquisition shows what website your user was visiting immediately before your website. This data includes organic search traffic, direct channels, ads, and more. Traffic acquisition gives you valuable insight into whether your search engine optimization strategy is working.

Engagement and Behavior Reports
Google Analytics tracks how users behave on your website. You can track this data under Reports > Life Cycle > Engagement. This feature allows you to see default reports and create custom reports to understand how your users navigate your website.
Your user engagement information includes your bounce rate—the rate at which people leave your site in the first 30 seconds. This stat integrates into engagement length. User engagement information also shows your most common exit page, i.e., the last page users visit before leaving.
Under the Engagement menu, you'll find Engagement Overview, Events, Conversions, and Pages and Screens.
Events are user interactions with your website content. These actions include double-clicking, clicks, form submissions, and playing videos. Conversions are events you designate as conversions. Here's a guide to setting up and managing conversion events.
Pages and Screens tell you what content your users are viewing. You don't have to worry about Screens metrics unless you're using an app. By looking at page views, you can assess which of your landing pages, product pages, or other content gets the most hits.
For more detailed or custom reports, click Explore on the left sidebar. This feature gives you a more detailed look at your users' behavior.
Explorations include:
Funnel exploration—tells you if your landing pages and funnel pages are moving users to checkout

Path exploration—the series of pages users navigate on your website with valuable data for User Experience (UX) design

User explorer—allows you to analyze individual user behaviors to determine trends and identify issues with your website
Besides these reports, Explore also offers segment overlap, cohort exploration, and user lifetime reports.
While these reports are visually appealing as is, they're also templates. You can customize them to generate multiple sets of data.

Monetization Reports
Use your monetization reports to perform conversion tracking and revenue analysis.
Under Reports > Life Cycle > Monetization, you'll find a history of eCommerce purchases and in-app purchases. You can also view how often users see your ads.

Retention Reports
Of all the reports you'll find in Google Analytics, Retention Reports are the most straightforward. As the name implies, you see how many new users you have vs. returning users. You can also view user retention by cohort. To see this report, click Reports > Life Cycle > Retention.

Other Features
Google Analytics has a site search option at the top of the page that helps you locate specific information within the platform. When you type something into the search box, you get a list of results to scroll through and find an answer.
Optimizing Your Google Analytics Account
To get the most use out of Google Analytics, you must turn your collected data into useful reports. This step is where your marketing team shines. Your data analyst interprets your numbers into information that allows your marketers to set goals.
With your data analyst's expertise, you can better optimize your website and explain to the team what approach to take. Then your marketing and SEO team—including your content creators and social media managers—will have a clear direction. Your reports may even allow you to perfect your digital marketing team structure based on your business needs.
Whether you have a Shopify-built eCommerce site, a WordPress site, or Squarespace, O8 can help you use analytics to make better data-driven decisions. Contact us today to start uncovering and extracting detailed customer insights.