Drupal vs Wordpress: Best CMS in 2020
This is an unbiased review because we love both Drupal and WordPress here at O8 – we work with them about half-and-half on a daily basis across many industries, which gives us tons of great insight into the advantages and pitfalls of both platforms. We often help people choose between the two platforms because there really is a right tool for the right job in many instances. 
WordPress in 2020
In 2020, WordPress is still the leader for admin user experience, although Drupal is making great strides. WordPress beats out Drupal in terms of ready-made themes available from sites like ThemeForest, which removes cost and timeline barriers to getting a website out into the world.
At O8, we are strong believers in making websites do important things for a business or organization, i.e. digital marketing — a pretty website is pretty pointless unless it drives business KPIs, brings in revenue, or increases brand awareness metrics. As such, we often recommend WordPress for business or organization websites with lesser complexity where the client wants to hit the ground running with digital marketing.
Drupal in 2020
Drupal has become the clear leader as a personalization-ready platform and enterprise-level solution for larger and more complex projects.
One major initiative in 2020 is improving the experience for beginners. As you can see from this slide of Acquia's CTO at the DrupalCon Europe conference in October 2019, a user's opinion of Drupal improves with experience.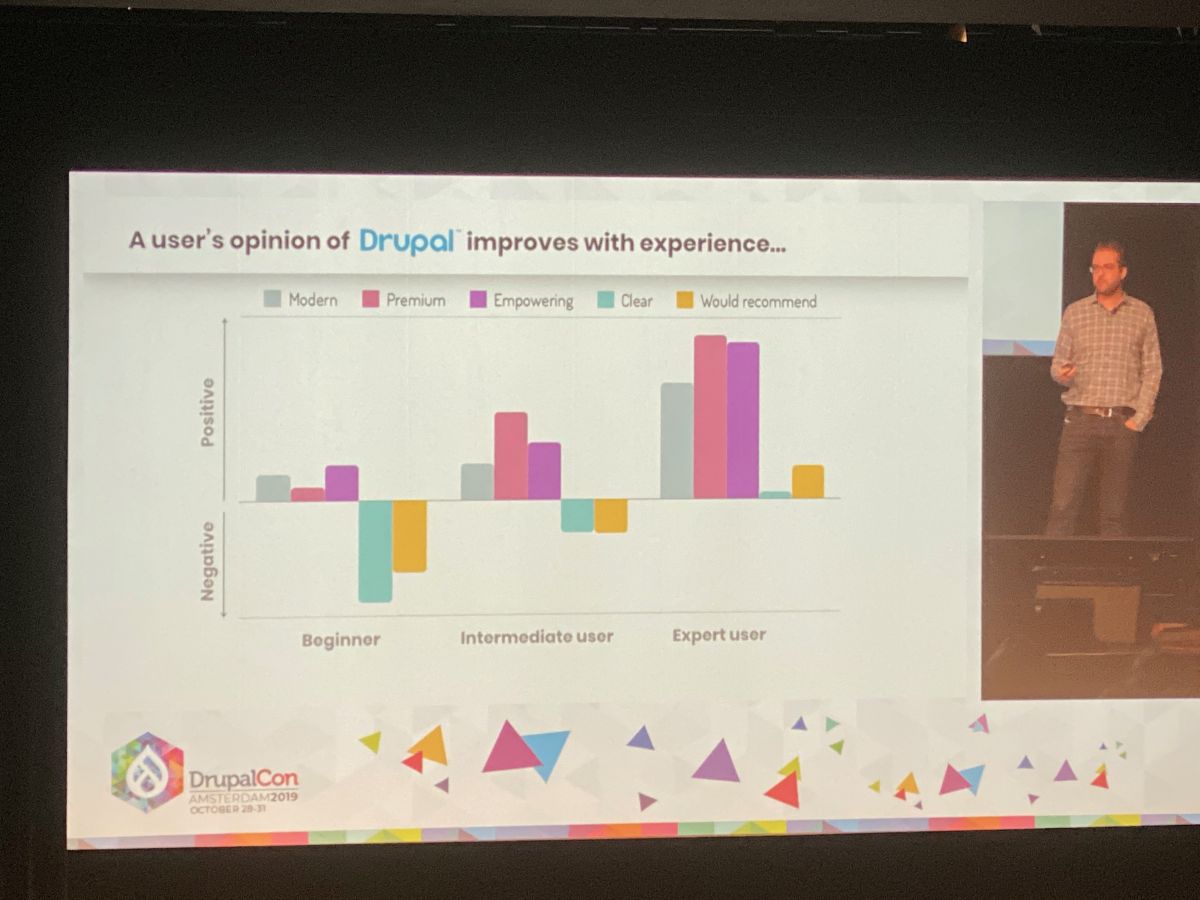 When Drupal Makes Sense
Complex Work Environments or Project Needs
Often for higher education, government, or the enterprise
Both higher ed and government tend to have a bias towards Drupal, as does the enterprise. Drupal historically wins out in government, hands down -- see this huge list of sites and countries across the world using Drupal. Drupal tends to be great for more complex projects. What's a complex project? Here are some examples:
You have a large authenticated user base that needs to log into the site and perform complex tasks, such as creating user generated content in forums or user communities.
 
You have complex content needs, i.e. content beyond your garden variety of blog posts, news articles, standard site pages, landing pages, a staff directory, etc. For example, a course catalog, content that comes from microservices or REST,  multiple levels of permission on content for different user roles,
 
Complex integrations are a must, such as integrating with other web services, microservices, an iPhone app, or other complexities. Drupal is generally better-suited and easier for developers. 
 
Configuration management. This is important and doesn't receive as much attention from non-developers as it deserves. If you want to be able to reliably make changes to your live website using version control, Drupal 8's configuration management system is a huge time saver and reduces errors by developers. If you can't have errors popping up on your site after you push a new feature or bug fix, or are generally averse to downtime, Drupal offers a much more professional, enterprise-ready way to push configuration changes. As your site grows more complex, this becomes more and more of a big deal.
 
You have strict security requirements. Drupal is generally better at security, but WordPress can come up to its level with the proper steps and time investment: 

Drupal can handle PCI compliance requirements such as database encryption or other complex security situations a bit better.
WordPress is so popular now, since it tends to dominate in the personal and small business arena, that the Microsoft vs Apple security phenomenon has emerged: WordPress tends to get hacked more because there are more WordPress sites on the internet, just like Microsoft PCs tend to get hacked more because there are still more PCs than Macs. Also, there are simply more plugins for the WordPress security team to keep up with, which may make it more difficult to identify vulnerabilities.
Often, however, WordPress can be just as secure as Drupal if you take the appropriate steps and measures, including plugins and practices for prevention, detection, auditing, and security insights. It may take a bit more work, but security can be achieved. Work with a knowledgeable vendor to ensure these measures are taken. The Drupal and WordPress security teams have actually worked together on some vulnerabilities that affect both platforms.
 

You are building a web application. Drupal is better suited for web applications, as opposed to web sites, that need to do complex things, handle complex logic and integrations, sometimes involving a decoupled user interface.
 
You need personalization and a Digital Experience Platform (DXP). Gartner defines a DXP as "An integrated set of technologies, based on a common platform, that provides a broad range of audiences with consistent, secure and personalized access to information and applications across many digital touchpoints." 

Acquia, founded by the creator of Drupal, has developed a suite of services and architectural improvements that allow Drupal to be a true DXP, whereas WordPress is still making headway in this arena. A great example is Acquia Lift, a personalization platform that tightly integrates with Drupal. 
Some companies have made headway in developing their own DXPs for WordPress, and WP Engine has started using the term — somewhat as a marketing ploy, somewhat as an actual investment into R&D — but WordPress still does not have the enterprise-level backing to offer a DXP, at least not out of the box. 
However, don't get excited about the term "DXP" and choose Drupal just because it sounds fancy. Most clients aren't ready for the time, money, and operational requirements of a DXP.
Since it is generally more complex, Drupal is easier to screw up if the programmer or agency you hire doesn't know what they're doing. Larger projects and thus larger budgets tend to benefit Drupal sometimes gets knocked for "usability issues", but they are often easily solved by implementing the website in a way that addresses those issues – Drupal is more of a blank slate, but it's easy to paint well on that slate if you know what you're doing.
However, in higher ed and the enterprise, WordPress can actually be preferable for less-complex needs. WordPress may suffer from a "perception problem" in some of these industries, because it can work quite well for bigger sites with less-complex needs such as The White House (whitehouse.gov), which has been greatly simplified since the last administration and now serves as more of a "news" and propaganda site than a repository of complex content. There are a few examples of other countries and municipalities using WordPress for the more story-based, information-based, and news-based content types that it excels at. In higher ed, we have seen a university use Drupal for its main web presence, but WordPress for student orgs and other smaller initiatives, due to its ease of use, simplicity, and possibly less time to train. We've also seen community colleges and smaller institutions use WordPress entirely, often in combination with other systems.
When WordPress Makes Sense
Everything Else
Often for small-to-medium businesses, publications, eCommerce stores, startups, or nonprofits
WordPress tends to fit these categories quite well. People love its ease of use, it generally has a great reputation among marketers and less-technical developers, and more people tend to have experience with it than Drupal. Here are some examples of situations where WordPress excels:
eCommerce. It integrates extremely well with the beautiful, simple-yet-powerful ecommerce solution WooCommerce. Drupal has a decent integration with Shopify, which is a pretty great platform, too, but we think Woo is the way to go if you are a SMB and the rest of your website doesn't necessitate Drupal for any of the reasons described above.
 
Usability and flexibility. It can empower site owners to Just Get Things Done without contacting their web team, if their web team allows proper permissions to do so. Initially this can translate to Just Break Things, but if you have the right agency partner to support you, this hurdle can be worth it, and you'll be Just Getting Things Done in no time. 
 
Lower cost due to starter themes (with caveats). WordPress has a much larger base of starter themes, which give you a visual and functional outline of a website without having to hire a team to design and build your website from scratch.

Just like anything that sounds this good to be true, there are caveats and frequent issues with starting from something that someone else built for somebody who is not you.
Pushing a theme beyond its intended use can happen often, and you often don't find out its limits until you are well into the project.
We have found severe security vulnerabilities in a plugin that a theme used just before launch, making the entire site unlaunchable, because the theme was written with that plugin. We've seen themes that have had to be endlessly tweaked by us and client stakeholders in order to make it fit their vision.
Instead of doing a proper wireframing, user experience, and design process, we are left tweaking and tweaking in a very inefficient, iterative manner. That can be "good enough" if your budget is low, but sometimes the temptation to use a lower-cost starter theme rather than doing a custom website design and build can actually cost more and do more harm than good for your website in the long run. 
 

Plugins for everything. Both Drupal and WordPress have a great many community-supported plugins (Drupal calls them "modules"), but WordPress really wins in terms of availability and variety of plugins for the current version of WordPress. 
Making a Choice
What it comes down to is this: Drupal is a truer "framework" in that it is a highly extensible, very powerful blank slate. WordPress makes more assumptions, gives you more niceties out of the box, but those niceties can come at a cost of extensibility, or the ability of the website to handle more complex business cases. In the end, though, pick the one you like best, and find an experienced, technical partner who can make the website work hard for your objectives, be it leads, eCommerce transactions, higher ed enrollments, market exposure, or what have you –– a beautiful website that doesn't do anything is just a lifeless brochure in digital space.
We can't overestimate the importance of technical expertise and experience in implementing anything but the most simple website. This quote came to us a few days ago from a prospective client at the University of Minnesota, who has worked in web development environments for a good part of her life:
"If you start out on the wrong foot, you can be in for years and years of pain."
This quote applies equally to digital marketing acumen -- a new site redesign can tank your SEO, or, without the proper digital marketing strategy, do long-term damage to your business. These issues are all greater and more important than the actual platform that you choose.
Similarities | Where Both Platforms Excel
Both platforms contend well with other SaaS ("software as a service") platforms when running on hosted environments such as Pantheon. A major asset of both is that they have vibrant and enthusiastic open source communities, although Drupal's is stronger and more organized worldwide.
One thing that is certain though is that both of these CMS platforms have had dramatic growth, and they each improve with every new version. WordPress is making strides in its "block" layout configuration abilities with the new Gutenberg project, which Drupal has had for years, and Drupal has made significant strides in its usability for content editors, which WordPress has had for years. One can now even use Gutenberg in Drupal, with the Gutenberg for Drupal module.
WordPress Gutenberg "block" layout
There are a lot of similarities, where both platforms excel. You can unquestionably create amazing sites on both platforms. Here are some things that both platforms have in common and do well:
Supports high traffic; speedy websites. Can support very high volumes of traffic, and run websites with vast amounts of content. 
Security. Can be just as secure or more so than other proprietary platforms.
No vendor lock-in. Both Drupal and WordPress have a huge community of developers and companies worldwide who can help if your current vendor is not satisfying your needs.
SEO. Very SEO (Search Engine Optimization) friendly from its core installation. With the right modules and configuration it can dramatically simplify SEO tasks for an organization.
Lower cost of implementation. A multitude of out-of-the-box plugins or modules to add instant features and functionality. This is reassuring and speeds up development of your site and lowers costs, since functionality does not need to be "custom coded" or re-built. 
Community. A diverse and invested community that is global with a growing number of conferences, camps and local user groups. 
Self-managing website. Both platforms are meant to be managed by you. You create the compelling content, follow an SEO strategy, tack on a CRM, and your business, organization, or institution will flourish.
Mobile-friendly. Editing and publishing content is easy on your mobile phone, and the platforms are built out of the box to be ready for mobile devices.
Much much more! Contact us to walk you through the advantages.
Both CMS platforms are highly evolved and are good bets if you want to future-proof your decision from a technology standpoint.
Future-proofing your investment: 2020 and Beyond
Both platforms offer relatively smooth upgrade paths between major versions. 
The Drupal Roadmap
Drupal 9 will be released in 2020, and it will be an easy, seamless, fairly insignificant upgrade from Drupal 8. So, if you are on Drupal 8, you don't need to worry about any investments to get you on the next version. 
Drupal 7 will be officially supported until November 2021, but there will be plenty of long-term support partners to help you out if you choose to stay on this platform, even more than Drupal 6. 
At the time of this writing, Drupal's roadmap includes:
Automated updates.
Admin experience improvements, and improvements to make Drupal easier for beginners.
Ongoing media improvements.
API-first improvements, for headless implementations, digital signage, mobile app integration, etc.
Putting a bow on the Layout Builder module, which is a visual design and layout tool for Drupal.
The WordPress Roadmap
At the time of this writing, WordPress' roadmap includes: 
Provide a way for users to opt-in to automatic plugin and theme updates.
Provide a way for users to opt-in to automatic updates of major Core releases.
Build a WordPress.org directory for discovering blocks, and a way to seamlessly install them.
Phases 3 and 4 of the Gutenberg editor in 2020.
In 2020, both CMS platforms are a good choice, but the best choice comes down to choosing the right tool for the job at hand.
To make an informed choice you have to do a lot of work in the planning and discovery stages where you lay out what your website needs to do, who will be running it, how complex it will be, who your best vendor is and what platform they are most skilled at, and anticipate what your future needs will be. We often help clients with this tricky requirements-gathering and planning stage.
Still not sure which one's right for you?
Join the conversation